On October 7th 2019, Extinction Rebellion set out to block London, Berlin, Paris, Amsterdam, NYC and many other cities all over the planet.
The goal is to put a stop to the climate catastrophe spiraling out of control. To call attention to the mass extinction, currently reaching dimensions far beyond the mass extinction that wiped out the dinosaurs, and that social collapse is impending. Time is up – Act now is the slogan.
I spent the week protesting on the streets of Berlin for a week and here's a very long post on what I experienced.
Monday
I get up at the crack of dawn to catch my train up to Berlin. But I'm arriving late. Many people have been preparing for the last three days. They set up a climate camp right next the the German Parliament, a historical first. Sitting in the train, I glance at the phone and learn that, last night, rebels managed to divert traffic and completely block Potzdammer Platz and Großer Stern, two very important traffic junctions. I am super excited. Before departure, we went through legal training and "action training" teaching us how to behave when you partake in civil disobedience. We've formed groups and organized ourselves in a way so that if someone goes missing, multiple people will notice and take action. I find out that my group is blocking one of the five roads that make up Großer Stern and I rush to join them. Goßer Stern is a multi-lane roundabout twisting around the Siegessäule, a huge monument dedicated to… well war essentially. Its beautiful though. It is located in the middle of a gigantic park, the Tiergarten.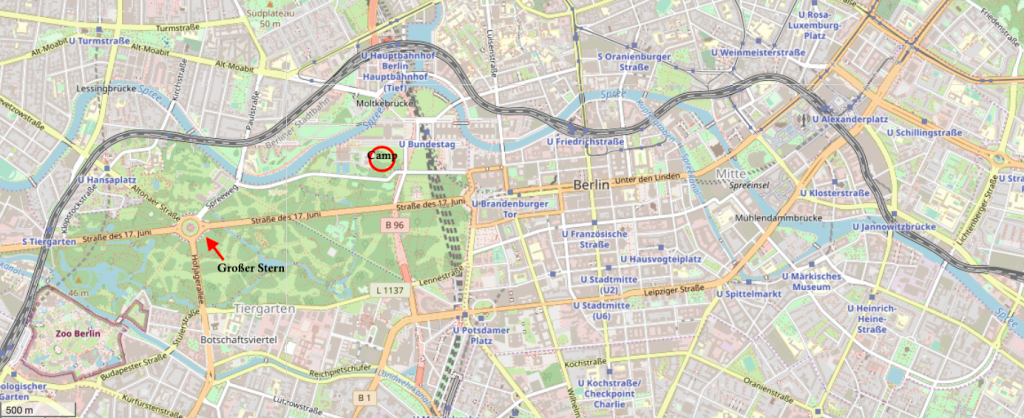 Usually, this roundabout is very stressful and loud. You can only reach the monument though tunnels beneath the traffic. But when I get there, I can hear the birds singing. People are strolling all over this huge road crossing. They are making music, blowing bubbles, playing games, cuddling, cyclists passing by are cheering us on, and every now and then someone shows up to bring warm tea and food. I was bracing for something tough, but its more like I just entered a future utopia that comes with rainbows and unicorns. The rebels have erected a wooden ark and placed it in front of the monument. I just missed the celebrated captain Carola Rackete, (you know the one who was arrested for landing a boat load of refugees rescued from the sea on Italian shore without permission?) getting up on the arc and giving a speech about climate activism being a matter of defending human rights.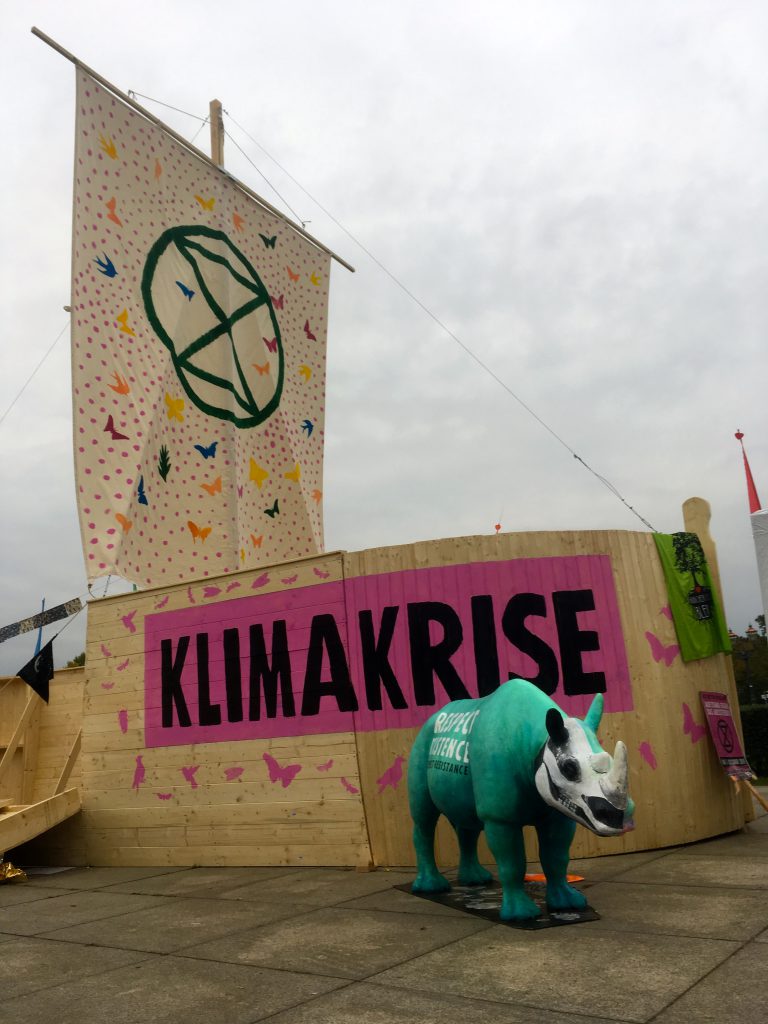 I spend the rest of the day as a delegate for our road in plenum discussing further strategy in reaction to negotiations with the police. You see, Extinction Rebellion has no leaders. Everything is decentralized. Everything is project based with rotating leaders. Decisions are made based on consensus. I like that. It gives everyone the sense of responsibility and I feel secure, that during blockades and police contact, the group will not suddenly do something I did not agree to do. There is no peer pressure.
Tuesday
At the crack of dawn I'm startled awake by shouts of "emergency lane" and a fire truck zooming past my head. I spent the 2°C (36°F) night in my very cozy sleeping bag lying diagonally across one of the lanes, as a live road block.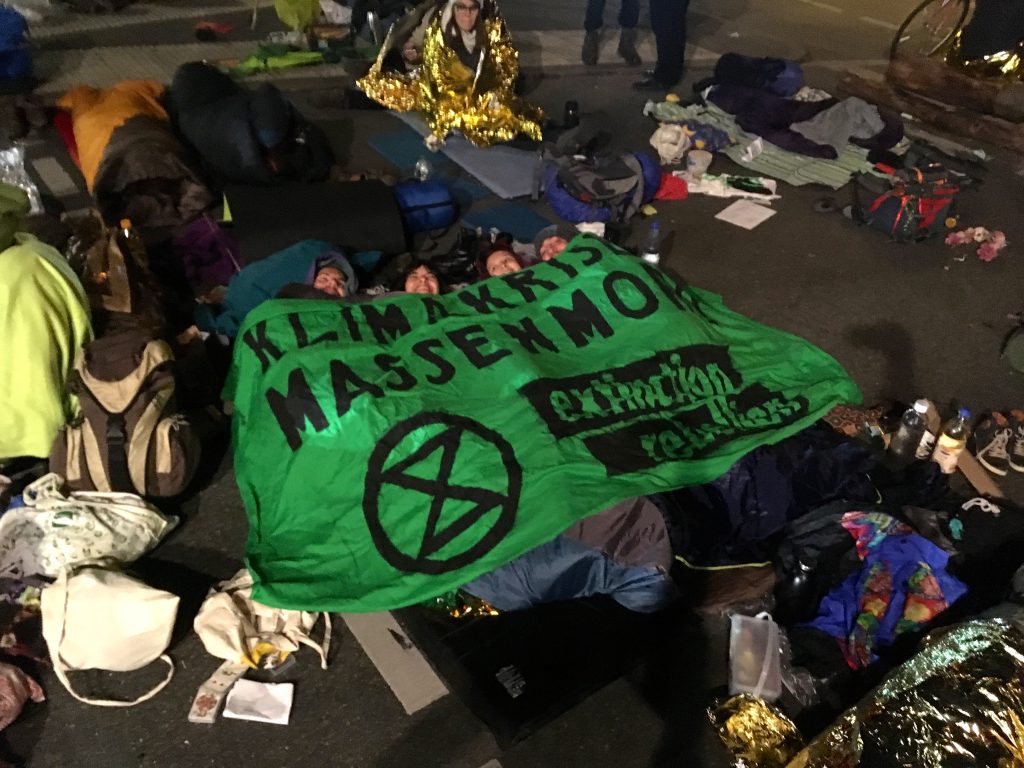 A roadblock like this is essentially a bit of a street fest. Just that there's strictly no drugs or alcohol. But there is music and dancing and games and eating and conversation and cuddling. Always when I come back from sober-parties, I feel that are just so much better for your soul. Because you actually really engage in social contact with people.
This street fest is suddenly broken up, when a police van breaks through one of our lanes. We had been warned of bad weather and everyone decided to bring their backpacks into the tunnels under the road, to keep them from getting soaked. Then we had been busy building constructions with tarp and rope (and no knives or scissors as they are no-nos in these situations). We had gotten inattentive. There were only two people on the emergency lane, which is only blocked by human bodies, no logs or other hardware, so we can quickly make space for firetrucks or ambulances. Two people is obviously not much, so the officers tested us, ran the van at the two unsuspecting activists who were surprised and jumped out of the way.
Immediately a mass of people stands in front of the car. The police car continues to roll forward until one activist throws himself onto the the hood of the car. They stop and engage with our police communicator. The communicator persuades the police to back up out of the blocked area, but its no good. They start putting up the fences and start clearing our street.
When the first police car broke though I sat down in the "broken" lane to block it until we figured out how to permanently keep that lane blocked. But now I'm sitting there with just a few other people and watch physically intimidating looking riot police officers erect fences around me. We're singing and chanting and I try to keep the nerves from tying up my throat and silencing me. Especially because the media has showed up and cameras are right in my face. I don't want to look shaky.
It doesn't take long and a large group of people has flocked to sit in the street behind me. Calls go around for people to join us and sit. One guy invites people to sit with him in the puddle on the edge of the road. "I found a yoga mat, it's really quite comfortable!" It makes us laugh but the air is still tense. A man in a wheelchair-bicycle construction and a boombox on board wheels past between me and the police and asks to pass. They step aside to let him onto the bike lane but he just makes a U-turn behind them and cycles back to repeat the game.
After repeatedly asking us to leave and us not moving, the officers eventually pick us up one by one and carry us off the street. Sometimes it helps to be female, blond and big-eyed. I couldn't possibly be trouble, could I. The girl next to me is less lucky, she gets her arm twisted, despite her not resisting. One of my friends is more on the heavy side. The officers drag him. Then lay him in the deep puddle by the side of the road to take a break before they drag him the remaining three steps off the road. Wheelchair-Man is wheeled away. But he blocks the wheels and so forces four officers to carry him and his giant wheelchair-bike off the road.
Our group reunites on the side of the road, the police didn't take anyone's identification. Good for our wallets, but it also means they have time and capacity to carry on clearing Berlin. I get worried about our bags so I climb over a wall back into the blockade and into the tunnel to collect them. Just in time it seems as the police is now clearing out the tunnels. Later that week, we learn that many people lost things. The police shredded many things because they were "soiled".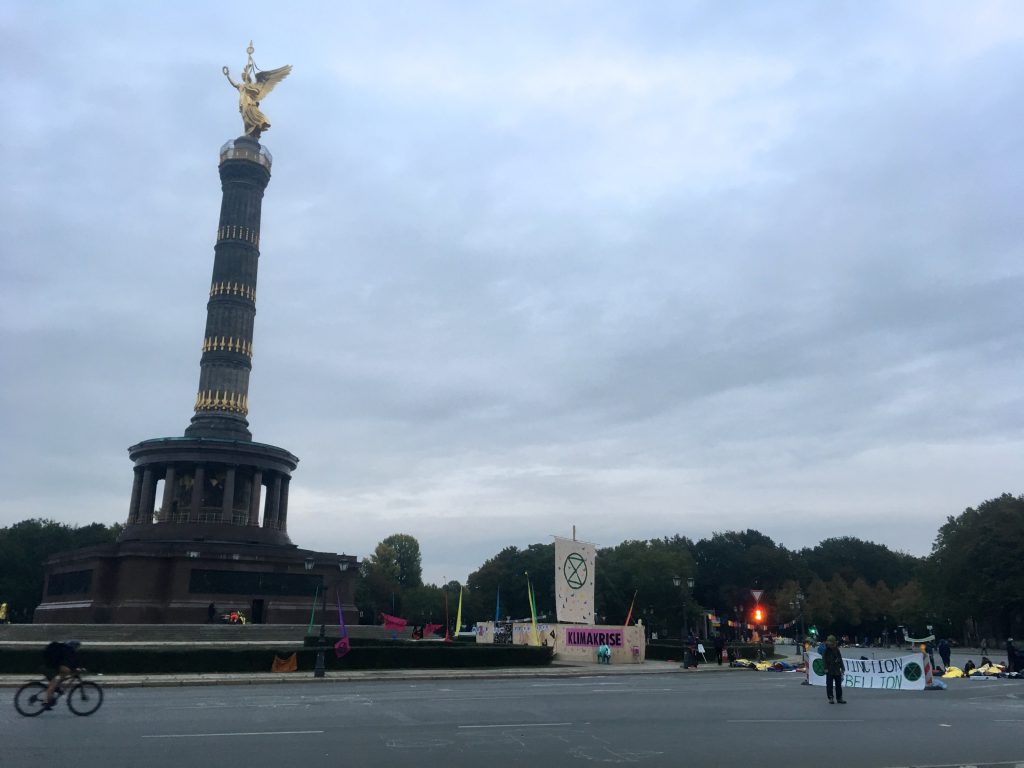 Its weird protesting with Extinction Rebellion. Everything is so loving and peaceful. But you are still constantly playing war tactics. We are always discussing how to best position the people we have to cause the biggest possible disruption for the longest possible time. That day we lost two out of five roads on the roundabout. The magic is tainted. Cars are now passing through one corner and you can't hear the birds as well anymore. The lost corner is the one with the toilets. When you want to go there, a police dog jumps out at you. On a leash and with a muzzle but still, not fun. Some people returning from the toilets, cant get back. Police are randomly not permitting people to pass.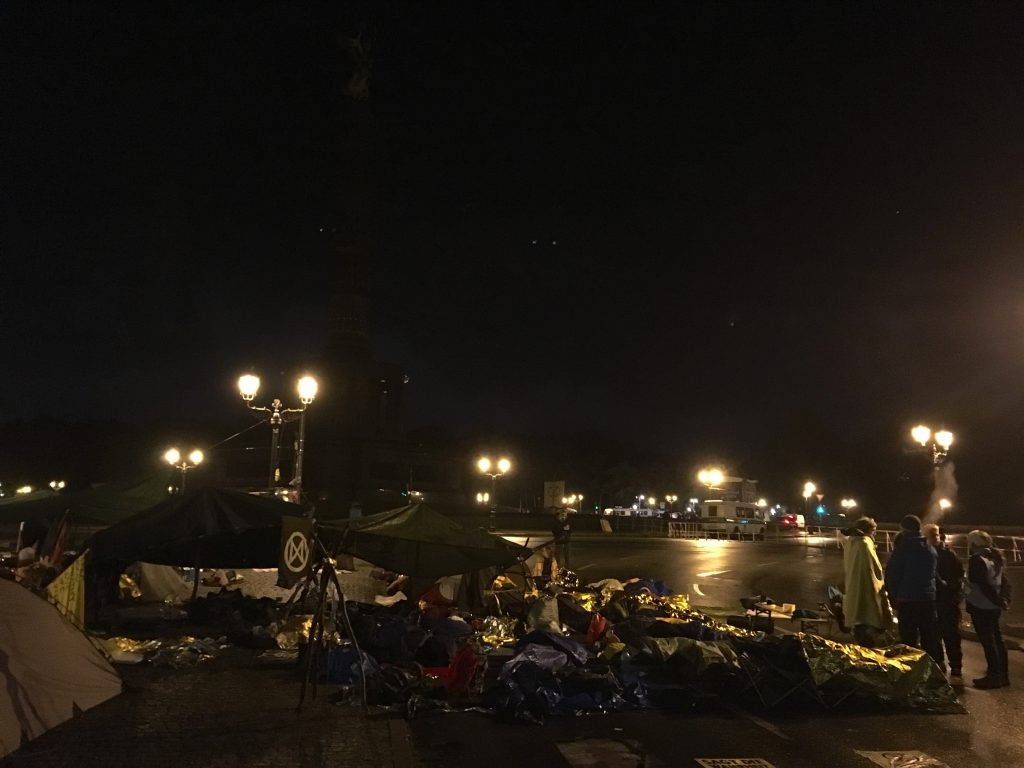 We spend that night on the third road. There was a large group of Scandinavian activists on this road. But many had to leave that day, so we fill in the gaps. I'm front row again in my sleeping bag pulled over my eyes to block out the streetlamps. I'm just falling asleep as I hear a large car racing over the pavement seemingly aimed directly at my head. I panic and scramble to loosen the drawstrings around my face so I can see. They are at the emergency lane again physically pushing the camper chairs obstructing their way. The back doors of the transporter van swing open and riot police jumps out. They grab the people and throw them out of the way. This time, there are no cameras watching. One woman is thrown against a lamp post. By shouting in the face of a police contact, they make it clear that they are the next shift and apparently someone said police can now pass through. This is news to everyone. They are testing us and trying to wear us out.
I get back into my sleeping bag and try to sleep. Adrenaline is pumping and not helping me in that endeavor. Front row sleeping is scary but it also has the best view. I look down the long and empty road leading away from the roundabout. Mist rises up from the road between the trees and two foxes come out of the park to play on the road.
Wednesday
I am awoken by two of my friends tugging on my foot. "Get up now, we're getting out of here. It's gone sideways!" I spring up and start getting dressed. Its still dark. I'm just rolling up my sleeping bag, when my two friends come out of the bushes and amble over to me. I'm confused. Turns out it was just a dream. But now I'm up and packed so might as well start the day. We all know, but don't know, were going to be cleared today. They bring up the fences, we sit down on the road, riot police lines up to deal with us. As they start the legal procedures of telling us to leave or else, one rebel steps out and faces us. "For those getting ready to be carried away: a poem!" The police actually step back and let him recite the first few verses about a beautiful tree and birds in it and I would remember more if I had been less pumped up on adrenaline. But as the poem continues, one officer cuts in "That's very beautiful, but the rest you have to tell them later, we have to start clearing you now." I am informed that I will be held accountable if I don't leave voluntarily. I refuse to leave, I am picked up and carried off the road. This time, they have to carry me quite far. They have to set me down multiple times to take a break and each time the ask me to please now just walk with them. I refuse. The longer they have to deal with me, the longer they don't have that capacity to turn to the next activist. Another officer asks my carriers if they need help. The reply is "Nee, nee, die Dame hat nur einen ziemlich schweren Rucksack auf. Also… hoffe ich zumindest" (No, no. The lady is just wearing a pretty heavy backpack…. Uhm… I hope). I smile and say nothing. My backpack contains my lightweight sleeping bag, mat and a bottle of water… Again they do not take identification.
The morning drags on, finally all roads are cleared and only some lock-on activists remain at the center, in front of the wooden arc. But finally they go voluntarily in exchange for our arc returned to us unscathed. I can't help but feel a little disappointed. We just lost our "home" and it ended with a police deal. We march down to the Brandenburger Tor, do a Die-In (everyone lies on the ground "dead" while a speech is given) and return to camp.
Potzdammer platz and Großer Stern have now both been cleared. Its time for #PlanBee. We swarm out in smaller groups and spontaneously block traffic all over the city. Our group set out for Oberbaumbrücke. I voted for that one because it's partially roofed. And its raining. But when we get there I realize that only the bicycle lane part is roofed and there is a building fence separating us from it. We take the bridge with the help of a critical mass (think biker gang hogging the road but with bicycles ringing their bells and playing good music from a boom box).
We hear of the attack on a synagogue in Halle, and the Turkish invasion of Syria and as a movement decide to have a minute's silence. It is agreed with the police, that we will not continue to block any new locations until the police has arrested the perpetrator in Halle and made sure, there are no further terrorist threats. And then we settle down for a wet night on the bridge. I thought I had it all figured out with my rain poncho. But its almost impossible to sleep and be dry. The police will not let us cover ourselves with tarps. As the rain continues, we are less and less people keeping up the party on the bridge. But the food keeps coming. Citizens returning from their rounds Foodsharing come to share their bounty. At one point I'm sitting there, warmed by a huge bag of freshly baked bread on my lap and watching a guy arrive on his cargo bike, take out a camping cooker and preparing oat-milk-cocoa for us. Its heaven!
Thursday
Its about 2 or 3 in the morning. I maybe slept an hour or two. I am informed that we have become so few on this bridge, that the police gives us two options. Either they clear us now (which they can do in about 5 minutes, considering our small number) or we go voluntarily and in return we get to join a blockade at another bridge, that has actually already been closed off to prevent people joining. We take the deal. In a whirlwind we pack up all our things and clear the bridge. The police is impressed: "Da ruft einer nachts um 3 an und sagt sie brauchen Lastenräder, und dann kommen die einfach! Das klappt ja besser als bei uns!" (They just call in for cargo bikes in the middle of the night, and then they come! They function better than we do!)
Some give up and return to camp, a small group of maybe fifteen people goes on the tired, wet march to the other bridge, escorted by two officers on foot and a van. One of the rebels sings German folk hiking songs(yes, we have a hiking category in our folk) with all her remaining power. Another rebel in the back of the trek needs to throw up. One of the officers notices first. "Also, ich hab hier ja keine Verantwortung aber… wir sollten kurz warten" (Well I'm not the responsible one here, but we should wait a second). We continue. Half asleep, humming to myself to keep the rhythm in my steps. Next to a street lamp I see some mushrooms have popped up. In the middle of the big city. One of the officers stoops down to pick some in passing by. I smile to myself, remembering that this scary looking fight tank is actually a human with personal interests as well. And again I pass the sick rebel, having another bout. "Stop! Der muss noch zu ende kotzen!" (Let the man finish puking!) We wait again. I am really enjoying the company of these very relaxed, merry riot police men in the middle of the night. After about an hour of stumbling, we reach Janowitzbrücke. It's underneath a transit-rail bridge and dry! I don't even mind the pigeon shit!
Three days later, I met the police contact of that place and time. He told me that an officer there had told him we were coming, that we had slept in the rain and asked him to make sure that "die auch noch ein Filet-Stückchen abbekommen" (we also get a nice "fillet piece" of dry space).
I get another two solid hours of dry sleep. At six we wake up and, almost out of habit now, immediately get dressed and pack up in a hurry. The riot police are taking position and we get ready to be carried away again. During the clearing, I look over my shoulder at the other people being picked up and I see two officers who are actually smiling, going about their work! Even though we've been so annoying since four days! Gotta love non-violent protest with cool police officers.
After the road is clear again, my sister and me take a break. We go see a friend who lives in Berlin and I have a soul-healing shower. The rest of the day, we sleep on her living room floor and catch up on the news we've been causing. Old, rich, powerful, white men, the extreme right AND the extreme left hate us! I'm satisfied. We find a picture that was taken of us during the first clearing of Großer Stern in various news stories.
In the evening we join an ongoing blockade on the Marschallbrücke with a view of the parliament buildings. The rebels had been holding this block for quite a while and already established an outhouse and a big float under which there were a number of lock-on activists. It starts pouring again but we whip up a gigantic tarp and stand under it. More and more people join. A tall man in the middle hoists an umbrella up while others step on the edges to stop the wind from exposing us. We have a tarp-circus tent filled with at least 30 people. Out side a large speaker is playing Samba music accompanied by a man with a trumpet. The man with the trumpet flees into our tent and is joined by a man with a big African drum. And we have a very cuddly mini dance party in the tarp tent.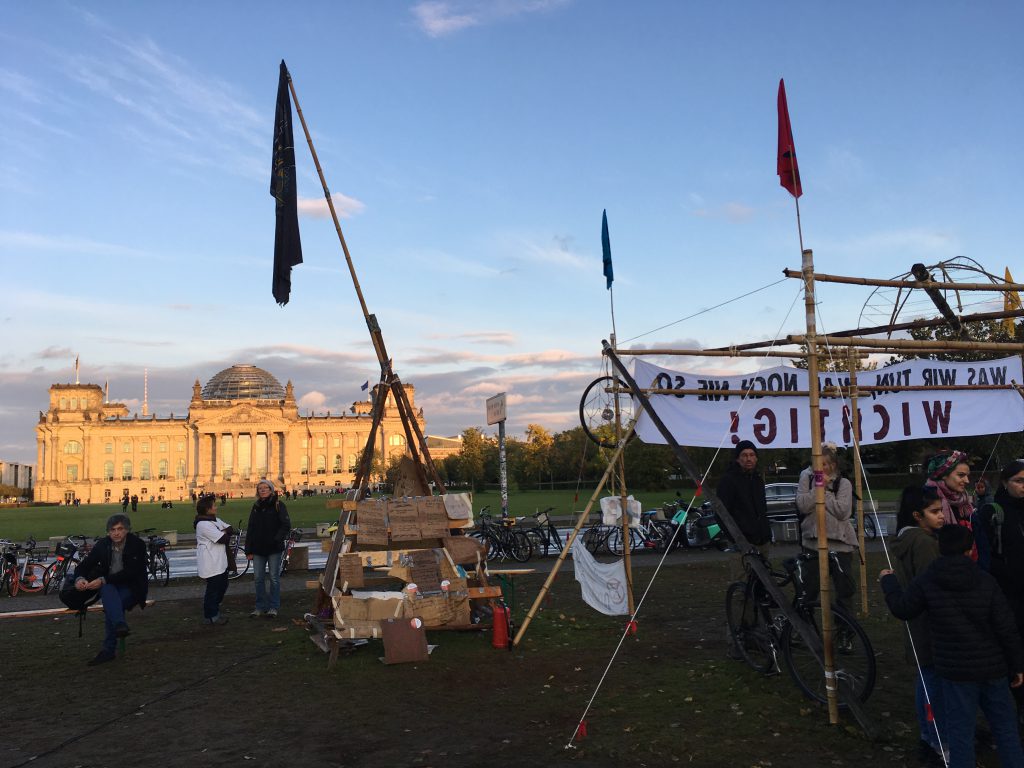 My sister and I spend this night in our tent in the legally established camp in front of the Bundestag. When I tuck my sleeping sister in, she sits up with wide open eyes. "WHAT??!!" I shush her back to sleep. The next morning a friend tells us she was having a peaceful late night cigarette outside our tent when she heard us talking in our sleep. I mumbled something and my sister said loud and clear "I can't do this anymore!"
Friday
We spend most of the day supporting and cheering on the lock-on activists being cut loose on Marschallbrücke. I have my first actual conversation with a police officer. He is mad at us for not respecting his private life and that he only slept 25 minutes last night. I sort of diffuse it by talking about his personal life. He tells me he likes hanging out with his little nephew and I tell him I'm demonstrating so he can continue enjoying his quality time with his nephew. He smirks at me condescendingly. I continue to ask him questions about his day-to-day life and what its like to be a riot police officer until his superior sends him to do something else.
It takes forever to clear the lock-ons and by the end of it, we are only very few support-criers and a crazy (presumably Scandinavian) wildlings drum circle left. It has sort of become our custom to thank the police in a big choir after a non-violent clearing but we are so few I just call by myself. "Thank you dear police, for your enduring work!" Awkward silence. With a grin I add "Bis gleich!" (See you now!). The officer closest to me hangs his head with a tortured smile and says "Bitte nicht" (Please don't!)
While we were supporting, a big demo had taken place and ended in front of the ministry of Environment. We join them, as people sit down in front of the building, blocking the whole road and waiting for a spokesperson to emerge. He arrives, we ask questions, get the same non-answers journalists get on the evening news, and leaves.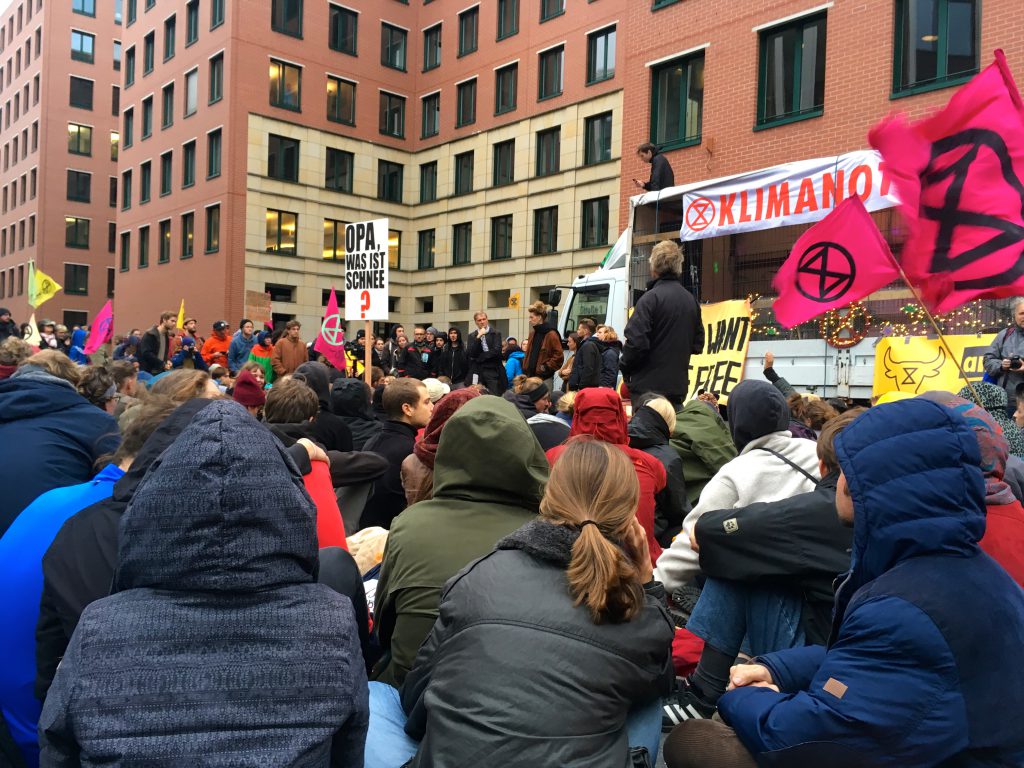 We continue to block the area and spend the next two days there. The longer we are there, the more it turns into a street fest. There's a round table for critical passers-by to engage in a discussion. There are "meet the rebels" tour guides, citizen's assemblies (the movements 3rd demand) are held. We are playing games, sharing food, there is a large truck with a DJ set and it is announced that Monolink will play. This of course draws a crowd of muggles to the blockade who have a party with us. A cool film installation, intersected with footage of the last week is projected onto a 5 story building. Fetish for future stop by in family friendly outfits and bring good music for a late night disco. When we are cleared on Sunday morning, some person living nearby provided us with vegan pancakes with raisins and powdered sugar!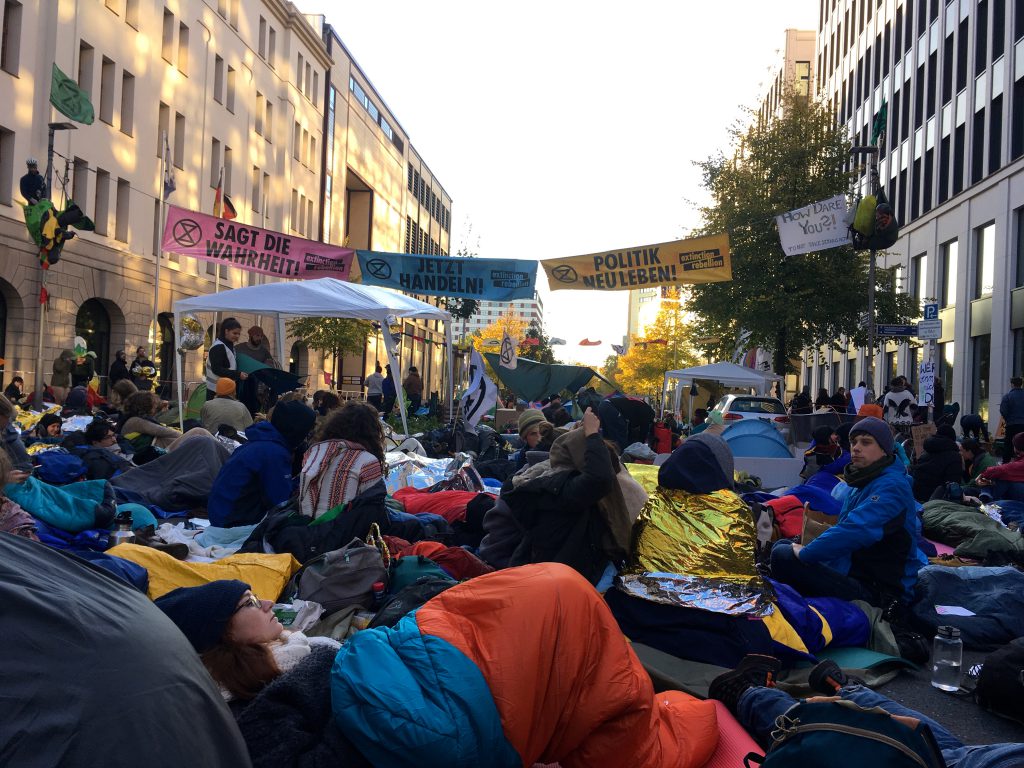 Sunday night is the last night in camp. The mood is a little sad and tired, but also blissful. There is a huge drum circle where people utilize EVERYTHING the kitchen tent had to offer, once they ran out of conventional instruments. There's a disco tent that is way too small but we stand outside the tent and dance in the moonlight. Finally, we all go to sleep in front of our tents underneath the stars.
I had an amazing week! I was convinced I was going to get sick, but I actually got fitter. And happier and crazier. Extinction Rebellion is a soul-warming, crazy, loving crowd. And they are all over the place.
Appendix: Who the F*** is Extinction Rebellion?
Extinction Rebellion is a movement fighting climate change and mass extinction that started in late 2018 and has grown rapidly in this very short time period. We are strictly non-violent, and rely on non-violent civil disobedience to achieve our goals. Our demands are three:
Tell the truth
Government must tell the truth by declaring a climate and ecological emergency, working with other institutions to communicate the urgency for change.
Act now
Government must act now to halt biodiversity loss and reduce greenhouse gas emissions to net zero by 2025.
Beyond Politics
Government must create and be led by the decisions of a Citizen's Assembly on climate and ecological justice.
Everyone who respects the no-hate, peaceful agenda of Extinction Rebellion is welcome and any skill you may have is useful to us.
To learn more, and to participate, please visit the official websites of Extinction Rebellion in your country, as details vary between countries. Best, you do an internet search and it will likely come up with the website relevant to your country/language. Here's the English One. And here is the German one.
You might also be interested in following the movement on twitter.
Change is coming
We are few but we are strong
Time's been wasted
and we haven't got to long
Mother is dying
we can feel it in our bones
So we're rebelling
on a system that is wrong.
*I do not get any kind of compensation from Extinction Rebellion to publish this post. I am publishing, because I support the movement with all my heart.