Hello Lovelies!
I'm back! It was a long summer break from blogging but oh so busy with hamster sex and hamster babies!
So here is my promised post about these weird creatures science calls Cricetus cricetus and I call beautiful-mini-bear-ninjas.
At first glimpse they are cute, on second look they are terrifying and once you get to know them, they are just funny little dudes and dudetts that make me laugh every day.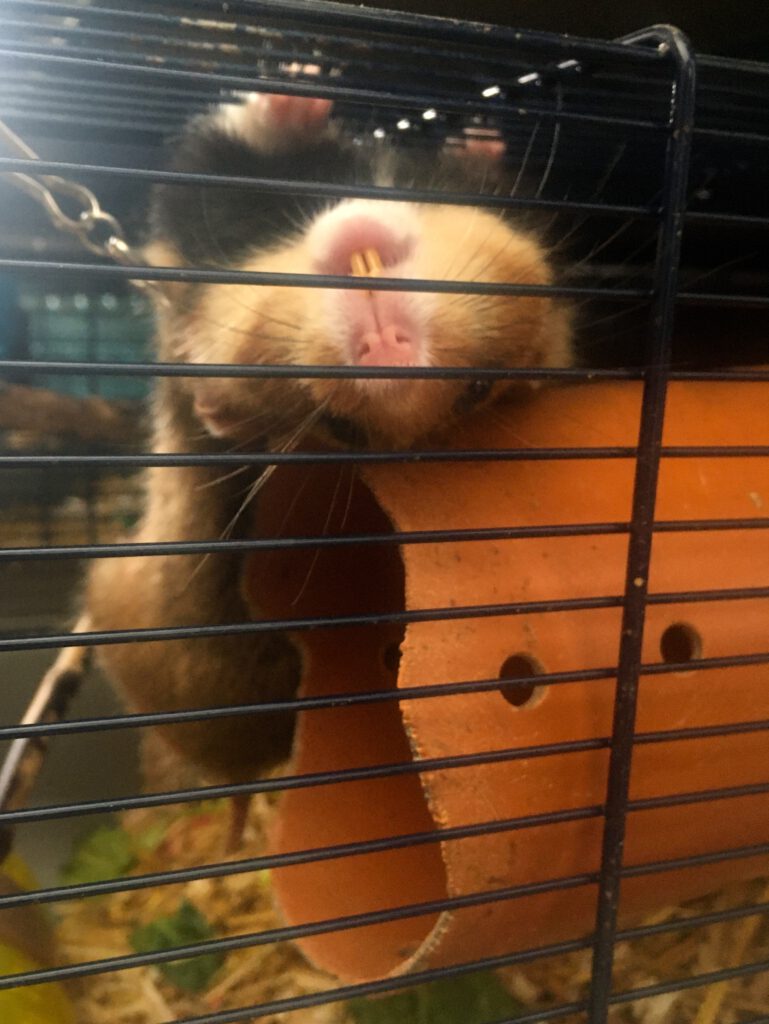 So. Lets start at the beginning. As you may know, I am not just a nature lover, I'm also an actual ecologist and my real job is working as an ecological consultant and conservation breeder of the critically endangered European hamster a.k.a. Cricetus cricetus.
What is this creature I speak of, you ask?
Cricetus is the only representative of the large hamsters (genus of Cricetus) and the only hamster species that occurs in Europe. They have roundabout the size of a guinea pig and weigh between 300-650 grams. The hamster most people know, is the much smaller Syrian or golden hamster (Mesocricetus auratus), which is a popular pet and has been bred in a variety of colours and hairstyles. The wild Syrian hamsters in the meantime have also become endangered species, listed as vulnerable by the IUCN. Then there are three dwarf hamster species (Phodopus), which are also sold as pets. Their wild brothers and sisters live in the steppe of Asia.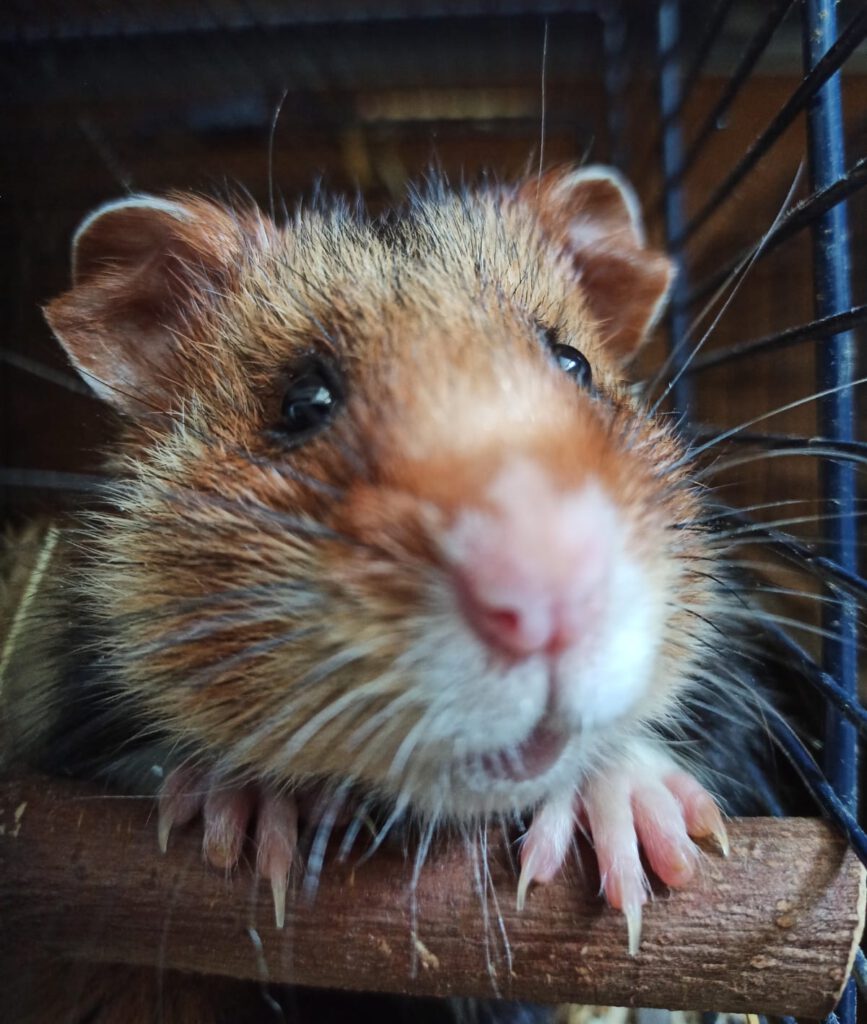 The European hamster on the other hand, cannot be kept as a pet at all. Although I can handle the babies with my bare hands, once they grow up and become independent, they become very aggressive: When disturbed, they will huff and growl, chatter with their teeth and blow up their large cheek-pouches, to look bigger. If that isn't enough, they will jump straight at their attacker. A good tactic, as most predators of rodents are used to their prey running away from them and not fearlessly jumping in their face. To make things worse, cricetus has long, pointy lower incisors that are not rigidly attached to their jawbone. So when the bite, their lower teeth will go into the flesh deep, spreading apart and ripping the wound apart as is goes. I was superficially bitten once, by a youngster who just bit out of curiosity (they do that; just bite into things to find out what they are), and it bled like a medium-nasty kitchen accident.
That's where the ninja comes from.
Mini-bear is in my name for them, because, when they are not stressed out and just waddling around, they have a bear quality about them. They are actually surprisingly fast runners but you wouldn't expect it when you first see them. They also have a habit of sleeping either curled up in a cute little ball, or in the weirdest positions, dangling from enrichment in their cages, especially in summer when they are hot.
And beautiful is self-explanatory. They are the most colourful mammal of Europe, with jet-black undersides, brown backs, a rusty mask around their eyes, blond patches on their sides, and white chin and feet. There is also an all-black melanistic form, with white noses and feet, but these seem to only occur in Eastern Europe, mainly around Ukraine.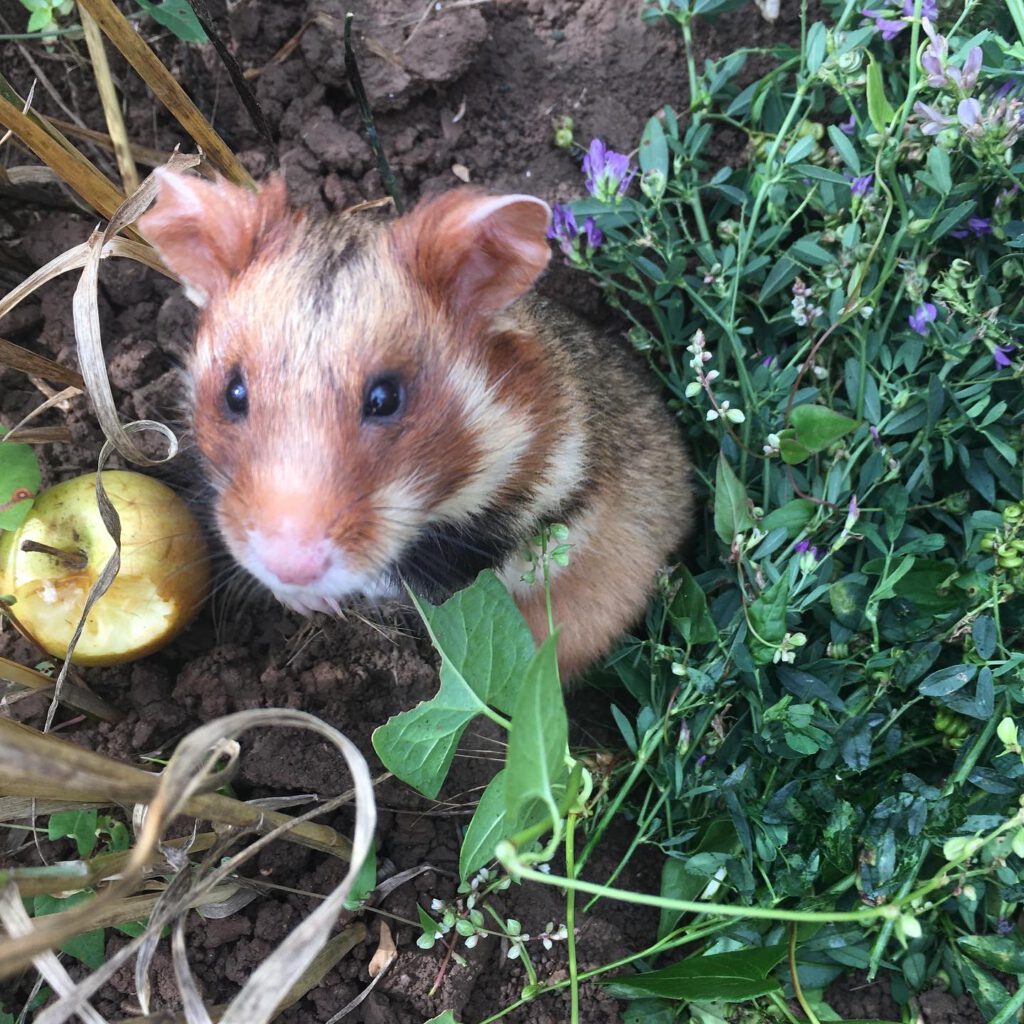 Cricetus evolved as steppe animals, and adapted to agricultural landscapes when humans settled around Europe. They eat almost anything grown on agricultural land: fruit, vegetables, grasses and burr clover (traditional animal feed), seeds and grains. But their diet also comprises about 12% animal protein, which they get through mostly insects, but they will also kill a mouse if they can. They have large pouches in their cheeks, which they fill with food and take to their homes where they eat in safety and store the rest for winter.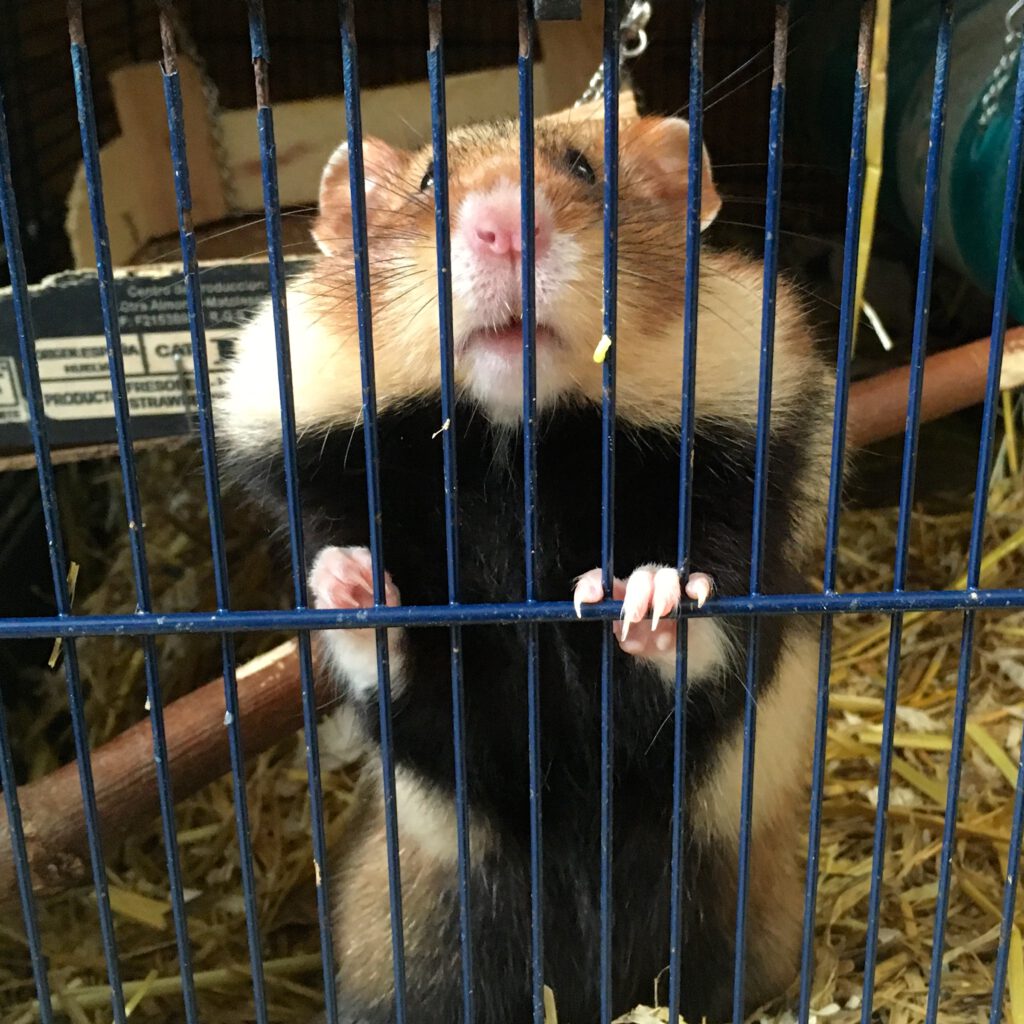 This is Max. I named him because he is so greedy for food he throws all caution to the wind and takes lettuce and seeds from my hand. He just stuffs everything into his cheeks and stands like this, demanding the next treat.
Once we rescued a hurt wild hamster. When we checked on him, he rubbed his cheek back to front to empty it and spat out a perfectly undamaged flower. It probably wasn't meant as a gift, but we interpreted it that way anyway.
Cricetus dig burrows more than 1m deep in the ground, which usually have one or more bedrooms, a storage room for the food they collect and some dead-end tunnels used as a latrine. They also have multiple emergency entrances that go from the dangerous outdoors, vertically down to safety. This is so they can disappear quickly if they sense danger coming while out looking for food.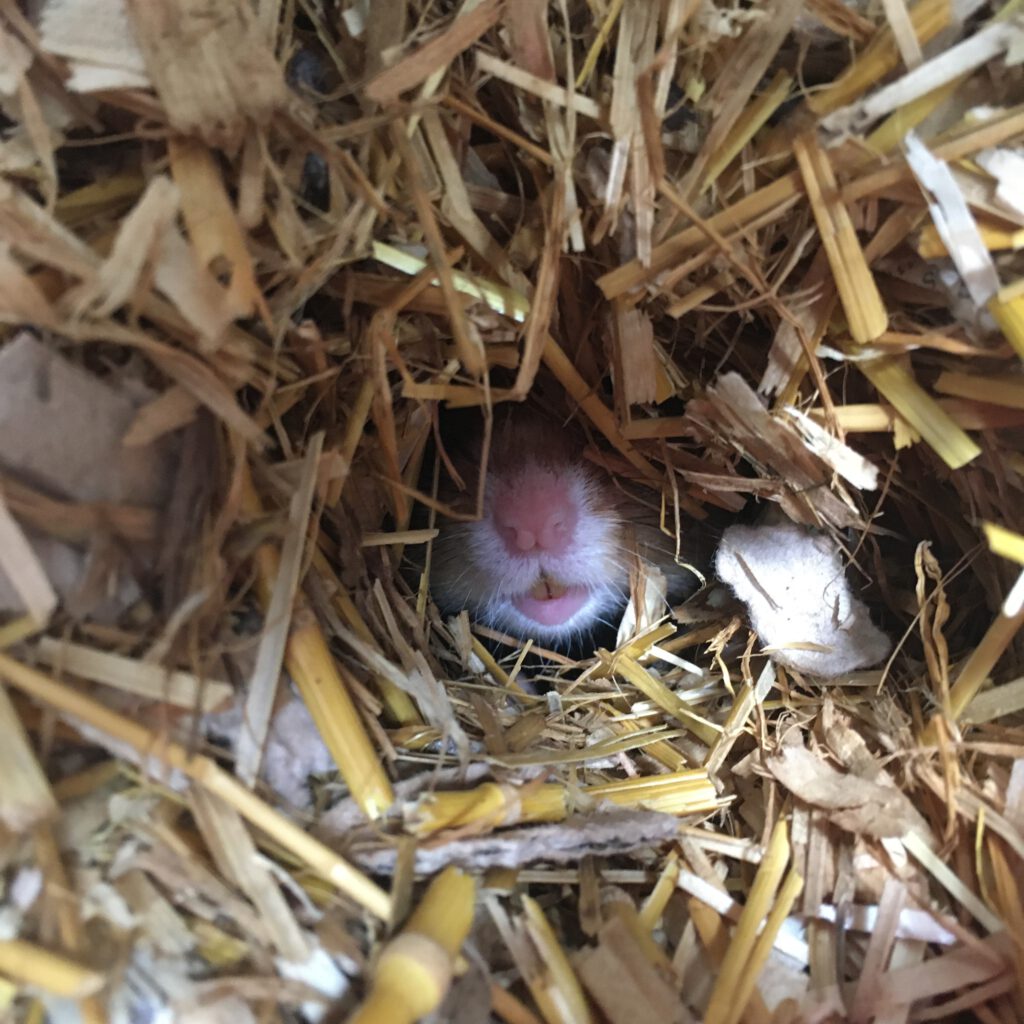 Why are they endangered?
When agricultural practices started to become increasingly industrialised, mono-cultures made hamsters' lives difficult. Kilometers of only one plant species meant their diet became so unbalanced, that they were lacking in important nutrients. This impacts their overall health and their fertility. One study even found that hamsters who were fed a diet of only corn, started cannibalizing their young in order to get the nutrients they needed to survive.
On top of this, up until the late 1980's, cricetus was considered an agricultural pest, because they eat some of the crops farmers are trying to grow. Consequently, many municipalities offered small monetary rewards for every dead hamster presented to them. They were speared, trapped and drowned in their burrows. Hamster catcher was an official job you could pursue. And of course, their beautiful colourful furs were used to make fur coats etc.
Today, the habitat of the European hamster is badly fragmented, especially in western Europe. Small, isolated populations become unstable and collapse after generations of inbreeding.
How are we helping them?
Municipalities are stepping in again, but now paying for the opposite kind of actions. Farmers can get access to EU-subsidies if they practice one or more "hamster friendly" methods on their land. They must grow a variety of crops in smaller fields instead of vast mono-culture, they only harvest parts of their grain and leave others standing longer into autumn, so the hamsters have enough time to collect food for winter. They grow burr clover again, even when they no longer have livestock of their own. All in all, it's a good deal for the farmers. They generally have less work overall, and they get guaranteed pay, regardless if their crops fail or not.
A load of hamsters on their way to a hamster friendly agricultural area, where they will be released.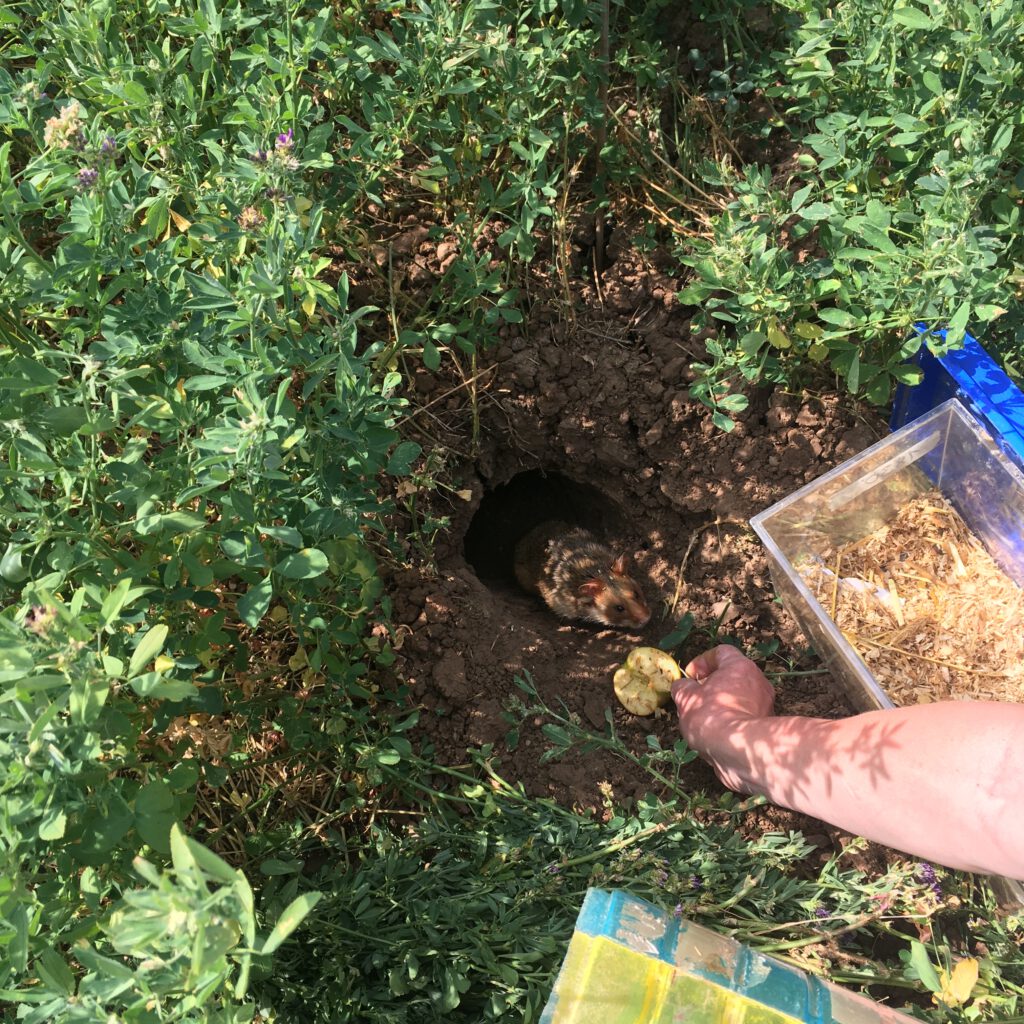 This hamster is being released into a pre-dug hole in a field of burr clover. We give him an apple to get started and cover the hole with clover before leaving him to fend for himself.
On top of this, we are breeding hamsters in captivity, and releasing them to support the wild population. When we breed, we take care to preserve as much genetic variety as possible, by means of genetic testing and strict studbooks.
How do you breed hamsters?
Do you want to know why I was so busy this past summer I had to take a break from blogging?
Hamsters are viciously solitary animals. They will try to avoid each other in the wild but when two males meet they might fight each other to the death.
So that's one issue. In captivity, they cannot run away from each other so each hamster must be kept in its own cage.
When I breed, the selected female is placed in a special breeding enclosure with full access for me from the top and not much distracting enrichment, just two little houses to hide in, so I can separate animals if things get angry.
Once she has checked out the enclosure and feels familiar and safe, I will place her date in the enclosure with her and watch closely how they react to one-another.
Females are in estrus every 4 days and their mood towards males will often change noticeably depending on their cycle. But personalities vary. Some animals are always nice, some are always brutal. Some couples cuddle up together for days and I will not see them mate; others scream at each other all day, sending the males flying through the air or attacking the females from behind and after an hour or so they are happily chasing each other around the enclosure, one copulation after the next. So it takes a little practice and hamster psychology to figure out which couples might mate successfully on a certain day, and where I have to intervene, for the safety of the animals.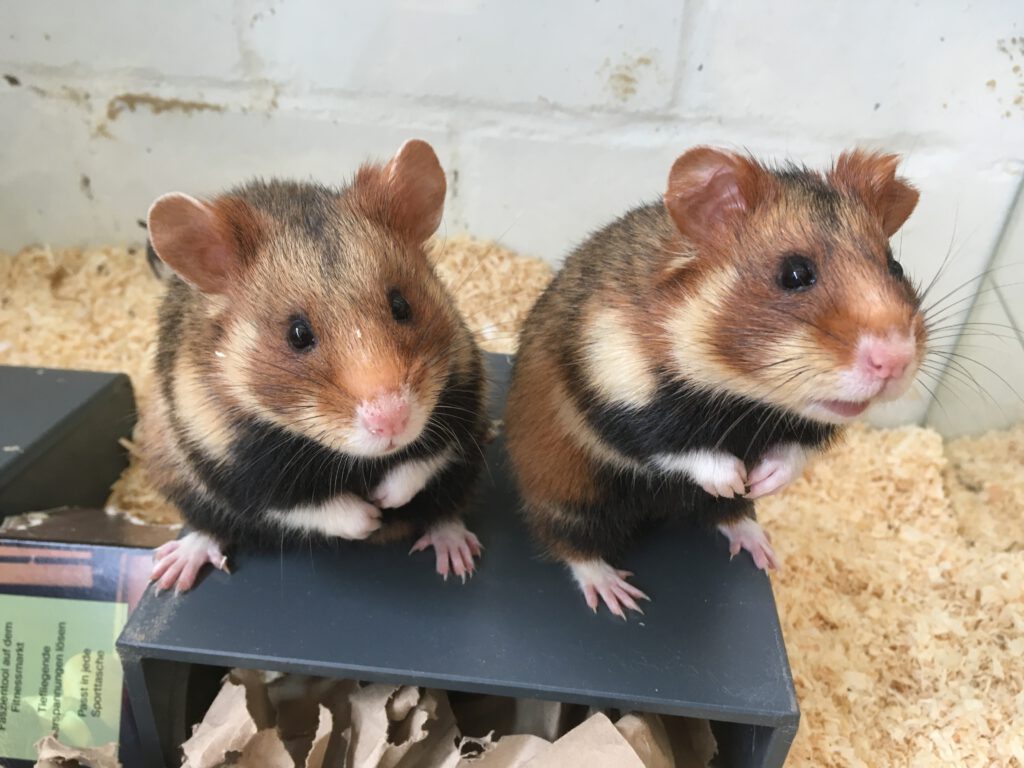 These two are on a date. Things are going well.
Females are pregnant for about 17 days, during which they must be kept as cushy and undisturbed as possible. Generally these hardy animals are almost indestructible. (I had a female partially scalp her date at one point. I disinfected what I could and 3 weeks later you could hardly tell anything had happened. ) But when they are pregnant, there is a chance that disturbance and stress, such as unknown, loud noises, will cause the mother to resorb their fetuses to save energy for a better time.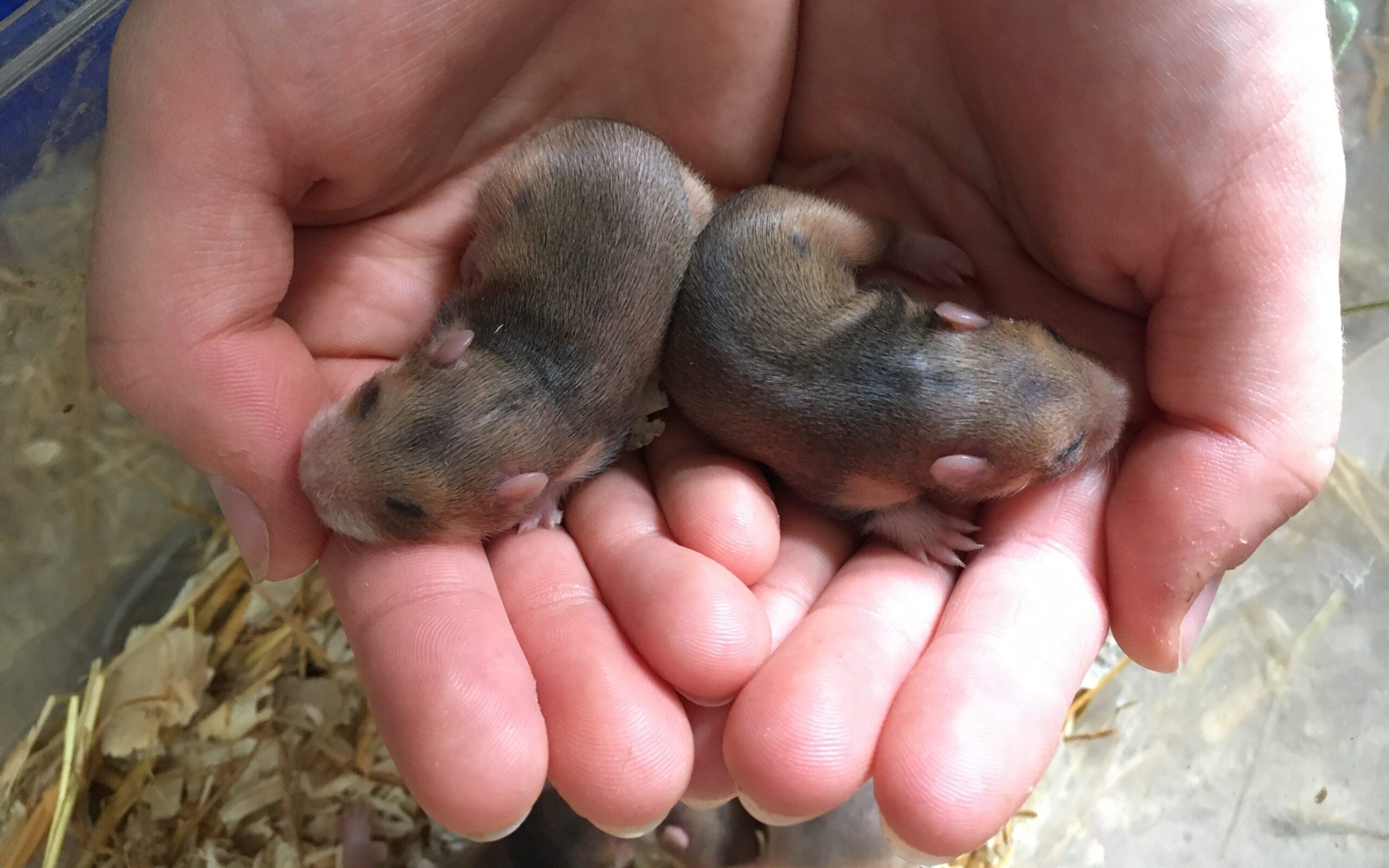 If everything goes well, they will give birth to up to 12 young (old literature even states 16, but this is either wrong, or overall fertility has decreased). They are tiny pink blind and deaf worms at first, but already at one week old they look cute and have peachy fuzz on their skin and you can already see the colour markings. Eyes and ears will open at 10-14 days, but they might already venture out of the nest before, navigating by smell.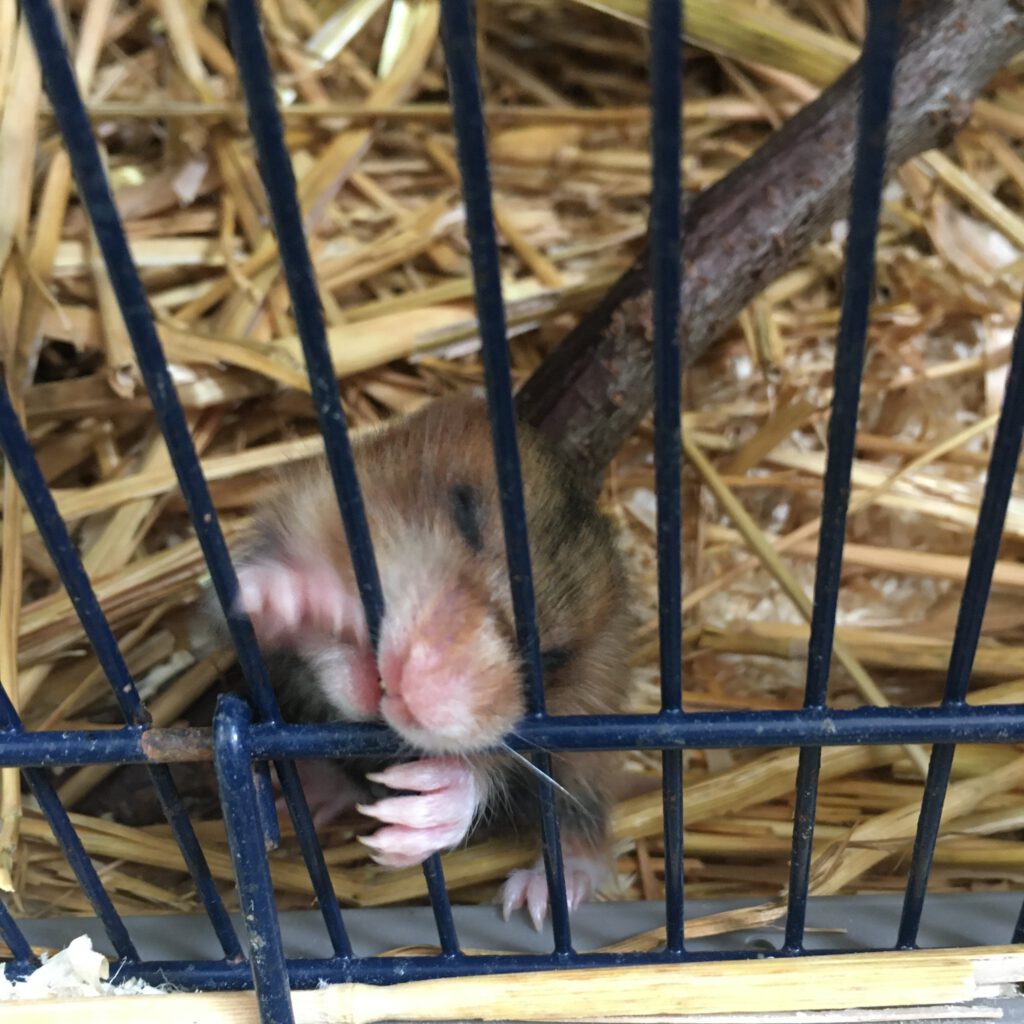 First time out of the nest by himself for this little guy, still blind.
And then everything goes quite fast. After a month, their mother will leave them and after 6-8 weeks the siblings will wander off and find territories of their own. In captivity, we do the same by separating first the mother and eventually giving each young hamster its own cage. On the way we monitor their health, keep them clean, de-worm them and feed them lots of nice things.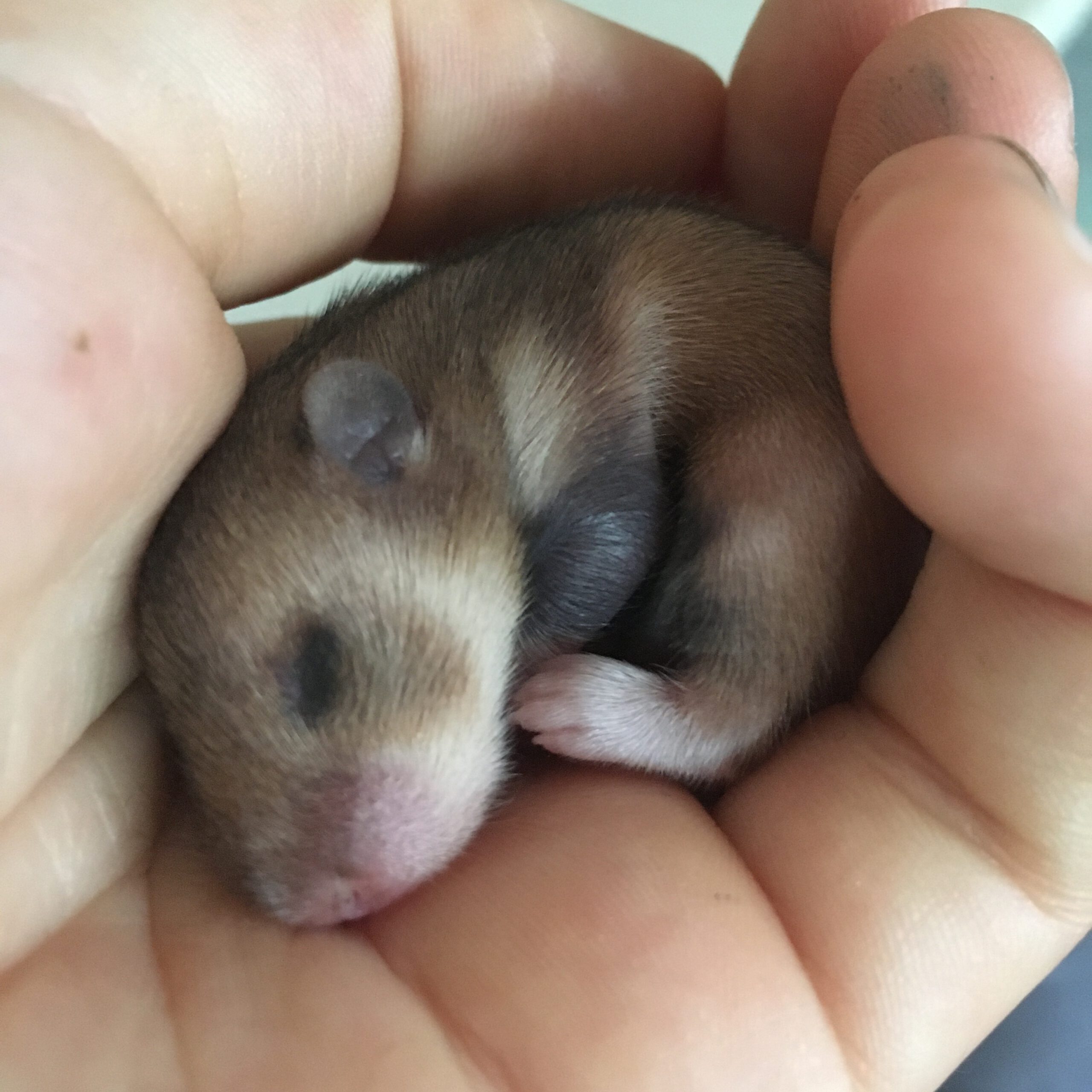 And that is why I was too busy to blog. Now we are ending the breeding season, my last youngsters will be separated soon and we are approaching hibernation season. So lots of blogging to come from here on out.