We're having a heatwave at the moment. The kind where you wake up early, have a siesta and work at night. My terrace has a pebble-floor that gets so hot in the sun, I can only stand on them barefoot for a few seconds. Perfect conditions to dry some food! Who would have imagined, in a supposedly temperate climate.
I am a very lucky person because I live above a kindergarten and get their leftover food at the end of the day. I get all the good stuff too, because kids prefer the cheap rice, potatoes and noodles plain without any veg touching it.
One day, I got a big tub of snack-size tomatoes and they had to be eaten immediately. After we tried our best, there were still plenty left. In the heat they were going to get funky really fast. So after again burning my feet on the terrace, I decided to attempt sun-dried tomatoes. And it worked!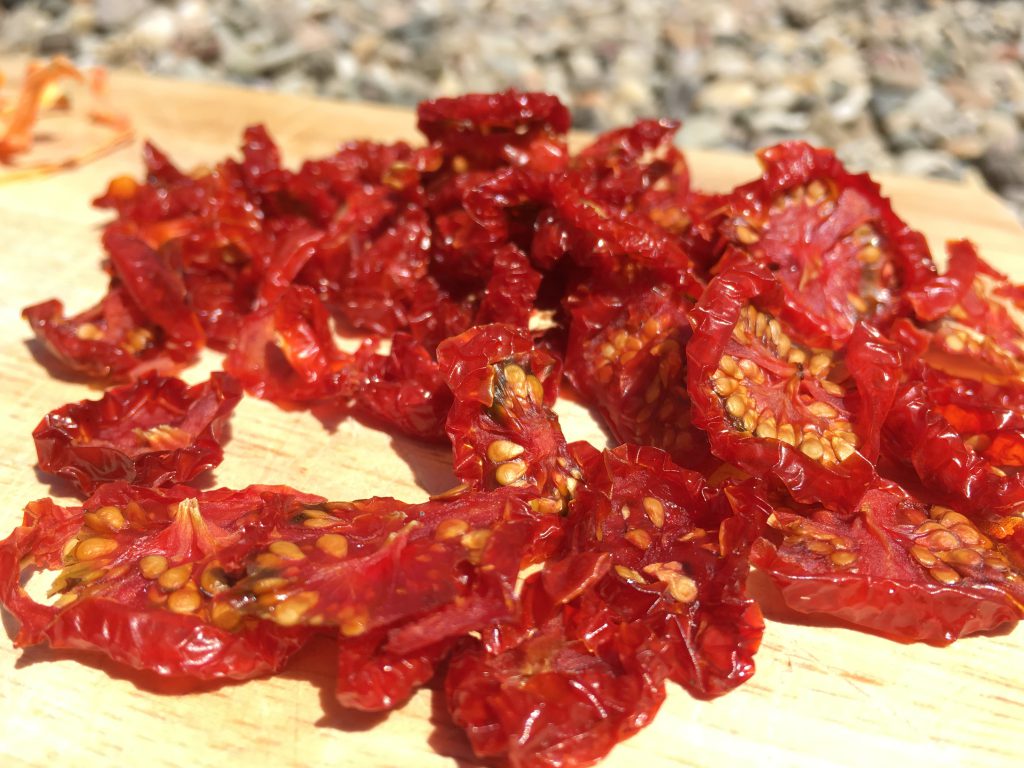 Here's how I did it:
Cut the tomatoes into slices. I tried to get them as thin as possible without squishing all the wet bits out. With these very ripe ones I managed to get them to about 1cm (0.4in) thick. Slice them top to bottom, not sideways. That way, the inside structure still somewhat holds the slice together.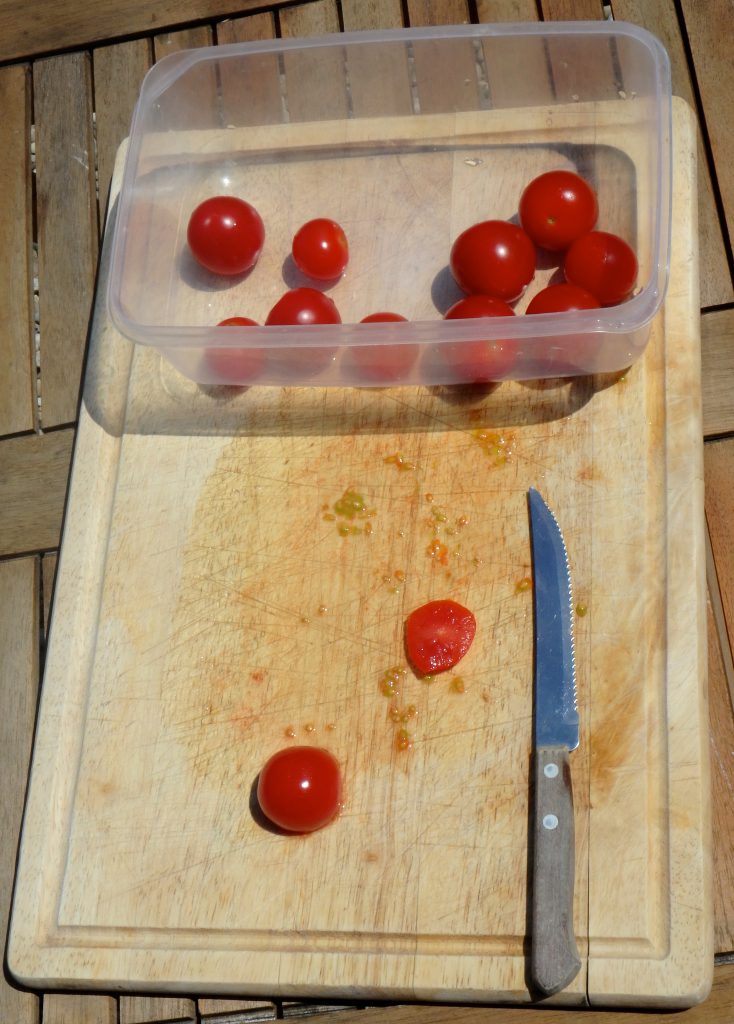 Put them on an oven rack and put a pan underneath to catch anything that may fall through the cracks. If you are using larger tomatoes, this may not be necessary. Although it does slightly protect the tomatoes from dust or other floor things.
Optionally, you can sprinkle the wet tomatoes with herbs like oregano, thyme or basil. I left mine plain so I can use them in non-Italian dishes too.
Place the whole thing in direct sun on the hot rocks. If you happen to be one of the very few people who don't have a rock terrace or -garden (shit for biodiversity anyway), try other hot, sun exposed areas. I propose the roof of a car (just don't drive away with it) or maybe just a black baking sheet or other metal out in the sun.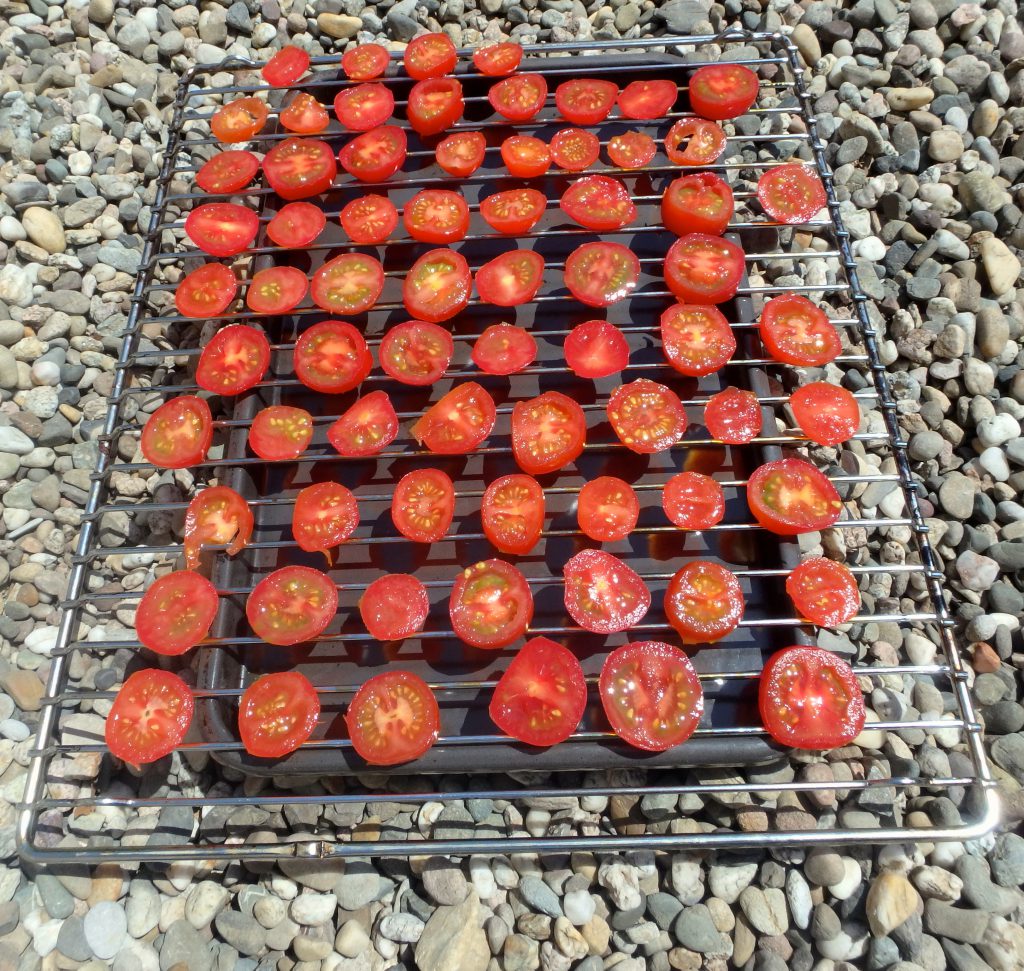 Flip when the top starts looking dry.
My super juicy tomatoes were done after just a day and a half in the sun. Naturally dryer foods will obviously be done much faster.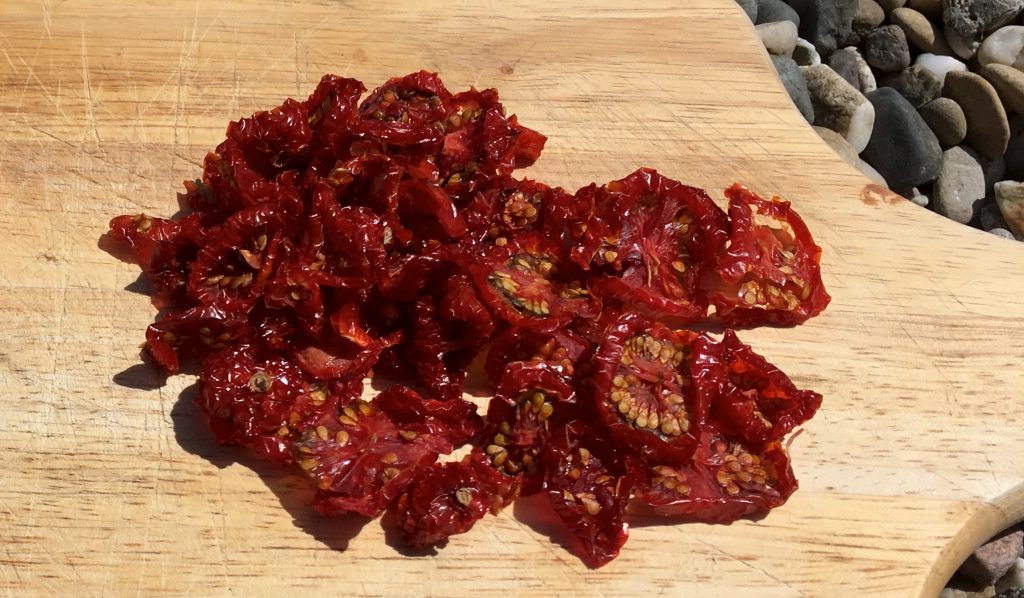 Dried tomatoes are super tasty just as is, or: Place them in a jar of oil (olive is tastiest) and let them sit for a few days, occasionally shaking them up. Optionally, add salt, garlic, capers (only a few!) and Italian herbs to the jar, or a spice mix of your choice. When they are all gone, the tomato-oil makes a delicious base for salad dressings or use as frying oil.
If you are worried about the sun not being strong enough, you can heavily salt your tomatoes to help draw out the moisture. The finished product should then definitely take the oil-jar-route before eating. Otherwise it's just way too salty.
I also found a sad, wilted carrot in my fridge. It wasn't going to be nice for eating fresh anymore so cut it into strips with a potato peeler and hung them on the rack. They dried up in just a few hours. I plan to use them next time I make carrot cake granola.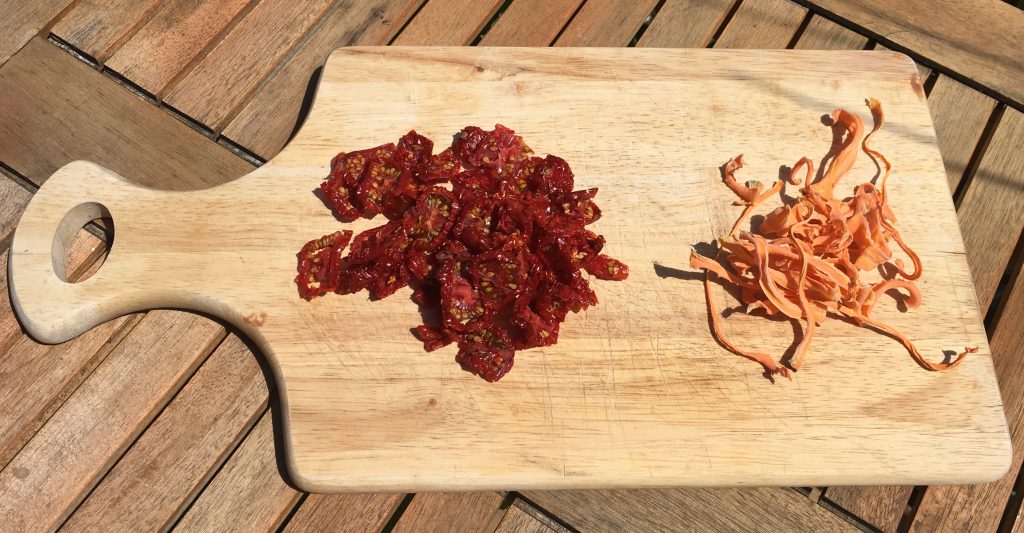 If your garden is exploding with more than you can eat and you don't like anyone enough to share your harvest with, drying is ONE way of preserving for winter / later. Using a julienne peeler, spiralizer, a regular potato peeler or a skilled person with a knife, you can thinly slice many vegetables and dry them. You can later re-hydrate them for sauces, curries, pies… anything where the original shape and beauty of the veg is not required. Or make a vegetable broth (needs lots of extra salt).
I want to build zero electricity solar dryer soon so I can dry lots of goodies that are ripe now so I don't have to import stuff in winter. Stay tuned for instructions!