Have you ever looked on the back of your bathroom cleaning agent and saw that little icon with the dead fish and naked tree on it? As a child I always felt horrible for the poor fish. What it means, is that the product you're about to flush down your toilet and sink and shower is toxic to the environment, and if not treated correctly in a water treatment plant, it will kill plants and animals who come into contact with it. Even in a country with proper water treatment, flash floods and storms could theoretically prevent your toilet cleaner from getting there.
My emotional bond with the fish icon is one reason for today's post. Another is that this last week I felt like at least 5 times a day I heard or read the comment somewhere that a sustainable lifestyle is a hobby for rich people, that climate change and species extinction is bad but some people just don't have the resources to be eco-friendly and put food on the table for their kids at the same time. My main motivation for this blog is to prove that that is in fact a misconception and that a sustainable lifestyle will actually save you money and allow you to have a healthier life on top of it.
So since it's spring cleaning time for me right now, without further a do, here is my guide to CHEAP, NATURE-FRIENDLY house cleaning. As a bonus, it will potentially leave your cupboard emptier and less hazardous to small children because of all the shit you can give the boot.
Our Super Hero Squad:
I will argue that all you need for a sanitary, but non- toxic house are just three main ingredients. Plus occasionally a few side kicks. And all of them are easily available to buy in drugstores, heathfood stores, the internet, often in bulk for cheap.
#1: Baking Soda
And to avoid confusion, I mean sodium bicarbonate. Removes smells, stains, burnt stuff and causes a master blaster dirt destruction together with
#2: Vinegar
Kills bacteria, most molds, smells and is great in preserving food.
#3: Curd Soap a.k.a. hard soap a.k.a. Castile Soap
Its soap. It was invented to clean. But this kind of soap is more basic than, say Dove hand soap. It leaves out all the extras and therefor is a great base for creating all your soap products (body, dishes, clothes…). Make sure the soap you buy is palm-oil free.
The side kicks:
Alcohol: Disinfectant. Vodka will do most of the time, sometimes you may need methylated spirits (preferably the kind without the gasoline).
Essential oils: Not actually necessary, they just make things smell lovely. My favourites are lemongrass and lavender.
Sodium carbonates: Not to be confused with sodium bicarbonate (baking soda). Useful in laundry soap making.
Citric acid: Fancy word. Just use lemon juice. But you can also buy it in powder form. It is great for removing lime spots and in some laundry soaps.
Hydrogen peroxide. Disinfects and is the free-bleeders best friend: It magically makes bloodstains disappear.


Generally, you can clean pretty much everything in your house by dumping vinegar on it and wiping it off with a damp cloth. Or, if the surface needs a scrub, some baking soda with a few drops of water and scrub-a-dub-dub-done.
But for those of you seeking some advanced cleaning agents, I've made a little collection for you.


DIY All Purpose Cleaner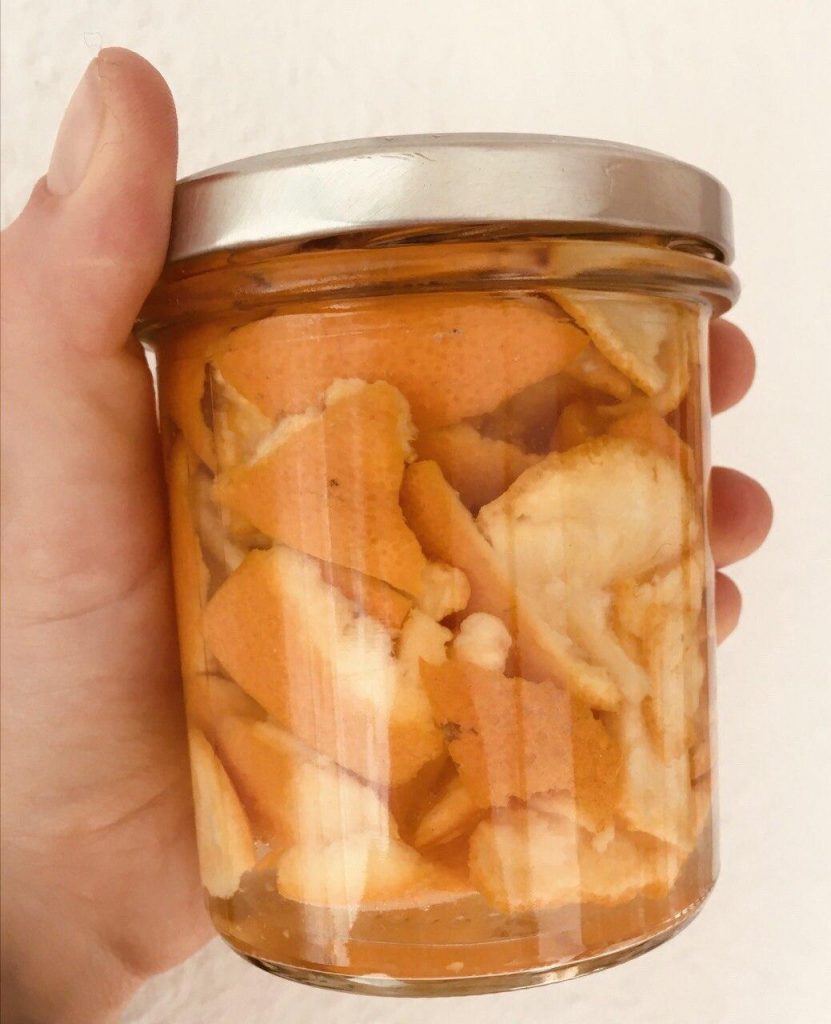 Perfect for cleaning kitchen surfaces, floors and your entire bathroom. All natural ingredients and it smells nice and fresh. The main ingredient is vinegar which is great at killing harmful bacteria, and most molds, it dissolves lime residue from your sink and shower and is also quite a good smell remover, when opening your fridge makes you lose your appetite.
CAUTION: Do not use this on natural stone surfaces. As it might eat at the lime and other minerals in the stone and cause scarring (to the stone, not you).
Also, do not use excessively on rubber and plastic as vinegar can make these brittle over time.
Here's how you make it.
Take the peel from any kind of citrus fruit. Not just the zest, the whole peel, including the white stuff. It can be lemon, lime, any kind of orange, clementine, grapefruit… I've never tried pomelo, it might be too spongy. When shopping, pay attention to how far the fruit traveled to get to you. I currently live in southern Germany and I try to buy my lemons from Italy. Spain if absolutely necessary. No intercontinental flights for my produce, thank you. Don't forget to eat the rest of the fruit. Or make hot lemon or lemonade or freeze the lemon juice in an ice cube tray for later use.
Tightly pack the peels in a clean glass jar or other sealable container (no plastic as the acid in our cleaner can leech harmful components out of the plastic.
Fill the container up with white vinegar until the peels are completely covered. Close the container.
Let it sit for two to three weeks. Because the peels can soak up the vinegar, you might have to add some vinegar from time to time, to ensure the peels stay covered and do not mold. The product is finished once the vinegar becomes a little darker and smells nice and citrussy.
Pour the liquid through a sieve into an empty spray bottle, perhaps the one that contained your last chemical cleaner. Before discarding the citrus peel you can squeeze it out to get the sponged up liquid out as well. Be aware that the vinegar might be itchy on sensitive skin. Just rinse with water if that is the case. Use as you would any other surface cleaner: spray, wipe, done.
DIY Window cleaner
For 1L (4cups):
500ml Water
500ml methylated spirits, like organic ethanol (pharmacy, hardware store), alternatively high percentage vodka or clear schnaps (nothing sweet).
6 tablespoons of apple cider vinegar
Mix all the ingredients together and fill into a reused spray bottle. Done.
Spray on the glass and wipe with cloth. Grandma's trick to prevent streaks and fluff: use crumpled up newspaper (not the glossy kind) to wipe the windows dry in a circular motion.
Note: I have cleaned my windows using this mix but without the alcohol. It works just not as great. You might have to put in a little more effort in wiping away streaks.
DIY Dish Soap
I am not quite happy with this recipe yet but it is the best I have at the moment.
4Tbs sodium carbonate OR 100ml natural liquid soap (health food store, not always cheap or, if there is one in your area, a no-packaging-store)
1L / 4 cups water
4 teaspoons of bicarbonate soda / baking soda
Add both powders to a dish soap bottle and fill up with water. Gently shake to mix. If you want to, you can add some essential oils. Citrus is nice.
DIY Laundry Soap
There's a couple of SUPER natural ways to wash, for example with horse-chestnuts or ivy, both of which I am planning to make posts on when the season is right. But here's a simple, longer lasting recipe:
For 1L (about 4 cups) laundry soap:
15g (about 7 tablespoons) grated curd soap.
20 g (about 4 tablespoons) sodium carbonate
1L (4 cups) boiling water
optionally, a few drops essential oil of your liking, for instance grapefruit or lavender.
Add the soap and the sodium carbonate to a big, heatproof pot.
Pour the boiling water over the mixture.
Vigorously whisk the mix until everything is dissolved and mixed together.
Let sit and cool for a few hours. If needed give it another whisk if the mixture becomes too congealed.
If using, add essential oils, mix, and fill into a clean bottle. If you find the water to separate from the mix, just give the bottle a good shake before use.
Use: as you would any laundry soap. For a regular load that is a "normal" amount of dirty, use 150 to 200 ml ( about 1/2 to 3/4 cup).
If you are washing your clothes by hand, I recommend not to use this recipe and instead only to use the curd soap, grated or whole. Straight forward and easy on your skin.
Tip: instead of nature-hater detergent, pour a shot of white vinegar into the detergent slot in the machine.
DIY Air Freshener
Perfect after a smelly poo but also as a body mist or when your clothes took too long to dry and smell a bit miff.
Fill a small spray bottle, for instance and empty perfume or body mist bottle with (distilled) water. I always just use tap water and it works great too. But I have pretty good tap water. I guess distilled water will make it last longer. Add about 10 drops of an essential oil you like. Close and shake. Shake before every use. If you are not quite content with the strength of the smell, add more oil or water down to your liking.
Side note: my friend has one of these labeled "anti monster spray" which she will spray her daughter's room with if she is scared of monsters. It is lavender scented which has a calming effect on the nerves and is great to smell before bed.
Bonus: Stinky Shoe Relief
Fill old socks (ideally nylons) with baking soda, tie them closed and store inside your smelly shoes when you re not wearing them.
When All Else Fails – The Explosion Masters
Clogged drain and the plunger (yes, you can use a plunger in your shower and sink as well) can't get the job done?
Badly burnt crust on the bottom of a pan?
Need a rising agent for a vegan cake?
Okay, the last one is off topic but the solution to all these problems is the same: Baking soda and vinegar. Together they cause a master blaster chemical reaction that chews through almost everything.

Clogged drain: Dump a few tablespoons (1 to 5, depending on how bad it is) of baking soda (bicarbonate soda) down the drain. Then, slowly pour vinegar on top of it and watch it bubble and squeak.
Ratio: 1 tablespoon of baking soda : 1/8 cup (30ml) of vinegar. For a bad clog, you'll need about 4x that amount.
Wait for a few minutes to allow some time for magic to happen, then rinse thoroughly with hot water.
Please try the plunger method first though, because dumping that amount of soda (it is a type of salt) into the water system is not really great. It is definitely way better than all the chemical drain blaster products you can buy. Another option is to unscrew the drainpipe and unclog by hand. That's the best for the environment but not always feasible without destroying the bathroom.
Burnt crusts in pans, ovens or on the stove top: Try the soft version first: make a paste out of baking soda and water and massage the crust with it. Or add a little more water and let soak overnight before vigorously scrubbing the next day. If that doesn't work, start a new batch with baking soda and instead add vinegar (apple cider or white) little by little. Once the bubbling is over, scrub vigorously. And remember, never use a metal wire sponge on Teflon / non stick pans!
Cake: I'll get to that soon in a different kind of post.
…This month I challenge you to stop buying chemical cleaning products and when your bottles empty, refill them with your home made stuff. Happy cleaning!
How did I do? Is there something you need to clean, that I have not provided a product for in this article? Please let me know in the comments and I'll do my best to find solutions and write more on the topic.


*Title image by Brianna Martinez via Pexels (edited)