About a quarter of all our greenhouse gas emissions are accounted to forestry and agriculture. Modern agriculture is one of the big contributors to habitat loss and the resulting extinction of way too many species already. To make it worse, about a third (!) of the food produced globally is lost or wasted. That's about 1.3 billion tonnes (Source: FAO). I struggled to put that number into a graspable context. The best I could do after some Ecosia-searches: 1.3 billion tonnes, that's 539 times the weight of the Pyramids of Giza.
Now, most of that waste is not your fault if you are not working in the agriculture industry. And even these people are bound by some very stupid laws and the competitive market.
But consumers still throw out way too much food. Here's a graph I picked off the FAO site showing how food waste amounts vary throughout the world.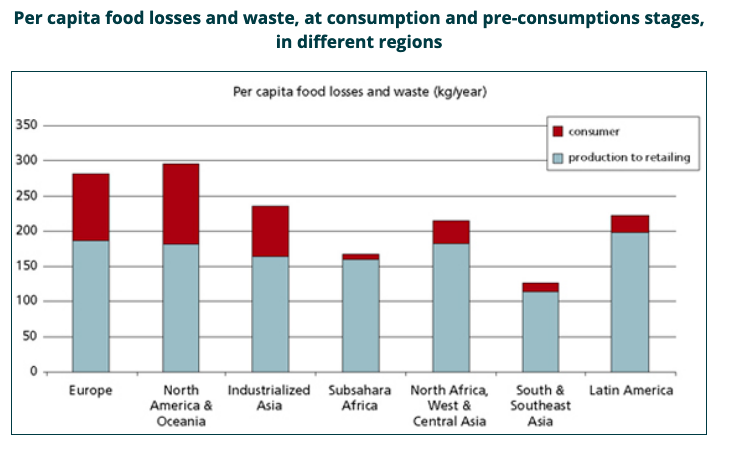 But there are many ways to attack that problem. One of them is this month's challenge: Find or build a food-sharing network around you. You are most likely to be successful in your search on social media. It might be just a regional Facebook-group where people offer their extra meals to come pick up (always bring your own container, common courtesy). Some neighborhoods have a public food shelf where you can bring and take (make sure its rat-proof and don't leave things that need to be refrigerated, unless there is a refrigerator). Some organizations, like Foodsharing in Germany, Austria and Switzerland have made deals with restaurants and markets, to pick up what hasn't been sold at the end of the day, and redistribute. Get the to good to go app. Take a portion of home cooked soul food down the street and give it to a homeless person. Collaborate with your neighbors. Host a weekly potluck with your friends. Open up your cluttered up garage to the public to start a new food sharing shelf. Bring the subject up in your local community center. Oh, and a real simple one: never go food shopping when you're hungry.
The bonus to this whole effort is, that food really brings people together. And we need more social time these days. Oh, and you'll save quite a bit of money. About 25% of your food expenses, if you are an average Westerner for example.
* Header photo by Kaboompics .com from Pexels