Friends, I had an adventure! Together with my sister and two friends, I went to a 40.000-people-strong Fridays For Future demonstration in Aachen last week and since we were in the area, we thought we should stop by the legendary Hambach Forest to check it out for ourselves.
Now, if you are not German or living in Germany, it is probable, that you have no idea what I'm on about. The Hambach Forest was, and sort of still is a beautiful, 12.000-year-old mixed forest in an area of Germany, that has long been a mining site for coal and ore.
After many protests from the people and also in an effort to at least look like we are trying to reach the goals we set ourselves to adhere to the Paris Agreement, the last bituminous coal mine was closed in December 2018. But they continue to mine for lignite, also referred to as brown coal.
The Hambach Forest is standing on one of the biggest brown coal reserves and has been gradually chopped down so the energy company RWE can continue to mine there. Of the original 5.500ha surface, only about one tenth is still standing. According to the German environmental group BUND, the forest is home to a bunch of endangered species, including a number of different bat species.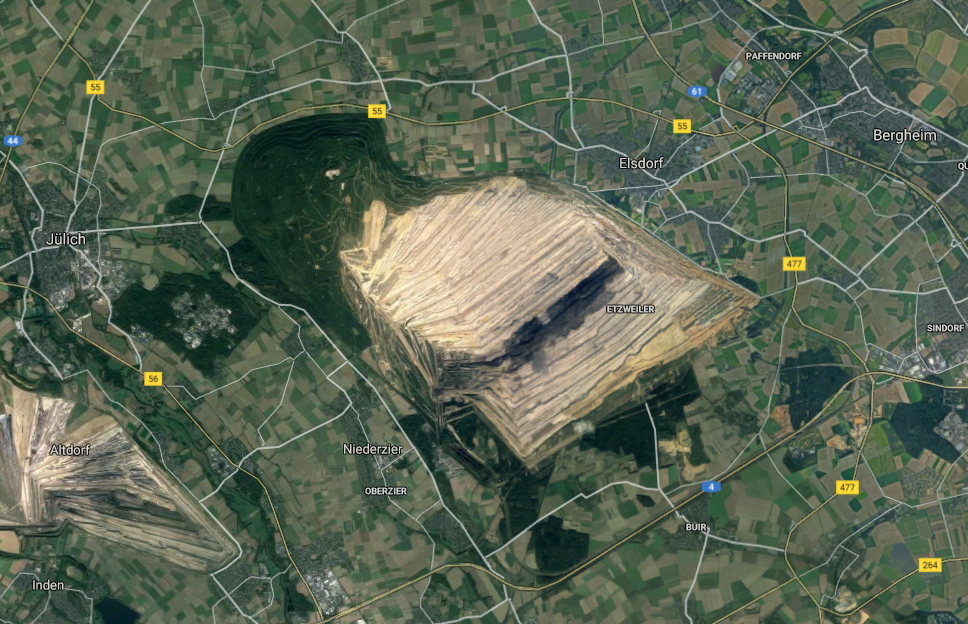 People living in villages in the area are asked to leave their homes and farms in exchange for compensation. If they refuse, they are eventually expropriated on the basis of hindering the "greater good for the community". People feel mixed about this, as many people living here work for RWE.
Since about seven years now, people have been protesting the continued destruction of the forest. With increased media attention and louder calls for better climate policy and a faster energy transition to renewables, more and more people have joined the demonstration at the forest.
Besides the regular marches, there are also some badass people hindering the work in the mines by sit-ins and building tree houses, living in the trees and effectively protecting the trees with their bodies. Under the regional law there, sleeping in the forest is legal. So the people cannot be arrested for being there. However, you are not allowed to build structures in the forest and every once in a while the police will come in, destroy everithing the demonstrators built and arrest any people they can. The whole scenario sounds kind of crazy, so we decided to have a look for ourselves.
Story Time!
We had been marching at the demonstration in Aachen all day and only left town in the evening. A navigation mistake and a huge detour later, we arrive at the tiny station of Buir around 10 p.m., just as the sun is setting (yay for midsummer). Following the instructions on the official website of the movement, we cross a bridge over the A4 highway and head along an overland road towards the forest.
It doesn't take long until we are overtaken by two people in Black hoodies, camouflage pants, black and red striped socks and Dr. Martens boots. They are pushing a shopping cart full of beer. Two fire trucks are heading our way, the guy flips them off, the girl tries to dissuade him noting that "die haben auch irgendwo 'ne Daseinsberechtigung" (they also have some kind of right to existence).
Then a middle aged man wearing a silky, flowing morning gown catches up with us on his bicycle and we ask him if we are going the right way. He is very friendly and in a way, he reminds me of the mad hatter in Alice in Wonderland. He cycles on, and we continue our trek. A few hundred metres further there is an unopened bottle of beer standing in the middle of the road. A gift, left for us.
We come to a crossing between fields of cereal and bump into a dude with blond hair and lazy-belly holding a bottle of coke, obviously mixed with something alcoholic judging by the man's scent. He asks us, if we know where the demonstration is and we tell him there was one in Aachen today and one against coal mining and therefor linked to the Hambach happening, that had been moved by officials to 80km further away. "Oh, that's why I couldn't find it". He instead spent the day wandering around the fields and villages, drinking. After he finds out we are heading to the forest to find the squatting camps and spend the night there, he decides to tag along.
He decides we must be hardcore lefties because we are wearing big backpacks and sort of confesses to us he used to vote AfD, a new, logic-free, right-wing populist party, recently gaining fast traction in Germany. His reason was that he wanted the D-Mark back, the German currency before the Euro was introduced in 2002 when he was about six or seven years old. I didn't really understand his argument. Now he doesn't vote at all anymore. So there we are, wandering between wheat and rye fields arguing politics with a drunk dude. When he stops to pee, we don't wait for him.
We enter the forest on a gravel road and two people, their faces wrapped up guerilla style in black shirts come towards us calling out to us, what appears to be code words. We're like: "huh? Were looking for the forest camps. Can you help us?" and receive directions on how to get to one called the "Winkel".
It is getting pretty dark now and we arrive at a roadblock made of ditches, wooden barricades and the remains of what we later learn was a sofa, set on fire, and the reason the fire brigade was coming from the forest earlier. White t-shirts with messages we can no longer read in the dark are strung between the trees looking like ghosts and above us are banners reading "Hambach Forest Stays!" and a black one with big eyes on it, saying something about you having lost the game. It feels really eerie plus we are not sure of which way to go from here.
To our relief, the beer-trolley, the mad hatter, drunk-lost-dude and a dread-locked guy with a ripped rock-band-t-shirt carrying a mattress catch up with us form somewhere. The mad hatter inquires whether we received his "Flaschenpost" (message in a bottle) which we confirm, smiling. I like this guy, he's so weird. And definitely tripping. They are also heading towards the Winkel and we can tag along. On the way, my sister talks to the guy carrying the mattress. After realizing we are genuinely interested and not out to get them, people open up a little and talk a bit more. He says that tonight there will be a big party because they need some distraction from a bereavement and there will be little sleeping tonight. We are exhausted and not in the mood for staying up all night, so we fall back and eventually disappear into the bushes, stumble around for about five minutes and pitch somewhere in the dark.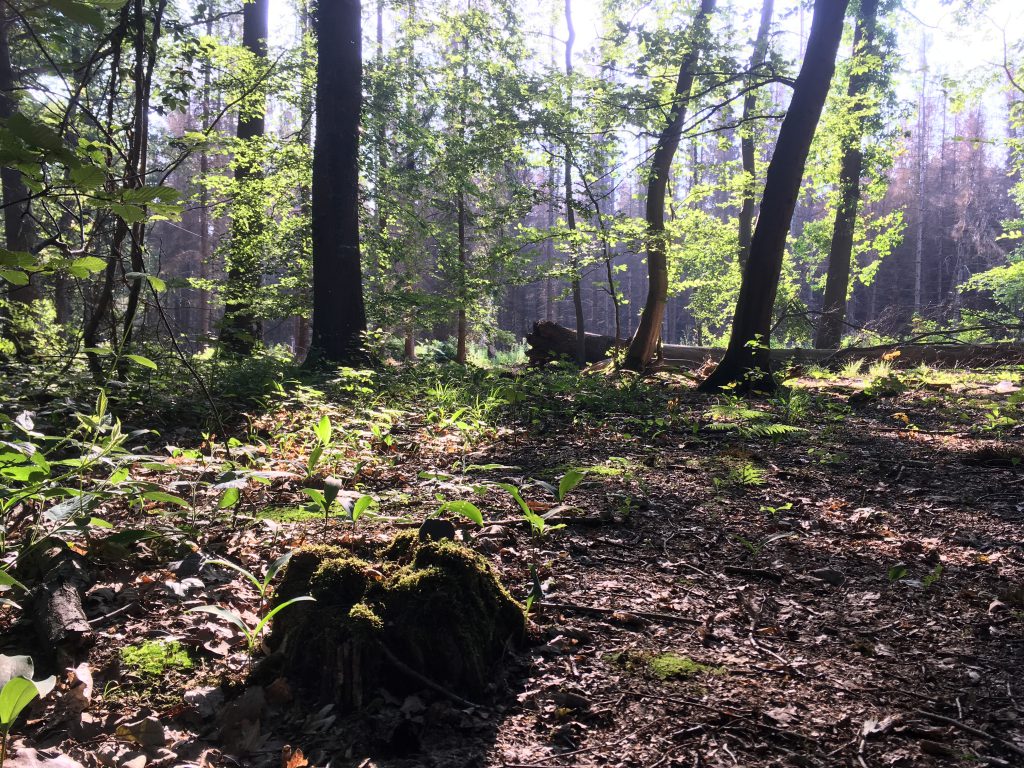 The next morning, the spook is gone. Sunlight is streaming through the trees and birds are singing. In the distance we see the lost drunk guy from last night wandering aimlessly through the forest. It seems like he had a good party. As we pack up our sleeping bags, people in black or camouflage with wrapped up faces pass by on a nearby foot path. some are carrying water canisters or big bags, some are on bikes. After we pack up, we decide to follow this footpath and soon find ourselves below some amazing tree houses high up in the trees.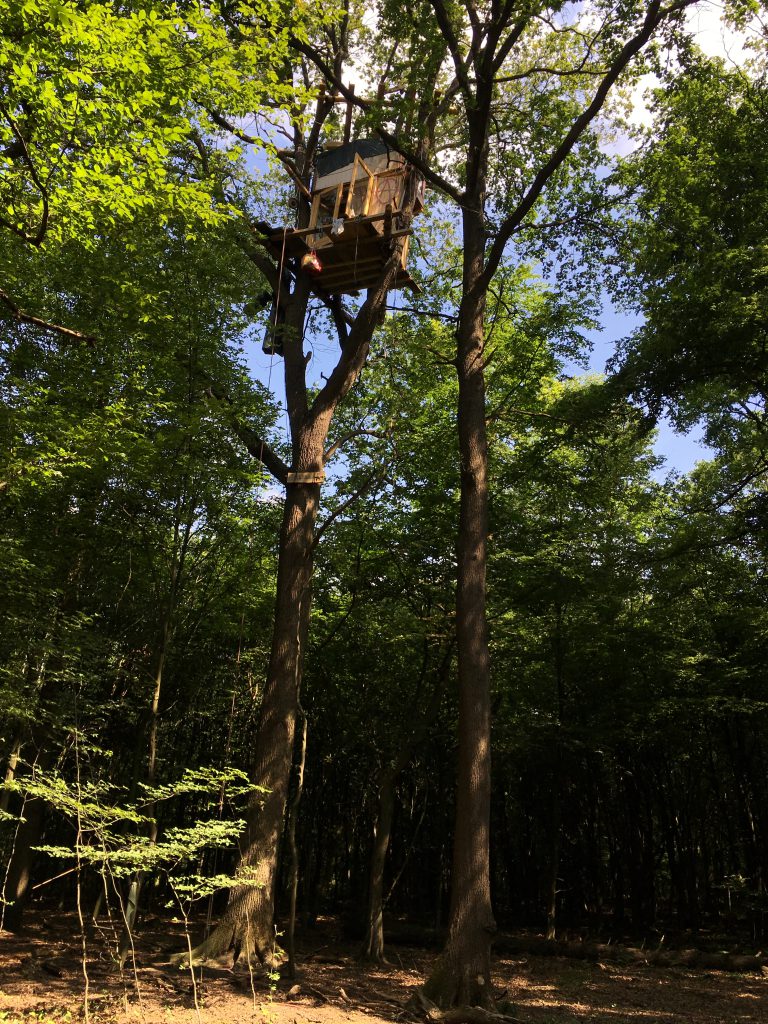 The inhabitants of this camp are just waking up. To prevent police from climbing into their houses to arrest them, these people do not use ladders, but climb and abseil using ropes and tree climbing equipment. I hear a zipping noise behind me and when I turn around, a masked person in, you guessed it, camouflage and black is abseiling down from a tree house, head first, spider man style. Pretty much ignoring us staring at them, the person then proceeds to make their breakfast over a small fire in the forest floor.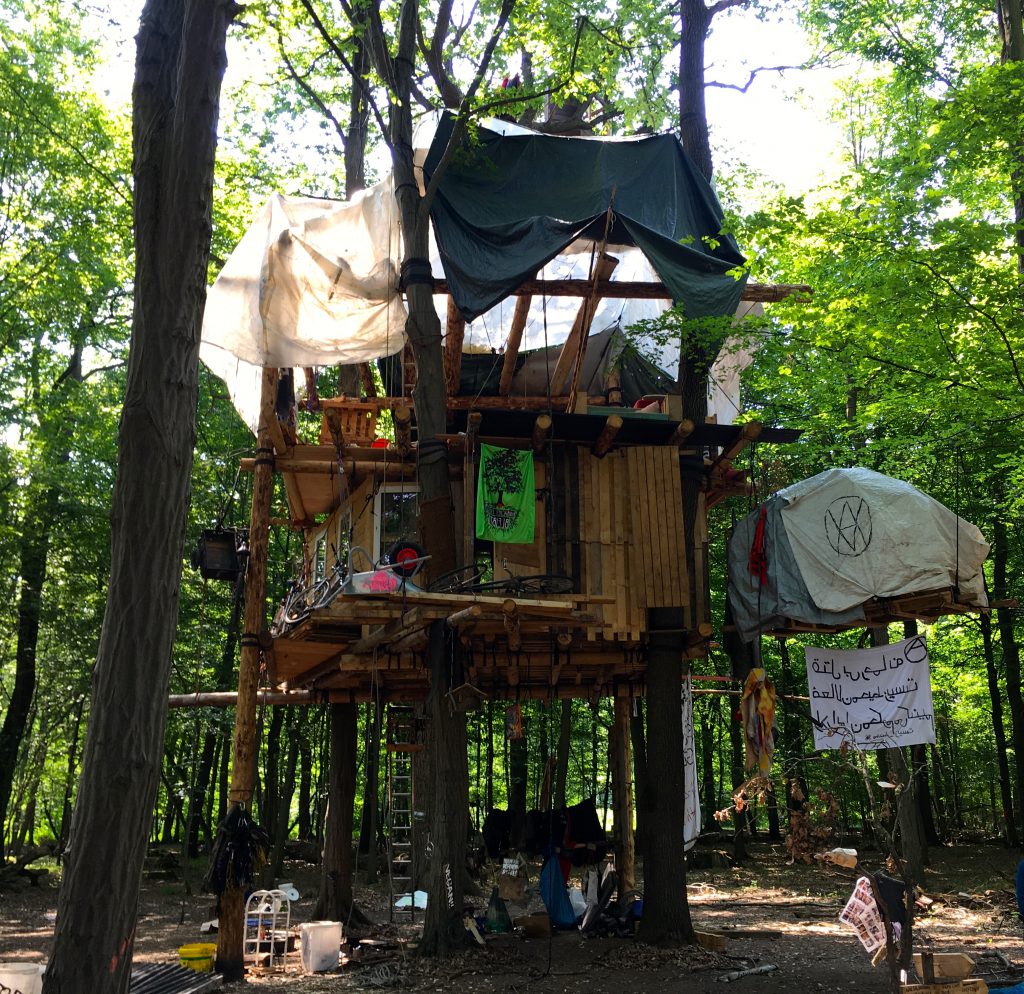 Most people we meet are understandably reserved, seeing as we are strangers who basically just walked into their home. As we later learn, many people come here to halfheartedly start a building project without commitment or just get wasted and trash a place and leave the next day.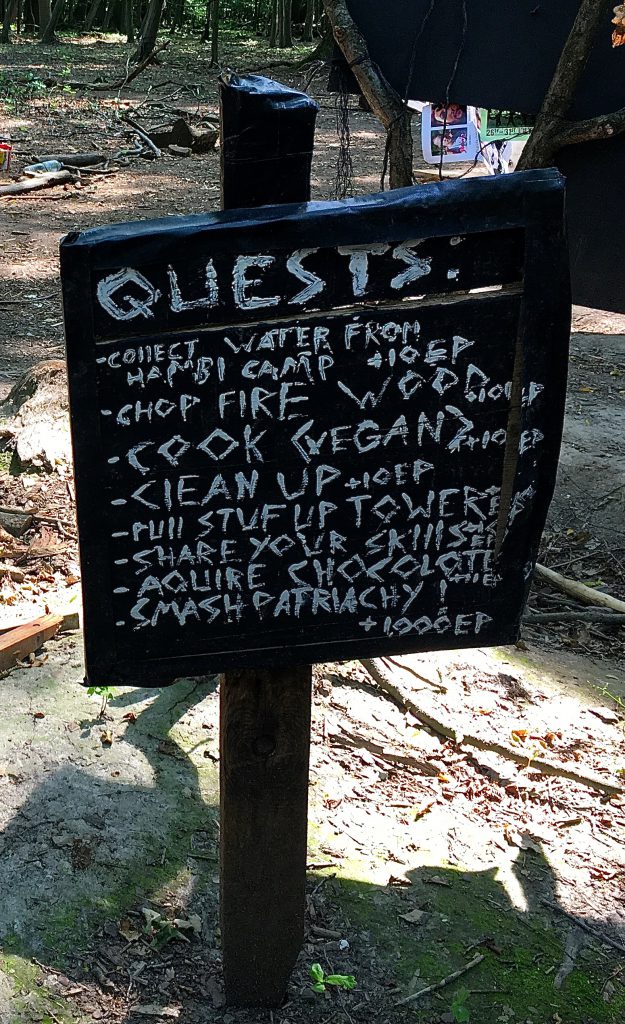 But then we meet one man, who used to live here for a few months but then moved back to the city. He visits regularly, stays over night and brings the people water or other things they need. He is very open to talk to us and leads us to another camp called Oak Town, as it sits in a group of beautiful old oak trees. I immediately love this camp. The group of houses high, high up in the trees are connected by bridges. This enables them to visit each other without going to the ground. So they can spend multiple days up there during police raids.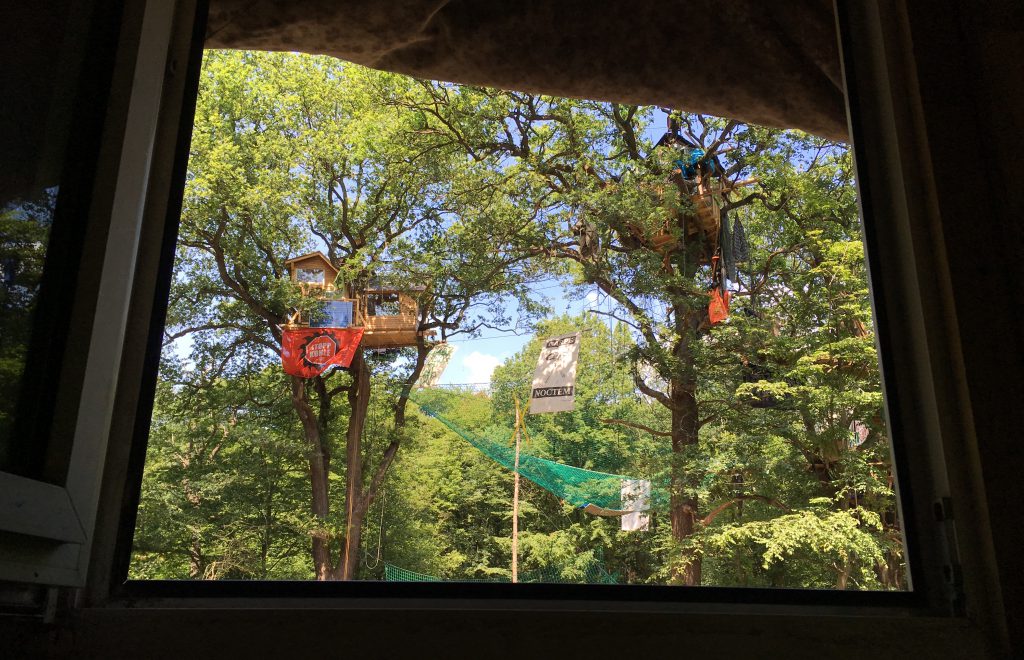 A huge net is also strung between the trees, that people can climb and lie in. Banners are hanging in the air telling officials to take off their uniforms and apologize to their children. Further down and reachable by a sturdy ladder is what is going to be the information cafe/library.
Below, under a little roof is a fire place surrounded by figures toasting bread and having breakfast. A man with long gray hair and beard wearing a middle ages style shirt, who we later find out works as a black smith on middle ages markets. A young lady in jeans shorts and long leggings underneath, with sparkly blue eyes, freckles and very pregnant. A young man with a vintage vagabond style vest and dreadlocks. We get talking with them and are almost immediately invited to put down our backpacks and sit with them. They even offer us some food but we know that most of the food is donated or containered and I don't want to take what I do not need.
As we speak, a few more people come sailing down from trees and help themselves to breakfast. Its a very nice feeling being here. Everyone is a weirdo and here one is accepted for who you are. There is no judgement. The vagabond guy shows us a big net he is working on and we help him tie knots for a while. He also shows us how to tie a couple of different knots used for climbing and securing things in trees. He tells us that the people here have skill sharing meetings where people exchange useful knowledge for living in the forest. They learn things like safe climbing and building tree houses without harming the trees, but also legal matters and what police are allowed and not allowed to do to them. We see a big hole in the ground and vagabond man tells us that before the last police raid, there was a tunnel system here. Two people shut themselves in there and managed to stay in there for two days before police eventually managed to pull them out. The trick here is that police don't know how many people are in the tunnels and until they are not certain there are no people left in there, the machines cannot roll in. It is a weird life feeling I get from the people here. They live in houses without running water and only a few have solar power. They stay up in the trees most of the time and everyone is constantly on alert because you never know when the next police raid will be. Yet somehow it feels so peaceful and natural for these people to be living here. They look radiant and healthy. Many are barefoot, their hands brown from doing real work all day. They smell of earth and fresh sweat. To me, this lifestyle has a somewhat healing effect. When we talk about it later between the four of us, one of my friends strongly disagrees.
Before we leave, we climb up to the library/info cafe and poke around. I'm a little bit jealous. I would love to live in a tree house.
Our tour guide leads us out of the forest. We pass by the roadblock and the spooky t-shirts in daylight now and it is comparable to checking under your bed and being relieved there are no monsters there, it just looked freaky in the dark.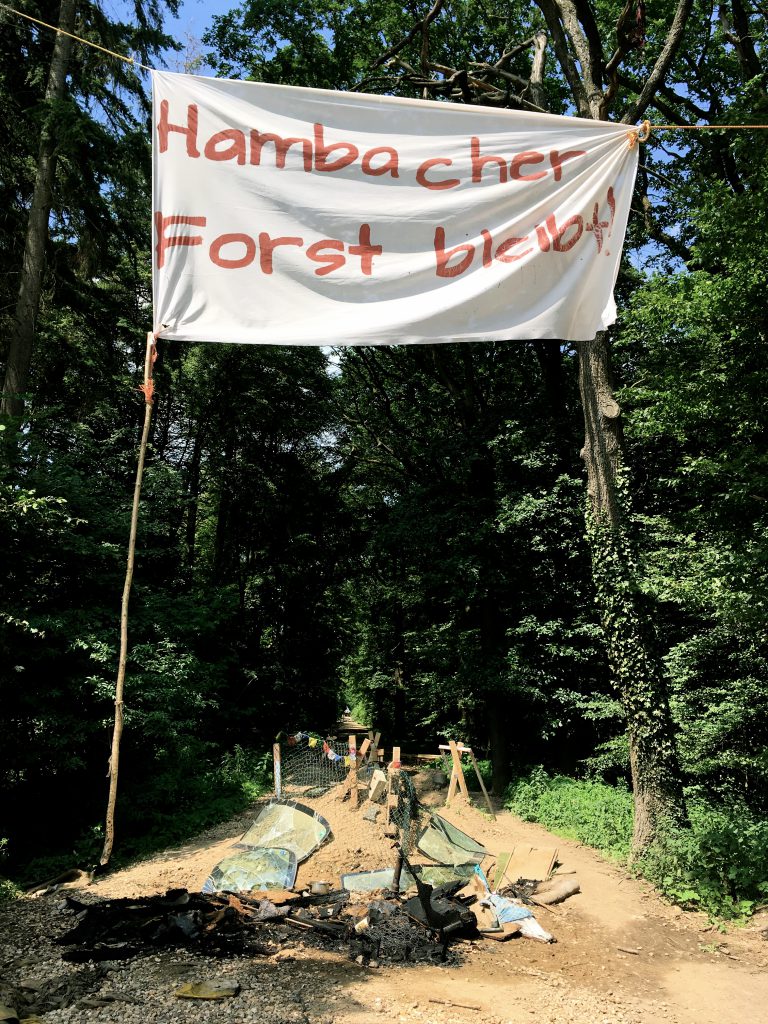 We stop at the "Mahnwache", a picket set up in the field that has food and water, couches and internet and a little altar with the names of people who died for the movement. We stop there for a bit and watch the live stream of the occupation of another mine with thousands of people in white hazard suits sitting in and hindering the work on the mine.

As we walk away along the country road, a police van pulls up next to us and a bald officer with a long red beard leans out of the passenger side to ask us where we are going. We keep walking and I say "to the station." I can tell the officer wants to say something else but then just says, "ok" and they drive off.
On our way home, we discuss how far we would be willing to go for a cause like this. Living in a place where there is little privacy and people are constantly in and out of your life is one thing. What about living in a constant state of bracing yourself for the next surprise raid? Would you risk being beaten with batons and tear-gassed by police? Risking falling off a very high tree or being buried underground? What about police records? You have a hard time getting working visas abroad with police records. Even if it is just for squatting in a forest. We all agree that we have deep respect for these people. Nature loving, creative people, building amazing structures and building a beautiful anti-capitalistic community where everyone shares their skills, knowledge and resources. And idealists, willing to stand up to police for this cause, where most of us would be too afraid of getting hurt. I'm really glad they are here.