Here in Europe, winter is sending polite little reminders of it coming to see us soon-ish. The trees are still green but the nights are getting pretty cold already. Soon the leaves will be falling and covering everything, protecting the micro life below from the harshest frost (Little nudge not to rake leaves unless necessary).
And all the small little animals like hedgehogs, snakes, lizards and toads will be looking for a safe place to hibernate.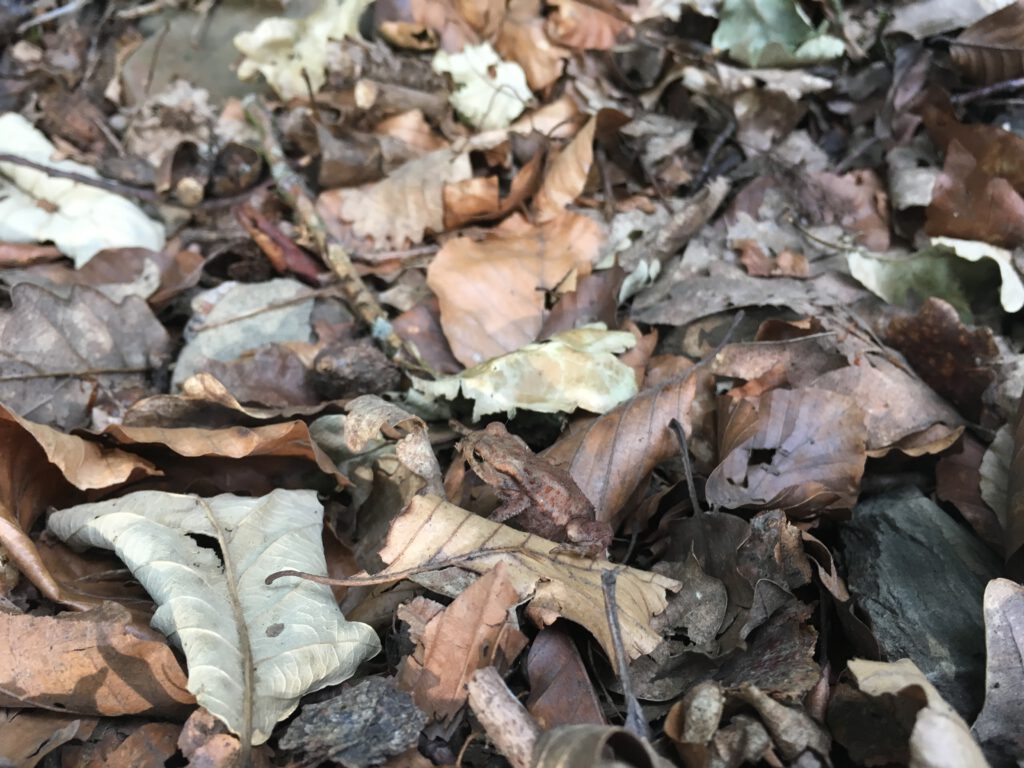 Can you spot the baby toad (Bufo bufo)?
I am aware that some of my readers live in more tropical, frost free climates. This challenge can be for you nevertheless, as shelters are used year-round for many little critters. If warm enough, some will also lay their eggs there.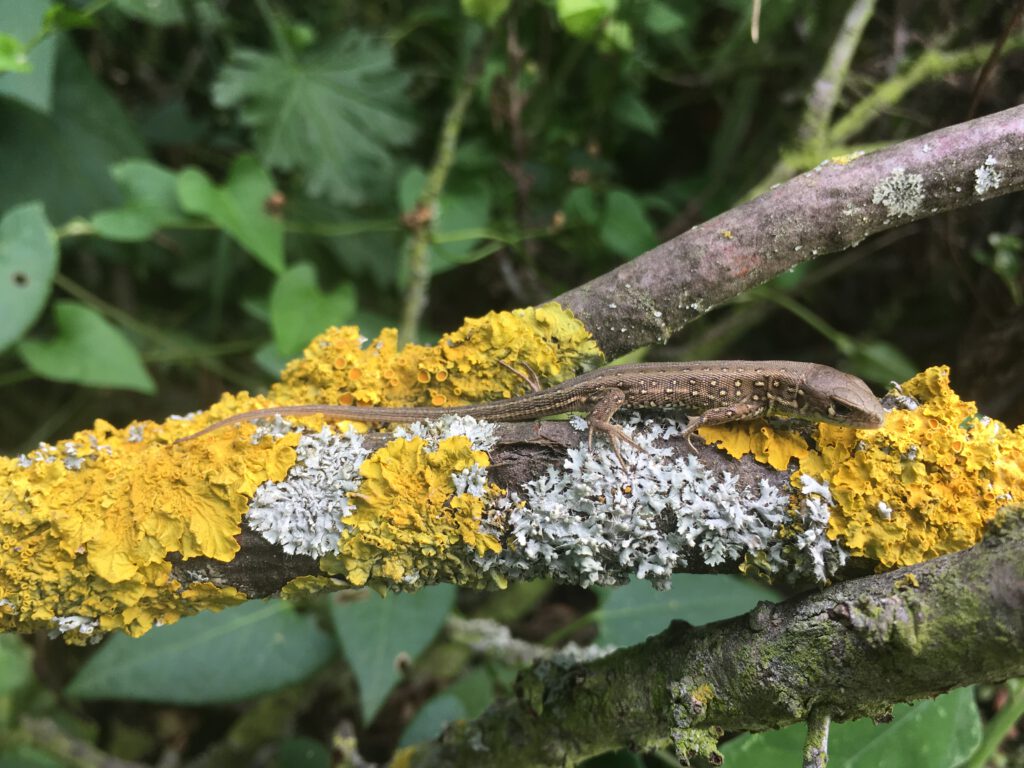 Baby sand lizard (Lacerta agilis) I released in a pile of twigs during a translocation project (their home would be a building site soon).
This Month, I challenge you to build a shelter for the small animals in your garden.
If you don't have a garden, maybe you can engage at your local school or park or other outside recreational area and convince them to let you do this project there. You could even make a little educational project out of it for the other people using the area.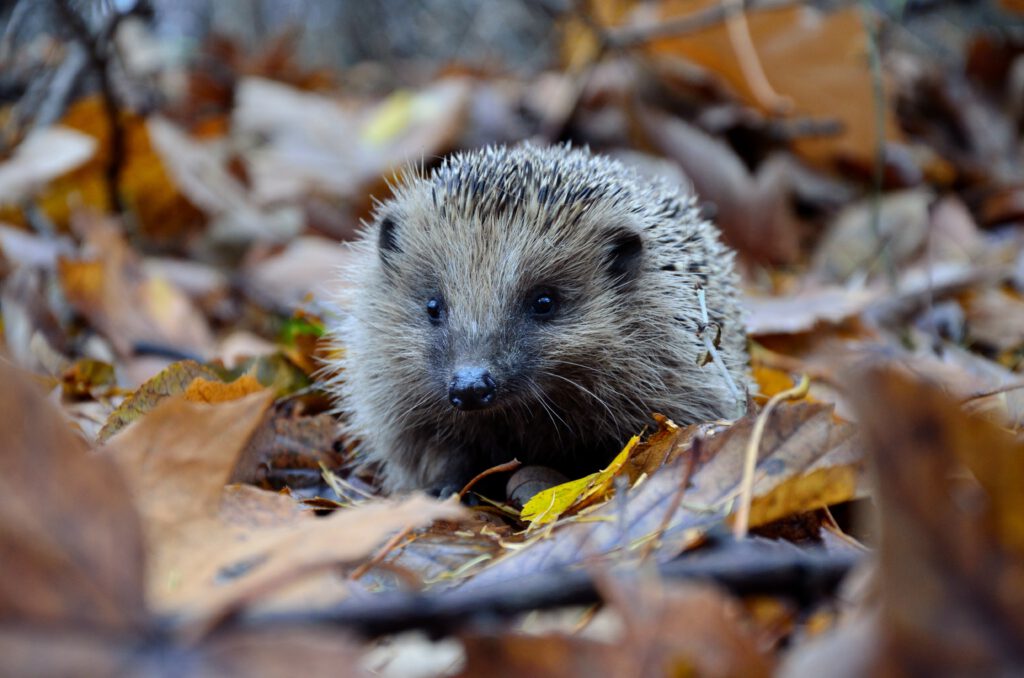 If you have a hedgehog in your garden, congratulations! Your garden is probably very nature friendly. Please don't use poison to kill slugs. Hedgehogs will eat the slugs for you but poisoned slugs are obviously not a good meal. If you have a really bad slug problem, try beer traps: a cup of beer dug into the earth so the rim is level with the ground. Slugs are attracted to the beer, but fall in and drown. And one more: slugs and snails cannot cross copper. So a copper band around your veggie patch may be some actual magic protection.
Instructions:
Choose a corner of your garden that doesn't get a lot of action, maybe a far corner or under some overhanging shrubs. The ground shouldn't be swampy.
Pile up logs, dead wood, branches and twigs. Ideally, try to use some logs, where the center is already decomposing (not slimy rotting, but falling apart like sawdust) and make them the base of your collection.
Throw any kind of plant cuttings that accumulate during your garden work on the pile. Try to let things dry.
When you rake leaves, you can rake them up around the base and against the sides of your shelter.
Optionally, if a part of your shelter is very exposed to the sun, you can pile up a few rocks there for lizards to warm up (they will not do this in winter when they are hibernating).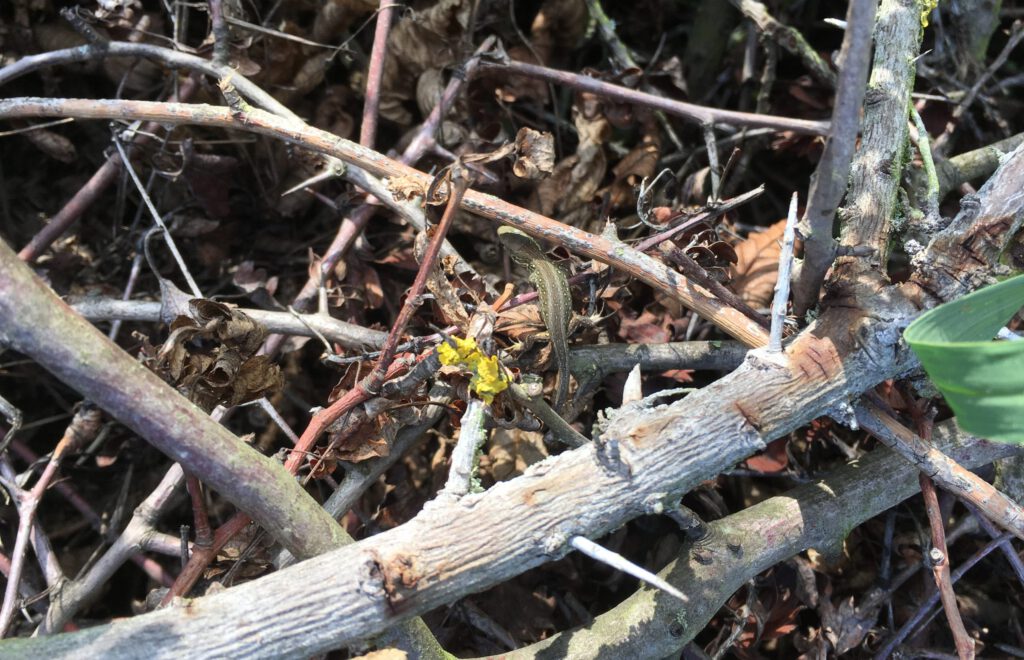 Spot the baby sand lizard! This is a perfect hiding place for the vulnerable youngster who is a formidable climber.
Once the heavy stuff is in place, try not to move it around too much, as herps (outdoor-people language for herpetofauna = amphibians & reptiles) may have dug a little hiding place directly underneath and could get squashed. If you have to move something, try neatly flipping things over, without sliding or grinding them across the ground.
And then, when you are done with everything, leave it be. Turning things around to look for the animals is obviously very disturbing when you are trying to hide, hibernate or have babies. Wait until they come out and you can have a meet and greet in your garden on their terms.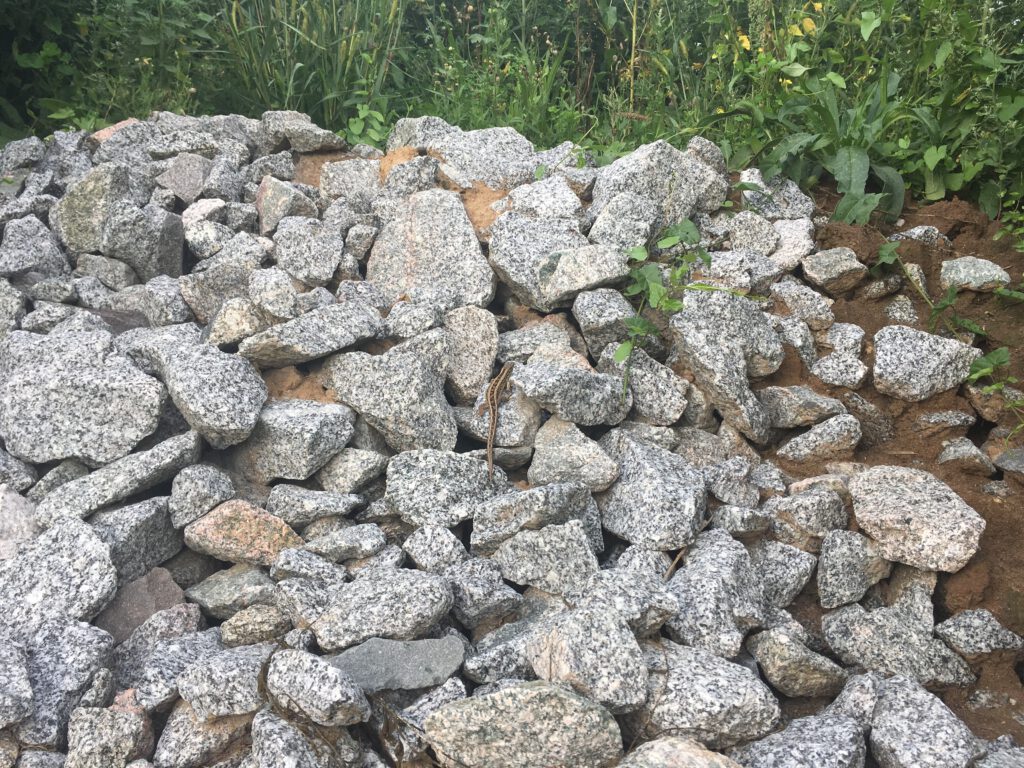 Female sand lizard warming up on a pile of rocks. When disturbed she can quickly disappear into one of the cracks.
The Anthropocentric WHY? :
Often, when I tell people about my work and what we do to protect different species, people will ask "but why do we need to protect them? How are they useful to us? Why does it matter if they disappear?"

This is what I call an anthropocentric worldview, in which we think that the human is the centre of the wold, the culmination of god's creation, and that the rest of the world, all the billions of other creatures, were put here for us, by god or whoever, for us to use and exploit to our heart's content. You often see these little diagrams with a human shape surrounded by a circle of shapes of other animals.

Yeah… so I don't believe in this. To me, the existence of every species has intrinsic value and every species is magnificent and fascinating. Ecosystems are complicated webs, that collapse, when too many pieces are taken out. And us humans are also just pieces of huge webs.

In my opinion, the humans with the anthropocentric worldview are sailing dangerously close to disappearing off the face of the earth after the ecosystems they depend on, but are too arrogant to admit their dependence, collapse under the pressure of their exploitation.

But, in the case of the reptiles and amphibians and maybe even hedgehogs in your garden: They actually are of value to you beyond their intrinsic value. They naturally control the population of insects and slugs in your garden. So ideally, try not to poison them by poisoning your pests. Just let them do their job and eat all the pests for you.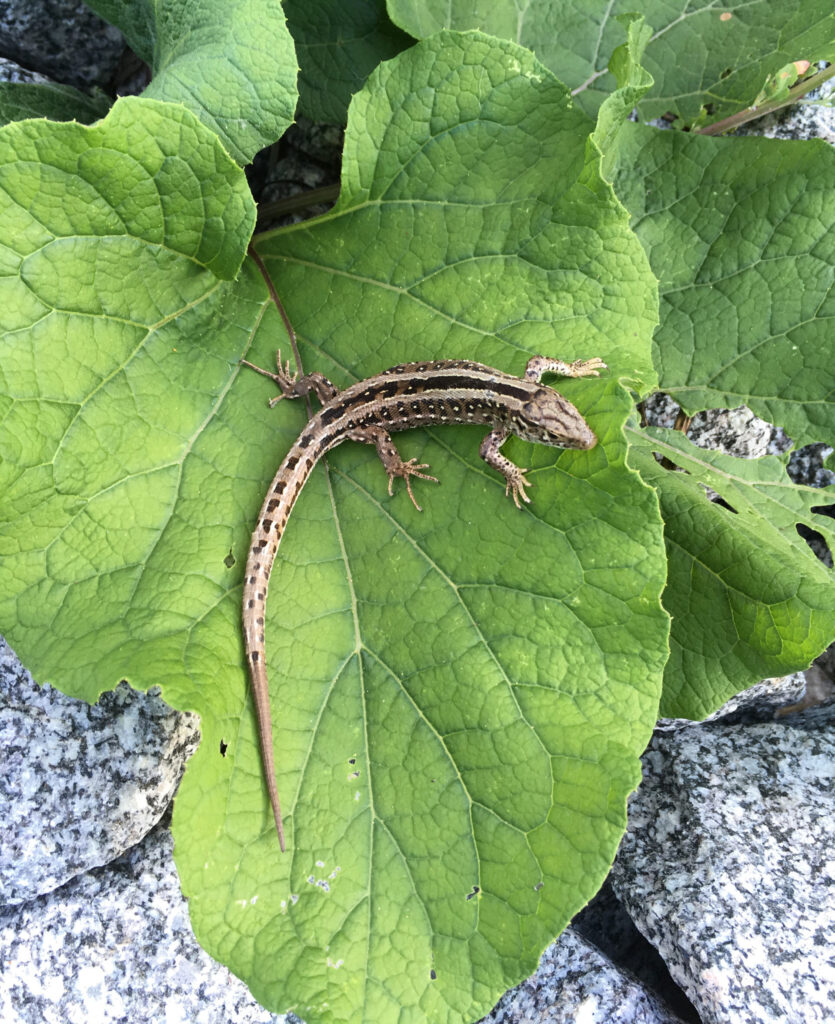 *Hedgehog-Photo by Piotr Łaskawski