My family asked me if I would come with them to choose a tree and I felt like a real Grinch saying I don't want to participate in cutting down a whole tree just for decorating a living room for 2-4 weeks.
But that's how I felt. I love the pagan traditions of Christmas but watching the tree dealers and the unloved leftover trees on the last days before Christmas makes me sad.
Excursion – Pagan Traditions of Christmas
So the story goes like this (very simplified):
Before the Romans colonized Europe and forced people to convert to Christianity, most of the tribes living in central and northern Europe had polytheistic religions, believing in thunder gods, and goddesses of love and fertility and some had good or less good dwarfs and mischievous, but in a way also likable, bad guys (Thor is not an invention of the comic book industry).
Anyway, these people celebrated, among others,  the mid-summer night or summer solstice (still do on 21st or 24th of June) by jumping over a fire and preserving some of its light within their hearts to survive through winter; and the mid-winter night or winter solstice (21st or 24th of December) by finding signs of life within the quiet, dead landscape of winter: An evergreen tree, some red apples (today symbolized by the ornaments on the tree) and burning candles made of beeswax.
When the Romans converted us to Christianity, they figured, correctly, there would be less resistance if they incorporated the already existing traditions. So they just set Christmas to happen to be on the same day as winter solstice, keeping the tree and lights. Jesus' birthday is actually not on this date.
So I came up with a few solutions:
The Simple: Artificial Tree
I am quite well traveled and my impression is, that most people who celebrate Christmas and do not live in central or northern Europe, have an artificial, plastic tree that comes out every year. No tree was harmed in the making of this Christmas tree. But you may want to keep your Christmas plastic free or have, like me, different aesthetic expectations of your Christmas decoration. Even then, there are tree shaped, metal or wood contraptions that you can buy, store away and re-use every year.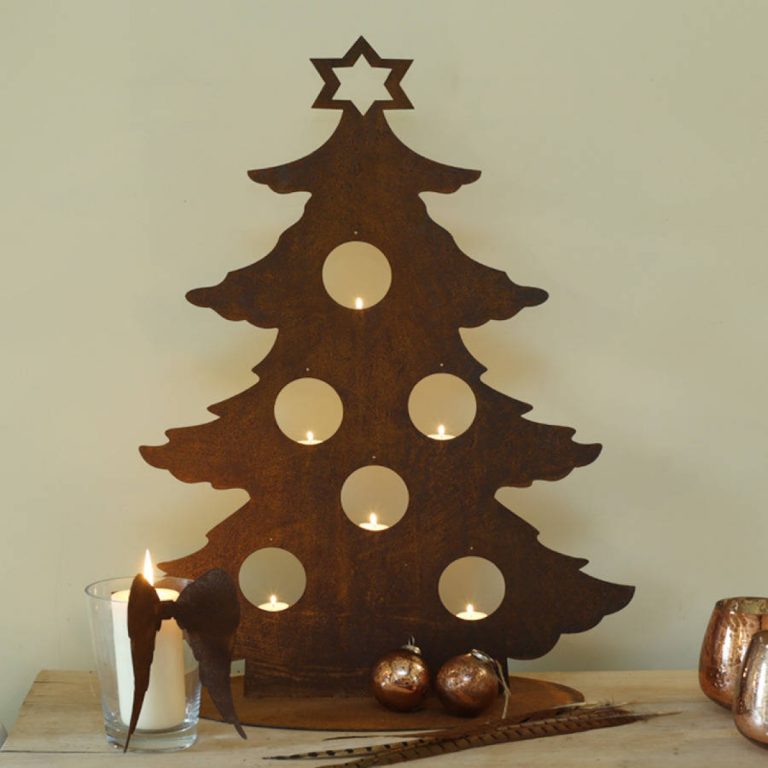 The Creative: Build-A-Tree
In one of my favourite children's books growing up, an old and somewhat confused, but also very creative man named Petterson, lives in his house in rural Sweden with is trouser-wearing and helpful, but sometimes not so helpful cat Findus. In one of their adventures, Petterson breaks his foot just before Christmas and he is unable to go to the forest to cut a tree for the two of them. Their solution: build a tree. And after image searching "Christmas tree alternatives", I discovered, many people have had similar ideas.
Here are some of my favourites: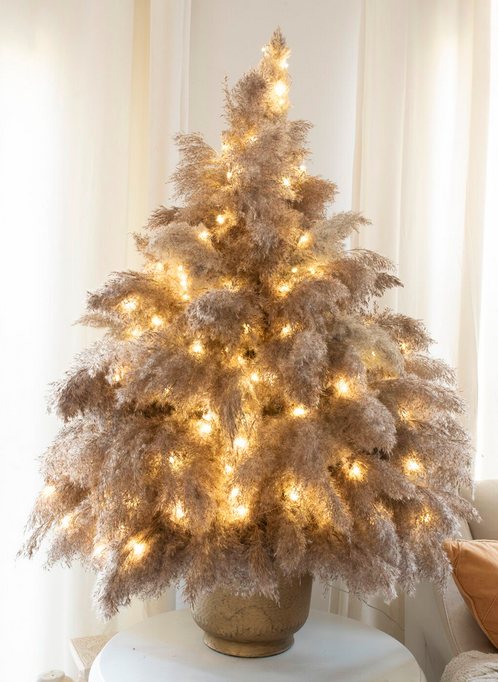 I am very impressed with this DIY project made out of pampas grass. Here is a tutorial on how to make one on how to make one. Please make sure you use sustainably sourced grasses. The downside: it cannot hold ornaments of any weight. You'll have to stick to fairy lights and straw stars.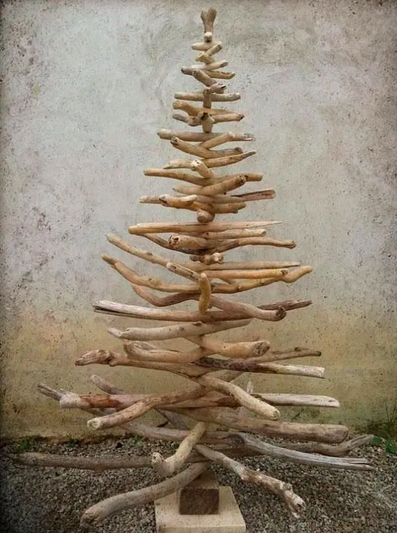 These beautiful trees are made of drift wood. But really, you can use any kind of wood you can find as long as it is beautiful to you. This website has instructions how to make one.
Here's a simplified version, also using driftwood, but taking it to a 2D Dimension on the wall.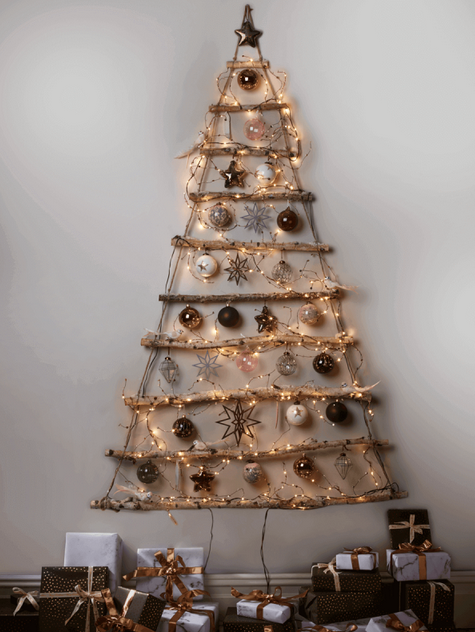 If we are using the wall, a great way to save space if that's an issue, why not make a triangular-, or Christmas tree silhouette on the wall, by sticking things to the wall: random decorations, tidbits and oddities, sentimental heirlooms and photographs, sheet music, record covers, pieces of wrapping paper, anything yellowed or retro is very cool… whatever you find beautiful and fits into your theme. You could even attach fairy lights to this.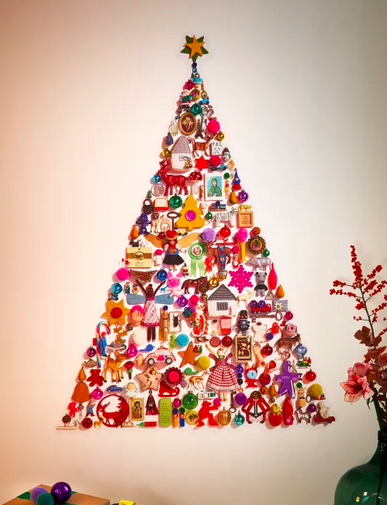 I also like the idea of using branches and twigs in a sturdy vase. OR, find a big, dead branch, paint it white (or don't) and prop it up.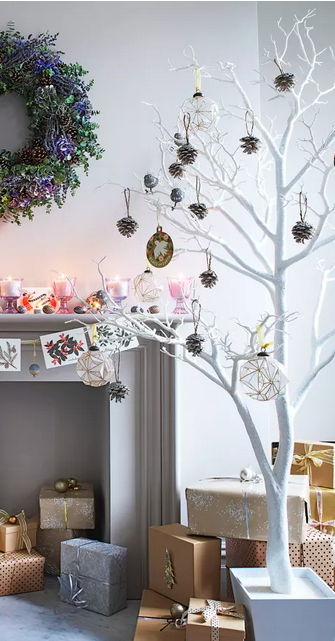 Or, if you're ready for some advanced carpentry, this very practical, tree-reminiscent shelf can be filled with all things green, red and white, the Christmas gifts, ornaments or actual evergreen twigs and other natural things you find in the forest. The rest of the year it serves as a conventional shelf in the practical sense. Find the materials and instructional video here.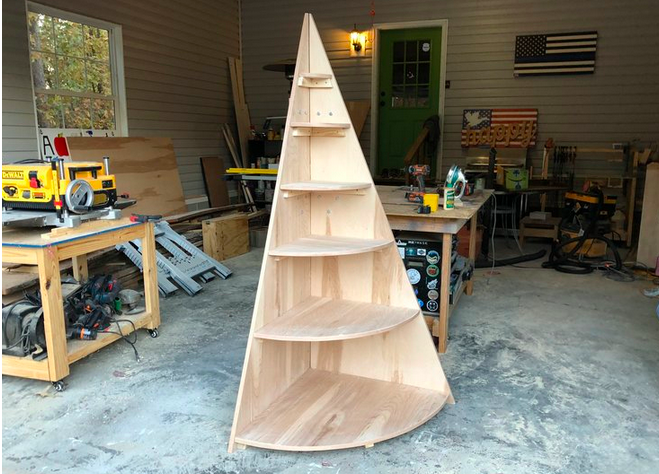 This idea is a little too kitschy for my taste but I think it's still a cool idea: How about a ghost tree? Use the fairy lights, omit the tree. Here's how to do it. Or, omit the lights and the tree and keep the ornaments. Suspending them with nylon thread from a grid (steamer rack, window shutter…) from the the ceiling at varying heights to mimic the shape of a tree.

Just look up "alternative Christmas tree" and be overrun by an avalanche of quirky, fun, beautiful ideas and tutorials.
The Traditional: Real Tree Kept Alive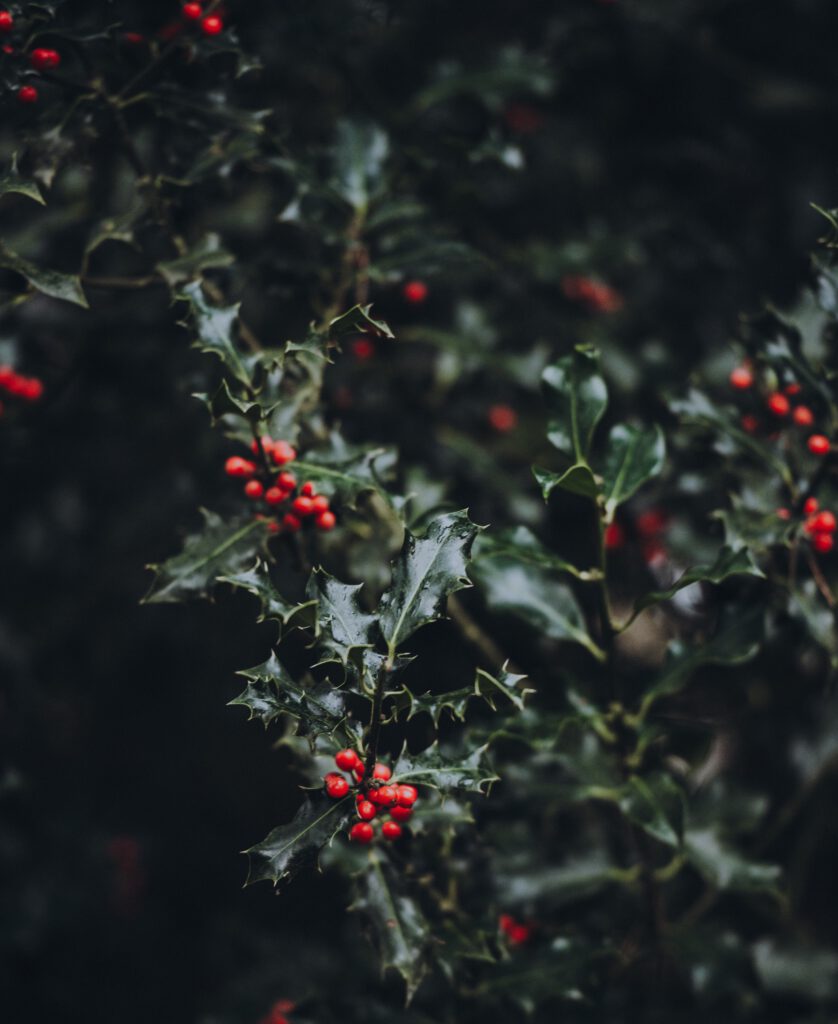 Buy a potted tree. And keep it alive in that pot. And re-use it every year until it outgrows you. Then set it free by transplanting it in a park. Do not plant foreign species in the forest! The park should be ok if it is surrounded by the city and seeds cannot easily disperse. Some research on "invasive plants" in your country should help decide how responsible it is to set your specific species free in your natural areas.
If you choose this method and are open to the pagan tradition of "signs of life", any evergreen tree will work. How about the ilex a.k.a. holly? It comes with red berries already attached and is very christmassy.
Some people like to decorate the large house plants they already have. Like palm trees or even a big cactus. A rosemary bush can be trimmed into a fir tree shape…
If it is a chop down tree you choose in the end, have a look for dealers where you can cut your own tree. Here, unwanted trees will not have to be thrown out unused, but continue to grow until next year.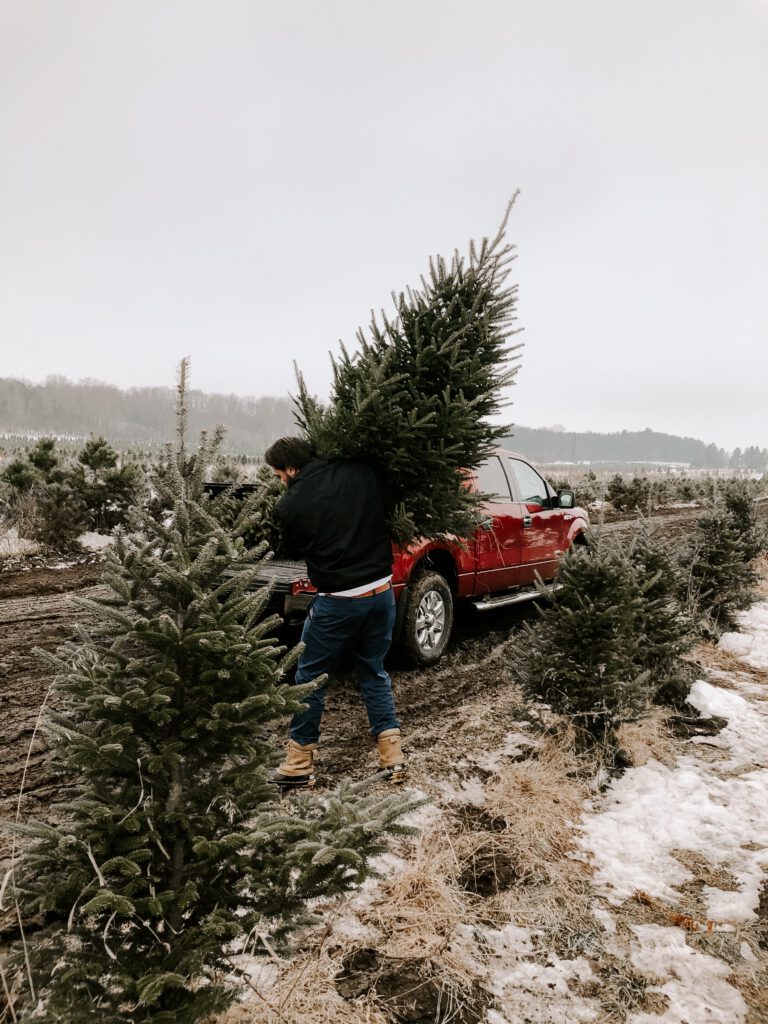 ** Photo credits:
Title Image: Joanna Kosinska
Carpentry trees: Bambus /Etsy; News Design List.
Pampas Grass Tree: cuckoo4design.com
Driftwood 3D: Beauty And The Mist; Imgur.
Driftwood 2D: British Style Uk; Decordv/Etsy; Home Ideas Mag.
Wall-Trees: Toys: MYK Berlin; Mittens, Christmas cards: Brian Woodcock; Minimalist twigs: Jay Wen; Framed Photos: Country Woman; Jewels and lights: Familyholiday.net; 60's inspired tiny things: News Design List; Twigs: Lily Ardor; Pages & rope; Objects: love this pic; Trinkets from nature: little aesthete.
Twigs in a vase: Jan Baldwin; White branch: Mel Yates; Cox & cox.
Shelf: 731woodworks
Fairy Lights: Oh Me Oh My Blog; Ornaments: London local services; reddit
Holly: Annie Spratt
Tree Farm: Julianna Arjes