Hello lovely people!
I'm sipping tea, looking out the window at the snow covering the world in white and putting on my third pullover. The snow makes it beautiful but winter still gives me the blues. I blame the few hours of daylight and most of all, the lack of colour in the food. I miss colorful fruit baskets and super fresh smoothies. Today's meal was potatoes and savoy cabbage. Tasty comfort food but definitely more of a hibernation feeling kind of experience.
Lets bring some life back into winter!
The Christmas tradition of the evergreen tree with the red apples (today's glass ornaments) and the bees wax candles was actually there before Christianity came to Europe. It was a pagan tradition to collect signs of life during the darkest hours of the year. To ward off evil spirits and keep up hope until spring.
Today, I want to tell yo about a modern way of bringing signs of life into your home, without having to chop down a tree.
There are quite a few plants that can survive us eating most of them and then replanting or re-sprouting them. Obviously, they don't regrow fast enough for us to actually live off this project, but it makes me very happy to help and watch things sprout and live. Since last fall, I have been sticking the seeds of plants I've eaten, in the pots of my house plants. I now have two baby lemon trees and one surprise sprout, as I don't remember what kind of seed I stuck in there.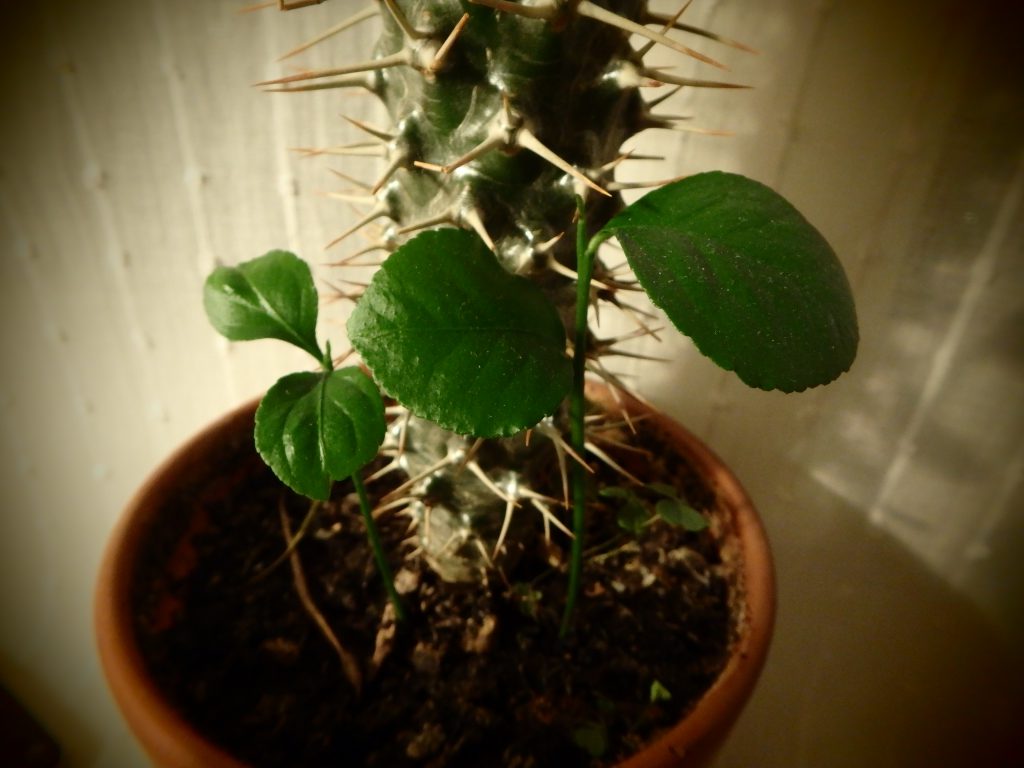 How to regrow stuff
There are multiple ways of regrowing stuff.
Take the seeds from what you are eating and plant them.
Citrus fruit work pretty well in my recent experience. Also apple seeds and stones from cherries, plums, peaches, nectarines and all their cousins. Those are in season in summer though. If you don't care about flying produce around the globe, or you are an inhabitant of the tropics, mango and avocado often work. Usually you start the avo in a glass of water and then transfer when its sprouts, but a friend of mine grew some pretty strong babies by just putting them in the soil. In any case I recommend adding some compost to start the babies off with some good nourishment.
Sprout seeds.
Sprouts and micro greens are a great way to get extra fresh greens and vitamins in winter. Sunflower seeds are especially easy to do. You will get best results when using seeds with shells but sometimes peeled ones work too. Try using the sunflower seeds sold cheaply as bird food. Soak them in water for about 4 hours. Drain and place them on a thin layer of soil (make sure there are no crazy chemicals in that soil). Keep close to the window and moisten regularly. Cut the sprouts with scissors and put on your salad or in your sandwich with mayo and dried tomatoes. This method also works with oats and wheat. Your indoor cat will LOVE eating that "grass". Put the wheat grass in your smoothie and save the big bucks you've been spending on the powder.
All types of peppers: Harvest the seeds from the peppers and plant them in soil. This is not a winter project as peppers grow best in warm sunny areas with moist soil. But you can get started. Mine are still young and just paused their growth during winter. I expect they will power on once its warm enough. You can also harvest, dry and plant seeds from pumpkins, squash, melons and tomato. Plant them in warm soil and give them some compost or horse manure to start off.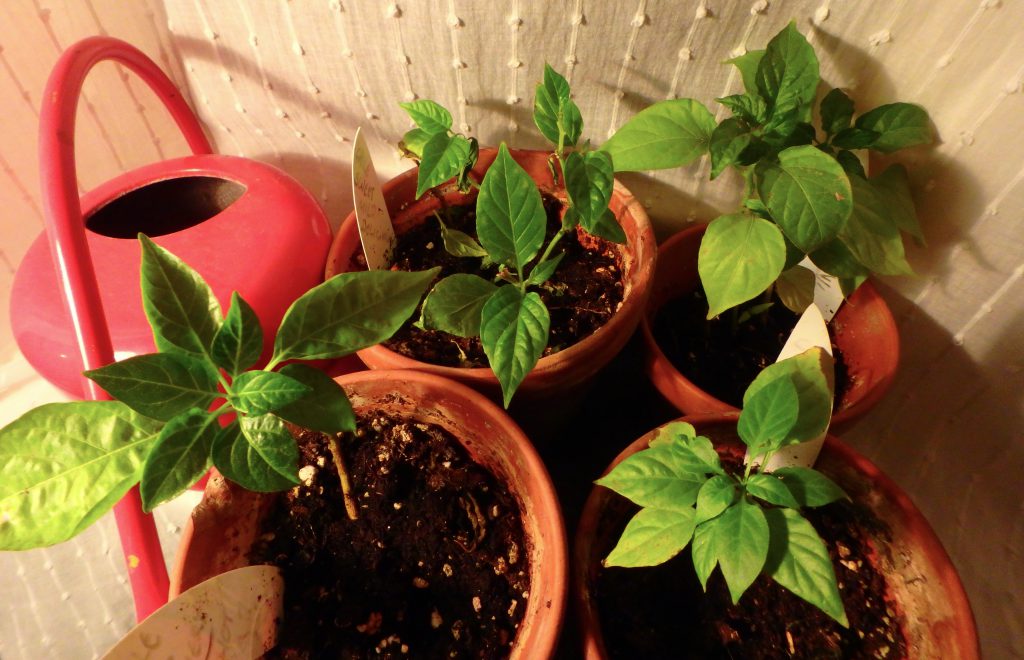 Keep the roots or stems of your vegetables and bring them back to life.
Spring onion, leek & lemongrass: keep the end bit with the root on it. submerge the roots in water for about 5 days until the chopped-off greens start to grow. Lemongrass-greens might not grow so quickly but it develops roots when its ready to pot. Transfer to soil and keep on the windowsill.
Onions: When cooking, you cut off the root part anyway. Chop about one to two fingers width (depending on the size of the onion) above the root and save for planting. You can cut off the sides and cook, as we only need the intact root and center part (the part that tastes chewy anyway). Allow the cut edge to dry in a dark, ventilated place. Plant the onion butt root-side-down in soil and cover it with about 2-3 cm or ~1″ of soil. It will take a while but eventually green leaves will emerge. You can get more than one onion from a single onion butt. Separate and replant, cut the leaves to about 1/3 to encourage the plant to put its energy into the bulb. Or leave it be and enjoy pretty flowers.
Lettuce, cabbage, kale, celery, pak choi, fennel: Leave the hearts (the very inner leaves) on the stem. Cut a sliver off the bottom of the stem so the bottom is freshly cut. Place the cut stem in a (preferably transparent) tub with a thin layer of water and make sure they get enough sunlight. Refresh the water regularly to prevent algae. To prevent rotting, make sure the water only covers part of the stem, not the sprouting green. When roots start to sprout, transfer to soil and keep on the windowsill. Carrots work after the same principle: The carrot is the stem and the tops is like the lettuce. This is especially worth it if you eat carrot greens. You can treat turnips, beets and parsnips just as you would the carrots.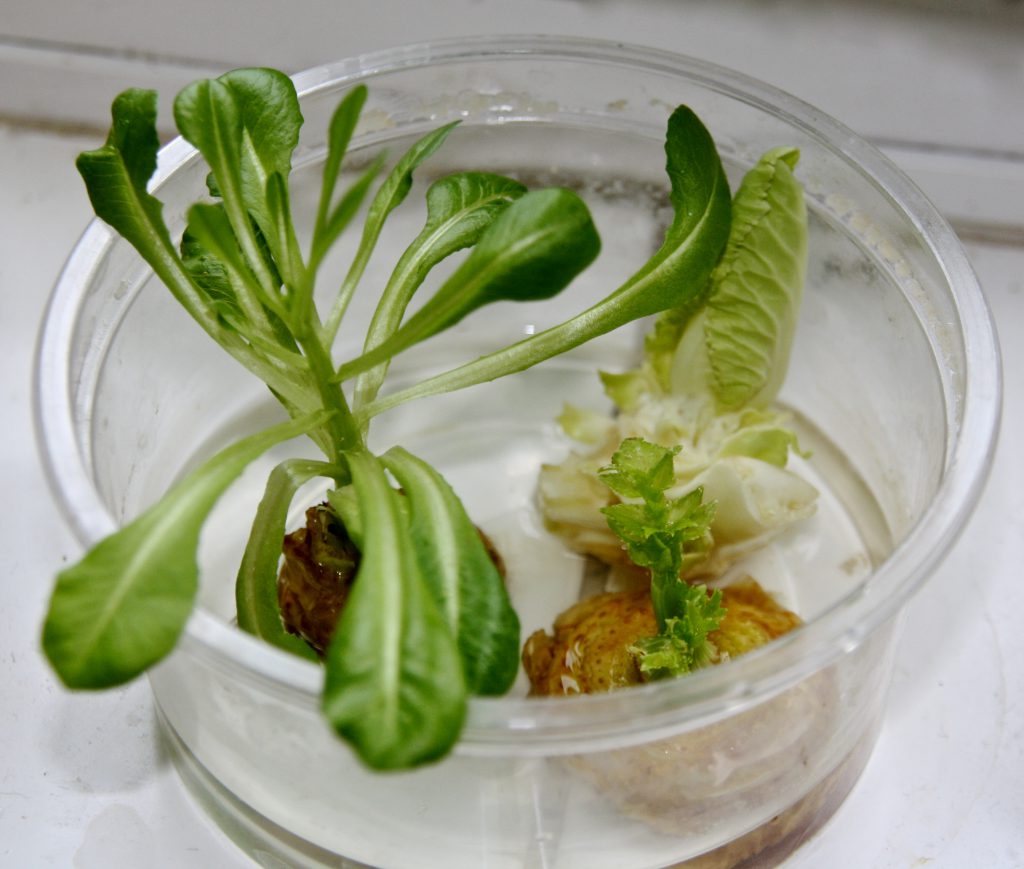 Pineapple: basically the same method as for the lettuce & co, but suspending it in water, like you would an avocado pit, tends to work better. Others say skip the water and plant directly. In any case, cut the top, plus a finger width of fruit, off the pineapple and get rid of the juicy flesh around the top, keeping the woody center bit. This step can help prevent the whole thing rotting. It can take about two months before roots appear. Then make sure it gets plenty of light. It is unlikely that you will ever harvest a new pineapple, but hey make rather nice house plants.
Make use of sprouted veg

If you have garlic that started to sprout green on top, separate the cloves (do not peel them!) and place them in a shot glass with water. Only be careful with the water level; try not to soak the clove too much, just the root part. When roots sprout, plant in soil. When planting, submerge the whole garlic clove in the soil. You can eat garlic greens like spicier spring onions. Or, with patience, regrow an entire garlic (ready when tops have turned brown). If you're feeling lazy, you can skip the water and just plant the garlic. Keeping the pot close to the heating helps in that case, especially in winter.
Potatoes, sweet potatoes, ginger & tamarind often sprout in storage. No need to throw them away, just plant them in a big pot. You can get a higher yield by cutting the tubers into pieces. Each piece should have a few sprouts or eyes and the cut edges should dry before planting. Harvest by digging them up months later. To be fair, the potatoes are more of an outdoor planting project. Keep the sprouting tubers in a cool dark place until it stops freezing and plant outside. Sweet potatoes can climb and make for an unusual houseplant, only if sunny enough. Young ginger prefers indirect sunlight. Regrowing the ginger until harvest ready takes a long time, but the plant is nice to look at.
Improve the supermarket's methods
Buy potted herbs. Separate and re-pot, so each plant has more soil and nutrients to survive. Your wimpy plant may grow into a majestic bush from which you can just cut off a twig or branch when needed. You can let your plant flourish, bloom and then collect the seeds. Plant more herbs from seeds. Remember that the flowers need pollination in order to seed. Basil, coriander/cilantro and dill are easy ones here. Plant your store bought mint into the garden/balcony pots. Once established, harvest vigorously (dry for tea and give away) to keep it from completely taking over your garden.
Buy cut herbs. Keep in a glass of water (keep it fresh). Use the bottom leaves for cooking and save the top 7cm or 3″ of the stem. Cut just above a node. Place them in water like you would a flower. These stems may sprout roots in the water. When the roots are about 5cm or 2″ long, you can transfer to soil. This works for basil, and possibly coriander/cilantro and parsley. Permit the plant to grow strong before you harvest again. If you harvest too intensely and constantly, the plant will exhaust.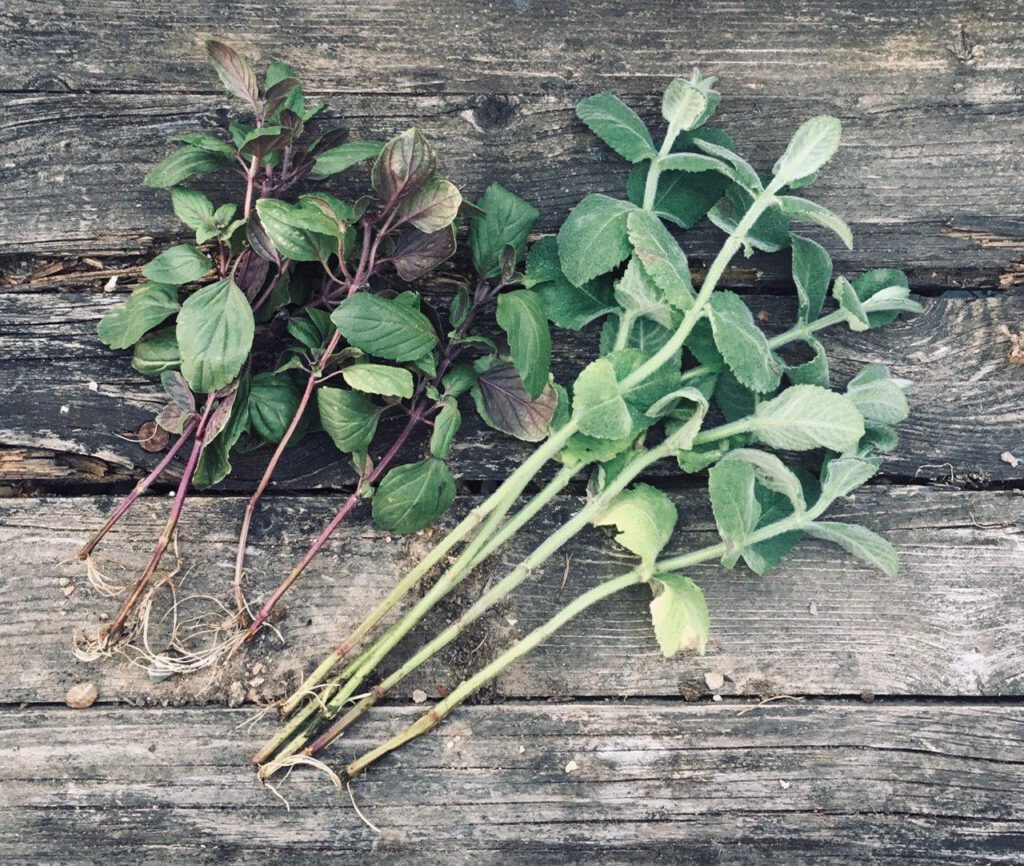 Recycle mushrooms
This one is pretty tricky but if its works, its awesome. Keep the stems of your mushrooms and plant them in moist soil, without covering the top end. Keep out of direct sunlight. After a few days your stems with either rot or start to grow. So it might be advisable to make several smaller batches in separate containers to improve your chances.
I hope I could help you find something interesting to bring some life into your house, no matter the season outside.