As a German, I have always taken good, tasty, wholesome, filling bread for granted.
In the last few years, I've lived in quite a few different places. One stereotype about Germans that is definitely true, is that they come home from vacation and tell you "it was AMAZING! …but the bread was shit".
Here I have for you, a recipe for real German sourdough bread. It takes 3 days to create the sour dough culture but it is worth the patience because:
you can make it anywhere, provided you have an oven (or know how to improvise an oven in a campfire).
You only need flour, water and yeast. The rest is optional.
You are avoiding the plastic bag supermarket bread comes in.
You are avoiding palm oil and a bunch of other crap that is in supermarket bread.
This bread keeps way longer than supermarket bread. Mine has never gone moldy. Stale yes, but I'll tell you how to revive it at the end of the post.
It smells and tastes so friggin' good!
You can give portions away to friends. Makes a good last minute gift, kind of like giving away your plant's babies.
Lets get to it: Creating the Sourdough Culture
First we need to create a living being: The sourdough
For that we need 200g / 7oz. whole meal flour. The best kind would be rye or spelt. That comes in a paper bag or even package free.
Day 1
Rinse a fork and glass jar with lid (reuse a jam, pickle or peanut butter jar), with boiling water to sterilize (very important!).
In the jar, mix 50g or 1.75oz. whole meal flour with 50ml or 1.7oz.water (ideally, we do not want to have chlorine or anything like that in the water, I don't know what that might do to our results). Carefully stir using the fork until the mix turns into a sticky dough.
Leave the jar out, for 24 hours. Do not close the jar during this time. Ideally the temperature should be above 20°C / 68°F.
Day 2
Feed the beast with the same amount of flour and water as the day before. Stir thoroughly with a sterilized utensil. This time, close the jar, but not airtight, and leave it for another 24 hours at more than 20°C / 68°F.
Day 3
The beast has probably awakened by now. By that I mean the dough now probably smells a bit sour. Its not off, its fermenting. Its supposed to smell like that.
Add double the amount of day one, so 100g /3.5oz flour and 100ml /3.4oz water. Gently stir (using a sterilized utensil) until smooth. Let stand with the lid closed but not airtight for 24 hours one last time.
Day 4 and happily ever after
Your sourdough is done! If you always work clean (sterilize your utensils), this thing will be there for you for as long as you take care of it right. Sort of like a Tamagotchi that gives something back to you. You can name it. My last one was called Frank. When you are not making bread every few days, store Frank in the fridge (not air tight as the gases of the sourdough might blow the lid off and you don't want a sourdough explosion in your fridge). Temperatures below 20°C will put your sourdough "to sleep". But it can only sleep 7 to 14days. Longer than that, and it might die. Take it out and feed (=add four and water and mix) and sleep it at room temperature to grow it.
Baking the Bread
You need:
800g / 1.75Lb. Wholemeal flour. Ideally half rye, half wheat. Spelt works too. You can also add some white flour.
2 Tbs "Bread spice" (grind up anise, fennel, coriander seeds and cumin 1:1:1:1 to make a powder). Optional but it really makes a difference in taste.
1 Tbs Salt
150 g / 5.3 oz. (3/4 of your starter) Sourdough
15g /0.5 oz. fresh yeast (or one sachet dry yeast)
450ml 15.3oz. lukewarm water
Directions
Mix the dry ingredients, then crumble in the yeast. Make a well in the middle and add the sourdough. Gently mix. Add the water and knead for about 5 minutes, until you have a nice, flexible dough. Form a ball out of the dough, powder it with flour and let it rest under a damp cloth in a warm place for 3 hours.
Put the dough on a floury surface, cut in half, knead both halves and form into two round loaves. Put on a baking tray and let rise for another hour.
Preheat oven to 250°C /480°F. Place a bowl of water in the bottom of the oven. Dust the loaves with flour and gently cut into their tops a few times. This keeps the loaves from splitting in the oven. Feel free to get artistic here, but don't cut to deep.
Place the bread in the oven and immediately reduce the heat to 220°C / 430°F and bake for about 15 minutes.
Then reduce the heat to 200°C / 390°F and bake for another 20 minutes. The bread is done,when it sounds hollow when you knock on it. Turn off the oven and leave the bread in it for another 15 minutes.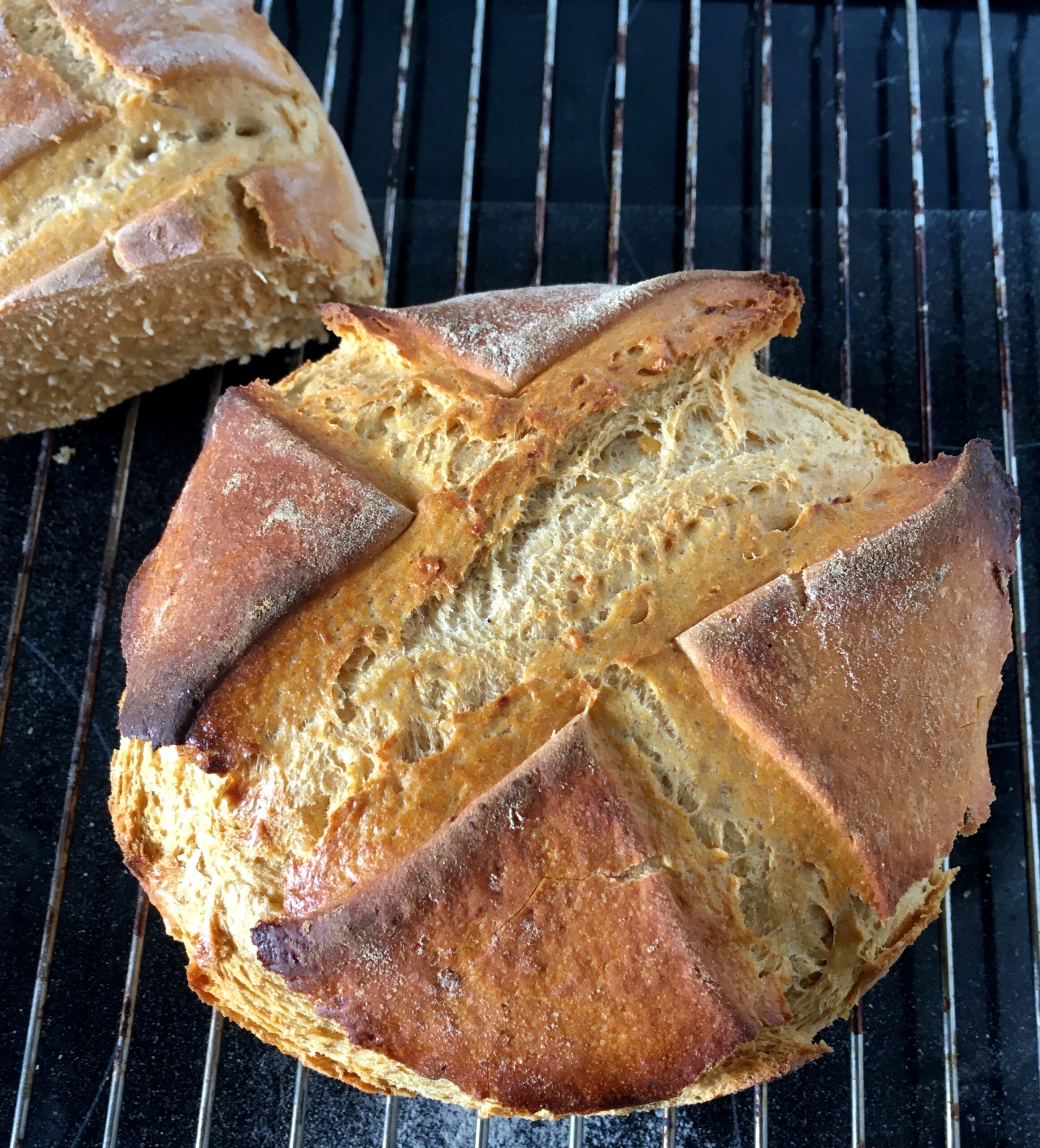 Enjoy! It's the very best when its still warm. Then you don't need to put any extras on it at all.
It keeps quite long, but you can also freeze it. Should the bread go stale, cut a slice, lightly spray it with water and then put in the toaster.
This recipe also works relatively well in a pizza oven. I've also been relatively successful in baking this bread in a earthen pot under the coals of a camp fire.
Worst case scenario, the outside is hard and the inside is gooey. Cut off the top, scoop out the inside, fill loaf with thick soup, like potato or pumpkin. Put gooey bit on a stick and roast like a marshmallow.