Its that time of the year where foraging is exciting even to those who don't like the acquired taste of many wild plants: Wild garlic is popping up and I am spending my free time looking for it in the forest close to my home.
Yesterday, I even bumped into a wild boar, who was probably looking for the same thing as me.
So what is wild garlic and why am I so excited about it?
It belongs to the garlic family, hence the name Allium, and smells and tastes like a less intense version of garlic. It occurs naturally all over the temperate regions of Europe and can be kept relatively successfully in a slightly shaded garden in temperate climate. (But beware! It will spread. So if you don't live in Europe, I recommend keeping them in pots to stop an invasion.) To me, it is one of the signs that spring has arrived, as it will start popping up in forests and parks with the first sunny days of the year. It is also called bear's garlic as it is said that bears like to feast on it after hibernation.
It can be eaten in soups, quiches, salads, pesto and much more. I recommend using recipes that do not cook the wild garlic, as this will make it loose a lot of its flavour.
I want to share my favourite, and extremely simple, wild garlic recipe with you. All you need are just three ingredients.
First, you must go out and find the wild garlic. Look in light deciduous forest and parks with patches of trees.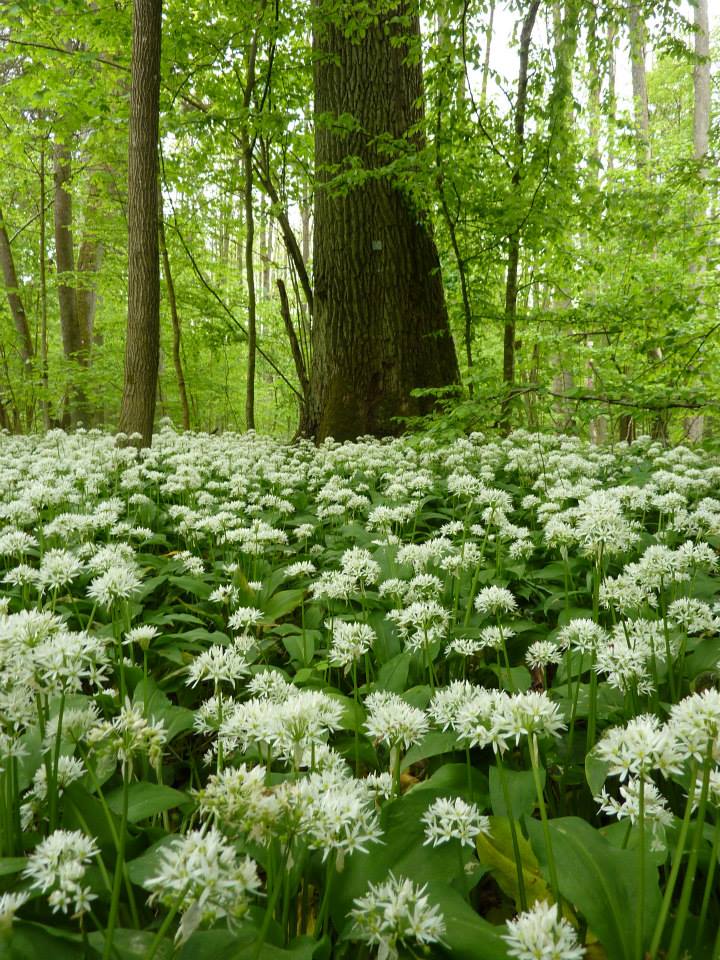 I didn't pick here, as it is a strictly protected forest in Poland: Bialowieza forest, where you can spot wild European bison!
Make sure it is not the toxic lilly of the valley:
| | |
| --- | --- |
| Wild Garlic | Lilly of the Valley |
| Smell of garlic | No such smell |
| Thin leaves that bruise easily | Stiff, almost leathery leaves |
| Bright green leaves | Also green leaves, but with more of a blue-ish hue |
| White flowers gathered in little "bouquets" with pointy petals looking up into the sky | White flowers that look like a old fashioned lady's night cap, hanging down like a bell. |
When you have found a patch, follow the foraging rules:
Only eat plants you are certain you have ID-ed correctly.
Do not forage in protected areas. These increasingly scarce places are reserved for animals to find their food.
Pick one or two leaves here and there. Never take all of a plant and never clear a patch out, this way it can regenerate.
Only pick what you can eat / preserve within the next 1-2 days. Wild garlic doesn't keep all too long.
Try to leave the natural spot undisturbed. Do not trample everything down or throw your heavy bag on the ground. These plants bruise easily.
Avoid eating plants from busy roads or popular dog-walking areas.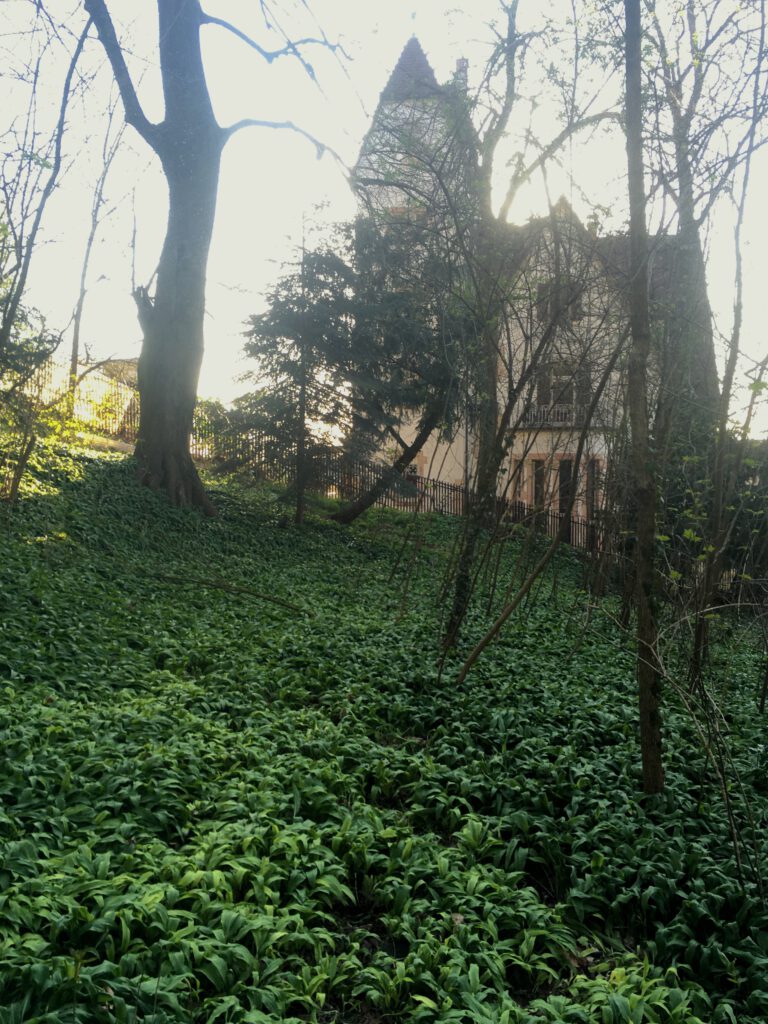 The perfect spot to forage: Sort of fenced off, away from busy roads, and mostly: abundance!
You can eat the leaves and the decorative flowers. If the patch is big and dense, you can also dig up some bulbs and replant in your garden (or pot) in a slightly shady spot.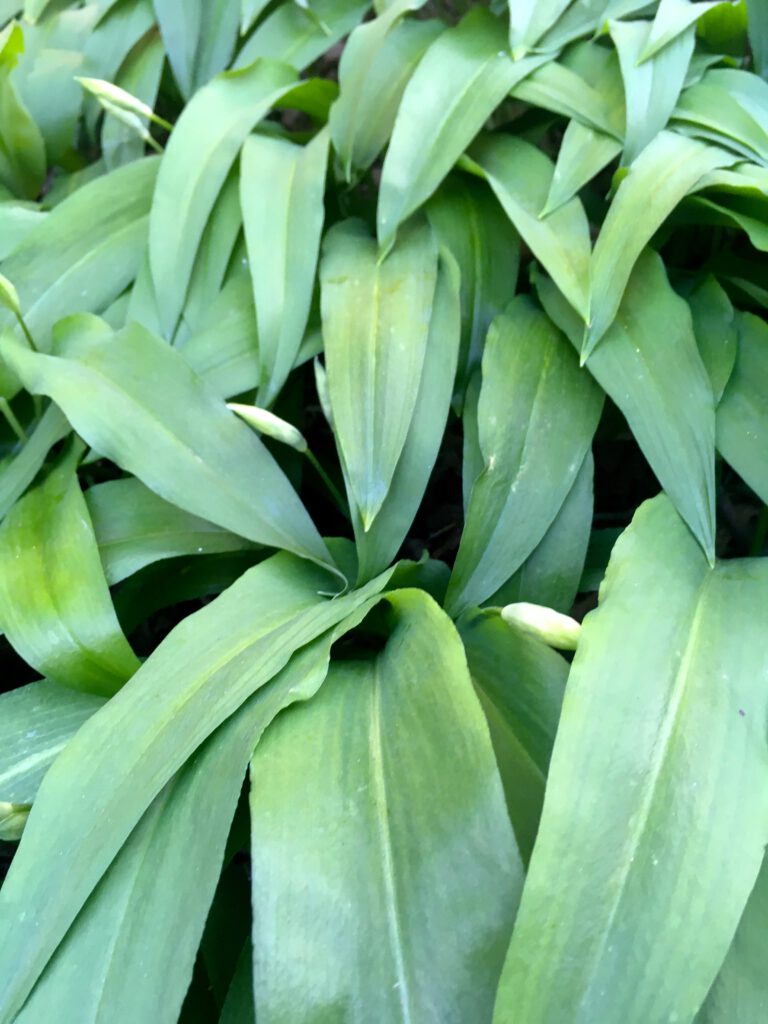 Perfect and ready to eat: leaves and flower buds.
Ok. Now, to prepare the wild garlic:
The tricky thing with this herb is, its really hard to preserve the flavour. Drying it won't work too well unless you want the result to be VERY muted in flavour. Some people dry them, then blend to make a powder and use that in their fresh pasta or other dishes. But I want the intense, fresh flavour.
For my favourite way to eat wild garlic you'll need:
A bunch of wild garlic
Lot's of olive oil (I always buy a bottle beforehand because I know, whatever is at home will not be enough)
Salt to taste
A clean glass jar & kitchen scissors
Gently wash your harvested leaves in cold water, then dab dry with a kitchen towel.
Grab a clean glass jar (rinse with boiling water to make sure) and a pair of scissors. Cut the leaves into little pieces and layer them into the jar.
Add a pinch of salt every now and then. (I like mine very salty but you can always add more while eating)
When the jar is full / you've cut everything up, fill the jar with olive oil until everything is covered.
Shake a little to get the salt evenly distributed and let sit for at least a few hours.
Eat on Toast, while sitting outside, enjoying the first warm sun rays of spring.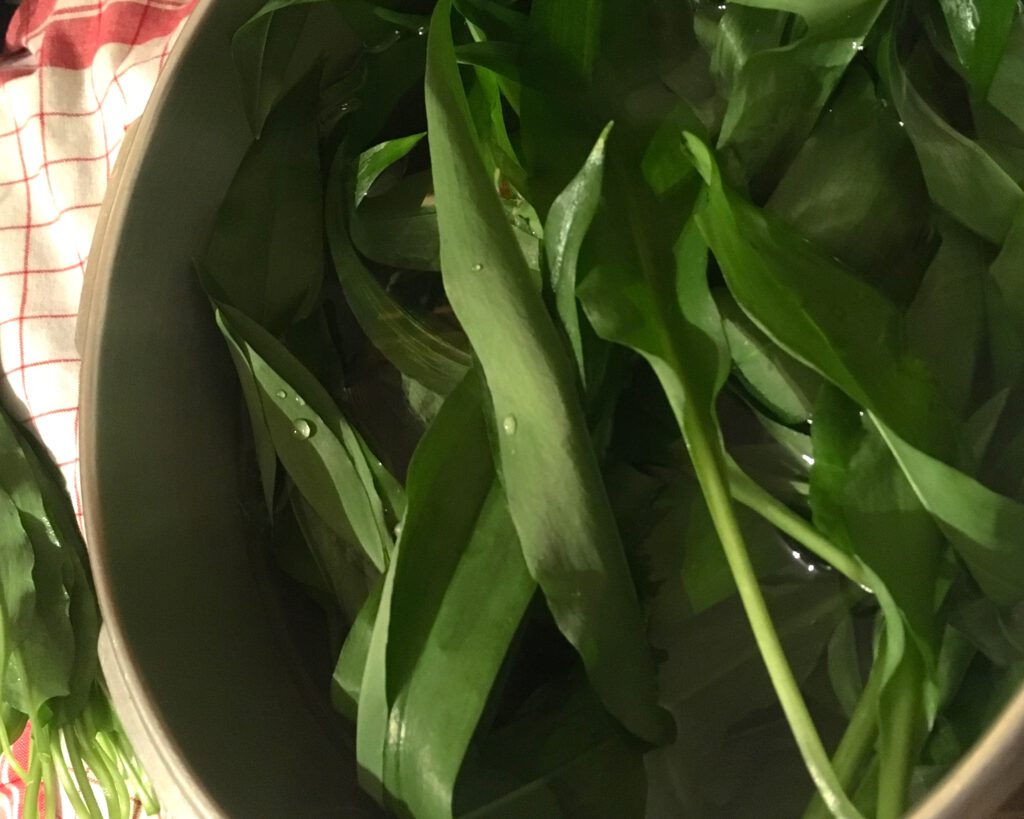 Notes:
If the jar is clean, and there is always a layer of oil covering all the green, you can keep this for a very long time. I love this so much, I try to make lots of little jars so I can eat this until next spring.
Of course you can also use a knife and cutting board to cut the leaves. However, the flavour is in the juice and I don't like to waste mine seeping into the cutting board.
You can also use this oil on pasta, in salad, as soup topping…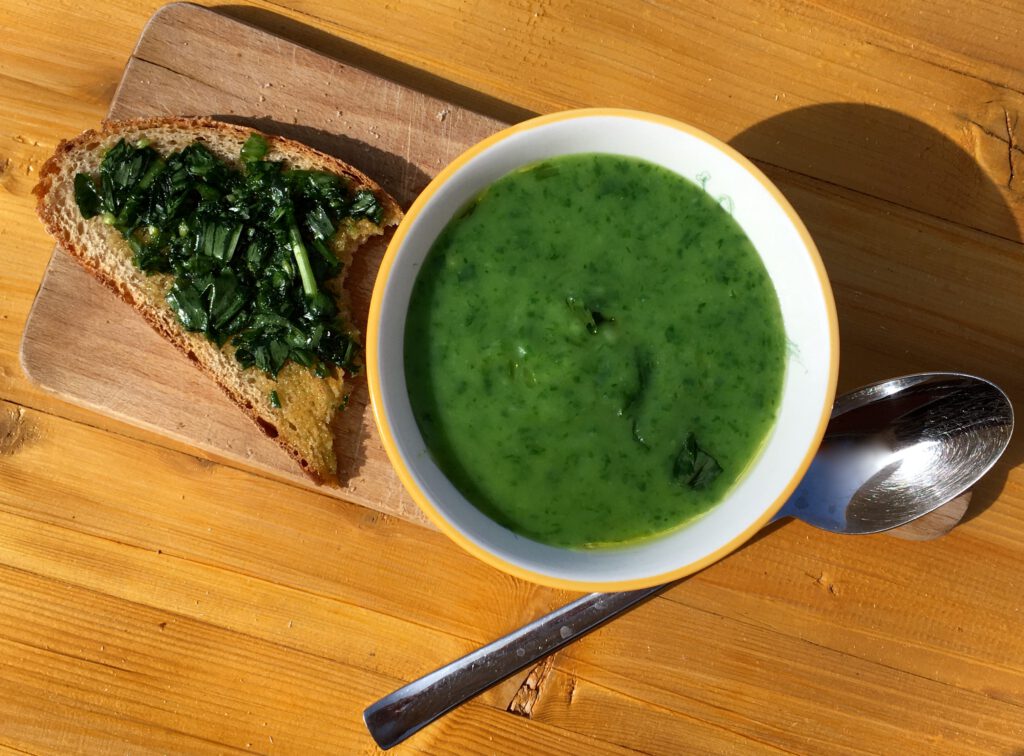 Happiness lunch: wild garlic-oil on toast with wild garlic soup! Just don't breathe on anyone afterwards!
+Lilly of the valley Photo by Yoksel Zok