Summertime! And the livin' is easy… especially when you know a thing or two about wild herbs and foraging. I'm just cruising around stuffing my face with wild berries and leaves these days.
So I had the idea to show you a few and give you a very simple recipe for a super tasty buttery bread spread.
I am in central Europe for the time being, so this post will be focused on European edible plants, but I'm throwing in some herbs everyone can buy at the garden center and grow on their window sill. Overall, I don't like too many rules when making food so you can sub any herb for what you have/want.
JUST MAKE SURE YOU KNOW WHAT YOU ARE PICKING BEFORE FEEDING IT TO ANYONE!
Before we get started, the basic laws of foraging:
Be absolutely sure you correctly identified the plant you are picking.
Only take as much as you need for your personal consumption.
Never harvest an entire patch of a species. Rather take a few leaves here and there, so the plants have a chance to regenerate.
Avoid foraging in polluted areas next to busy roads, waste water runoff, or popular dog walking areas.
Make sure your herbs are clean before consumption. Rinse with cold water and dab with a kitchen towel to dry off.
And, if you need help identifiying plants in the wild, I recommend this App, called Flora Incognita. It works on Android and iOS and you need a camera and internet connection to use it.
I am not receiving any benefits for recommending this. I just recently discovered it myself and I am genuinely recommending it because I think it is actually helpful.
The Recipe:
Use a fork to mash up and combine:
Soft Butter, vegan butter or margarine
Salt
Lemon juice (keeps it fresh longer)
Herbs, chopped or pulled to small pieces.
Garlic, pressed (optional)
The quantities depend on what you like so just get mixing and tasting until you are happy with the result. Don't overdo it on the lemon juice though, you might wind up with a weird consistency.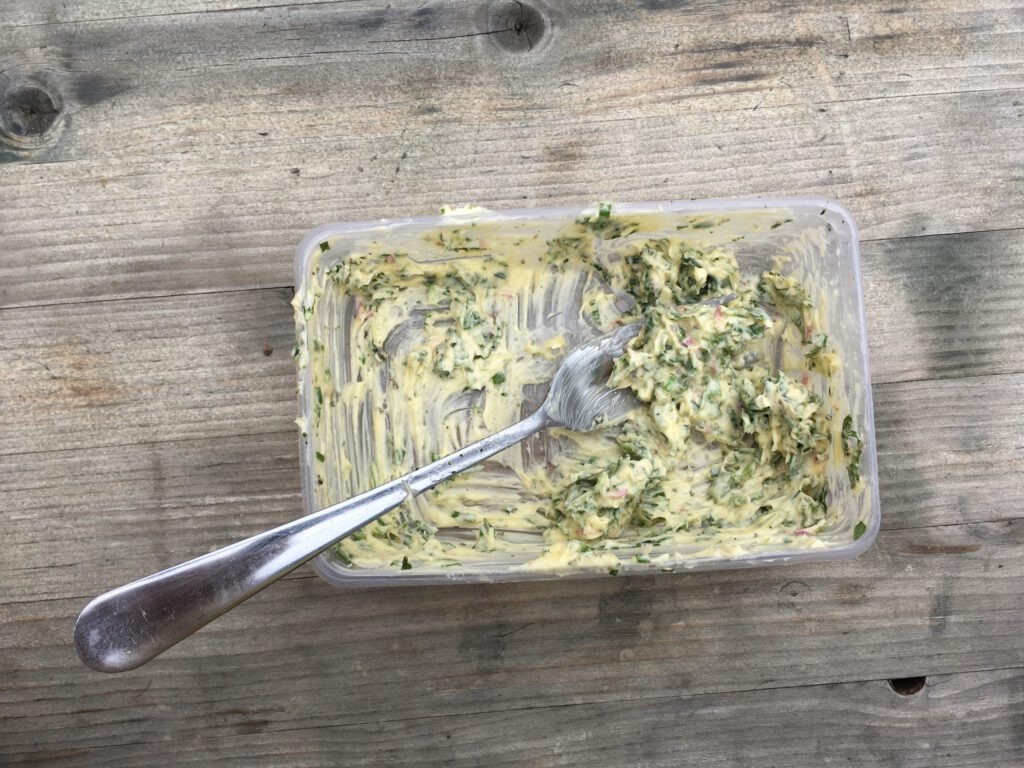 Store in airtight containers in the fridge. Because of the fresh herbs, it does not keep as long as butter would, but it will be eaten way before it's due date anyway. I promise.
---
What herbs can I use?
There are herbs that taste great, there are herbs with great health benefits and there are herbs that are decorative. Ideally, we find a nice balanced mix. Here are a few, that I really like to use:
Basil – Ocimum basilicum and O. tenuiflorum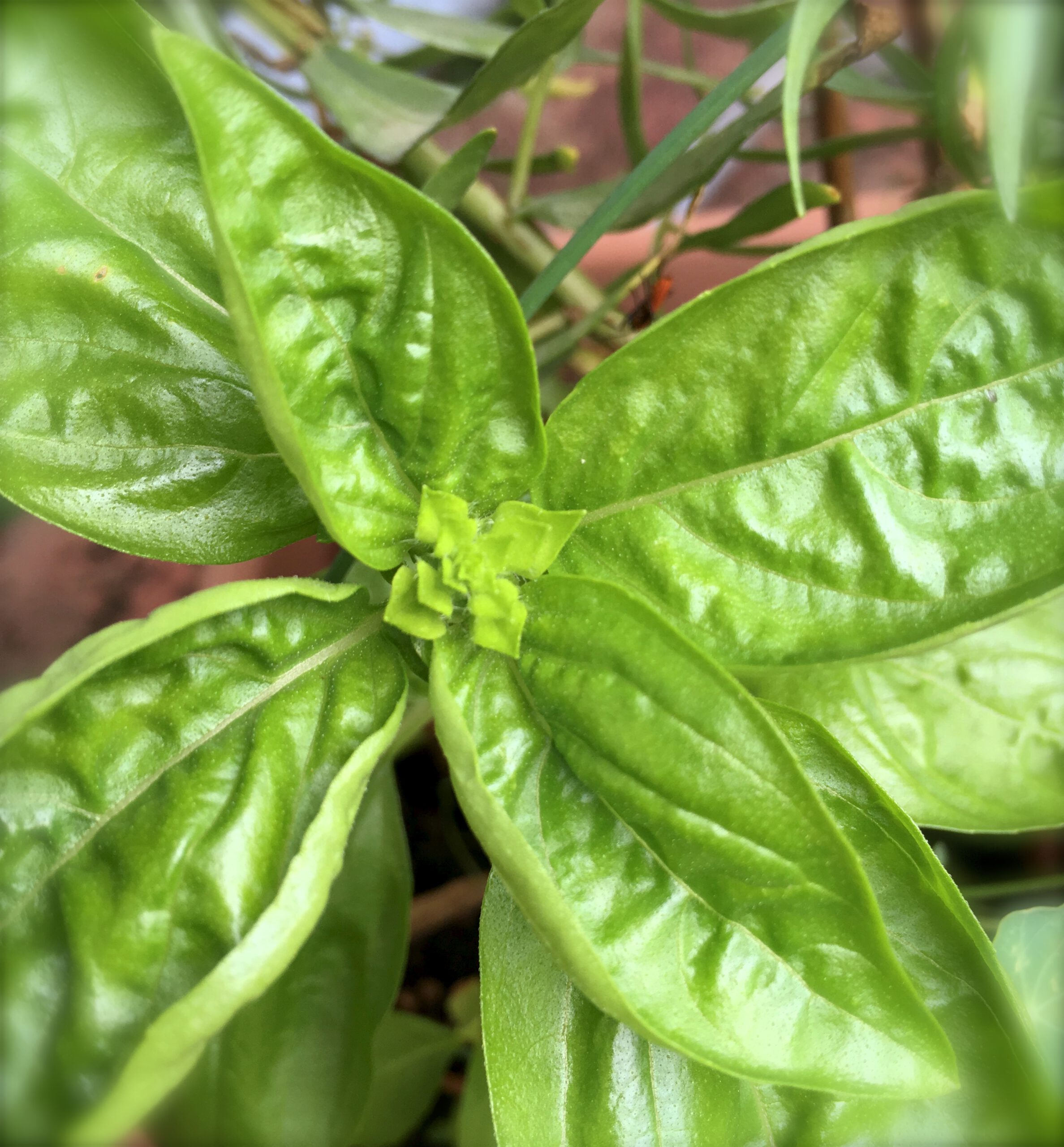 Everyone knows and loves basil. It comes in different varieties, with different taste and different shades of green or purple. It hails from tropical and subtropical Asia, so this one is one to buy and keep on your windowsill.
It tastes amazing, it smells amazing, and aids lack of appetite and digestive discomfort. It is also said to help with anxiety and all related physical symptoms. And bees like the flowers. Those flowers are also edible and make a nice decorative addition.
Mint – Mentha spp.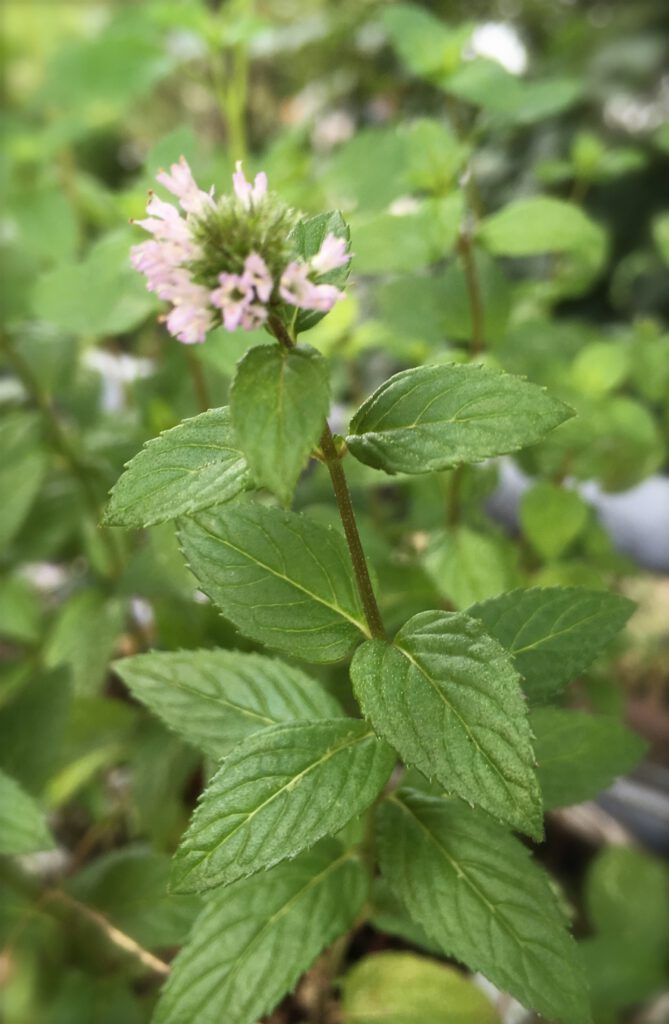 You can buy it in a pot, or in a cut bundle, but you can also go outside and look for wild mint. There are so many different kinds of mint. All are good choices in my opinion. Although the furrier varieties might not be the greatest raw on the tongue. How to find them? Generally look for slightly wetter areas, field edges, and the edge of the forest with plenty of sun. The easiest way to know it is mint: It smells of mint!
Many people associate mint with sweet things and tea. And rightly so: Mint tea can relieve nausea and bloat. However, the British for example put them on their baked potatoes. I love hiding a few chopped mint leaves in summer salads and bread spreads or even on my fried noodles. It gives the food a refreshing quality.
Parsley- Petroselinum crispum
There are curly leaf and flat leaf varieties. The flat leaf tends to be somewhat stronger in taste. You can buy them potted at the grocery store and transplant to your garden where it can regenerate as fast as you pick. Parsley is rich in vitamins and minerals.
Aegopodium podagraria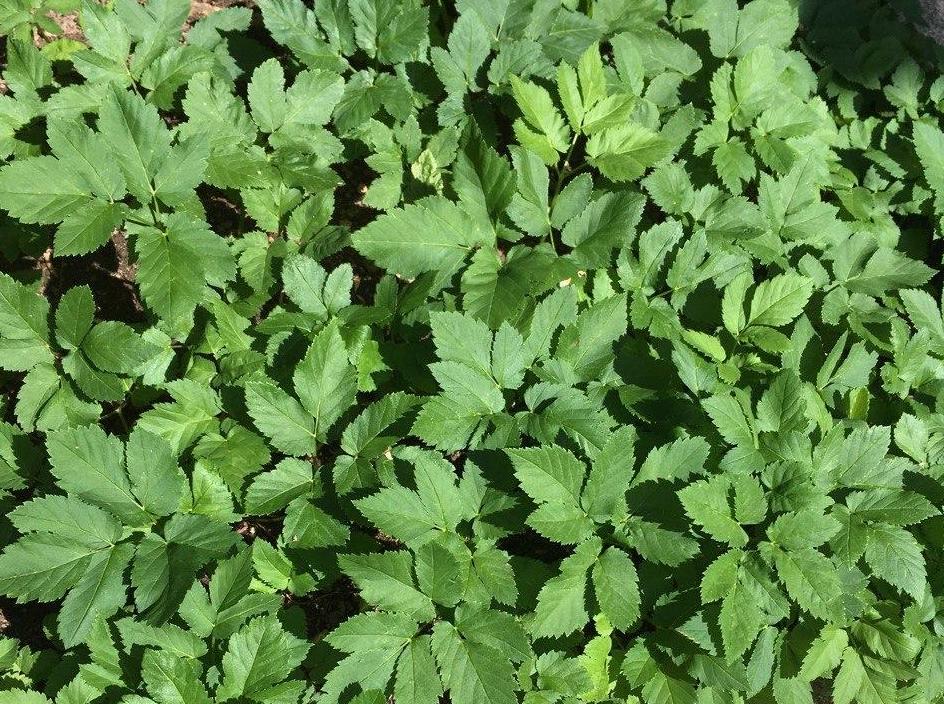 If by now you are thinking: "This is phony, she's just showing me garden herbs!" Well here's another one, only this one is hardly ever planted in a garden purposely. Instead, it is regarded as a weed that is impossible to get rid of. Many gardeners complain about their "infestation", as if they might as well just abandon their entire garden project now, not knowing that they could actually seize the opportunity and eat all the "weeds".
It goes by many names in English: ground elder, herb gerard, bishop's weed, goutweed, gout wort, snow-in-the-mountain, English masterwort or wild masterwort (thanks Wikipedia!).
The best way to identify this guy is his triangular stem.
It tastes somewhat similar to parsley with just a hint of rugged wilderness – In a good way. For raw consumption, stick with young leaves. Older leaves are better cooked. Added to broth with potatoes and blended smooth it makes wonderful soup.
The root of this plant has anti-inflammatory properties.

Also a word of caution: Apparently, although I have never seen this happen, sensitive people may get skin irritation from touching the leaves, if they expose that skin to sunlight immediately after handling the plant…
Stinging Nettle – Urtica dioica & Urtica urens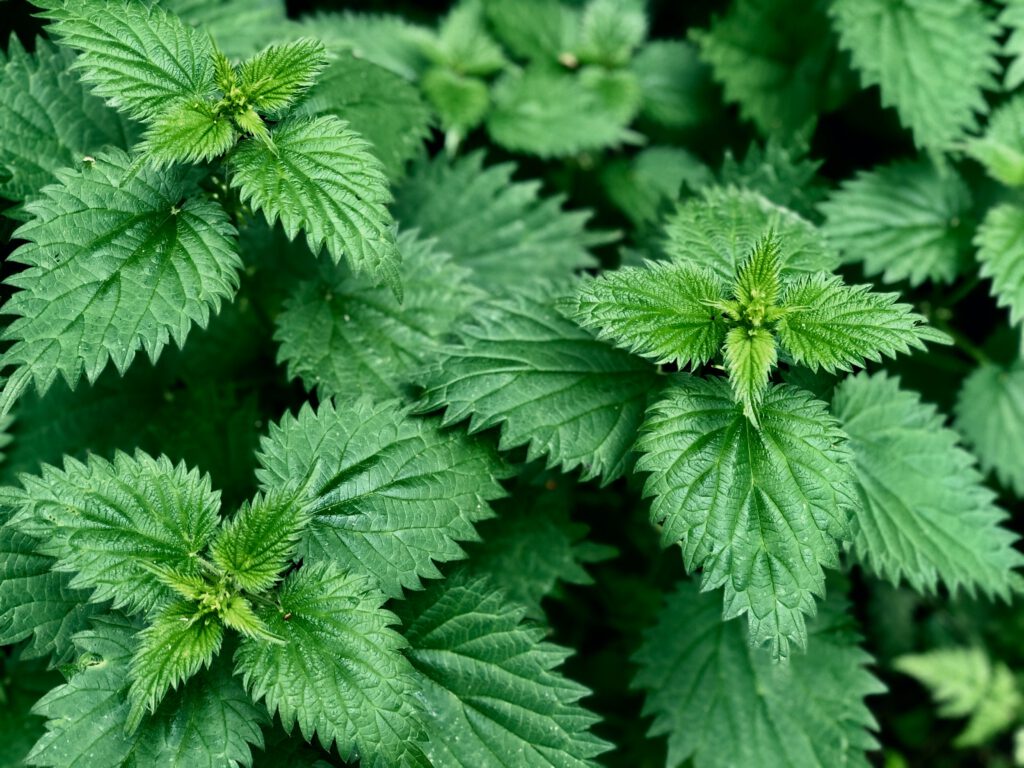 European children's worst nightmare is actually edible. And very healthy. Probably another reason for many children to continue hating it.
Stinging nettle is a champion in retrieving minerals from deep in the ground and making these available to us. In springtime you can harvest the tips, just the top 4-6 leaves, in late summer you can collect their seeds which have a slight nutty flavour and are a great mild spice when crushed. I really recommend using the seeds in the butter spread.
Stinging nettle is a detox plant and has a bunch of medicinal values. You can buy nettle powder next to wheat grass powder and put it in your smoothie or brew tea. Or save the ridiculous amount of money and just forage some (young!) leaves. You can use them fresh or hang them up to dry out and crush later.
Older leaves can make your food taste like fish when heated, which is horrible when you were going for something else, but actually nice when you're trying to have a vegan fish dinner. I recommend risotto and removing the actual plant before eating, as it is pretty tough and furry in the mouth.
Wear gloves when handling, as the nettle hairs can leave your skin itchy or burning for a short period of time. BUT if you rinse them under water, the nettle hairs are destroyed. Hanging them up to dry, will also render the nettles harmless. If you want to be safe, heat them up. The seeds have no nettle hairs on or between them and can be handled like any other seed.
Common Yarrow – Achillea millefolium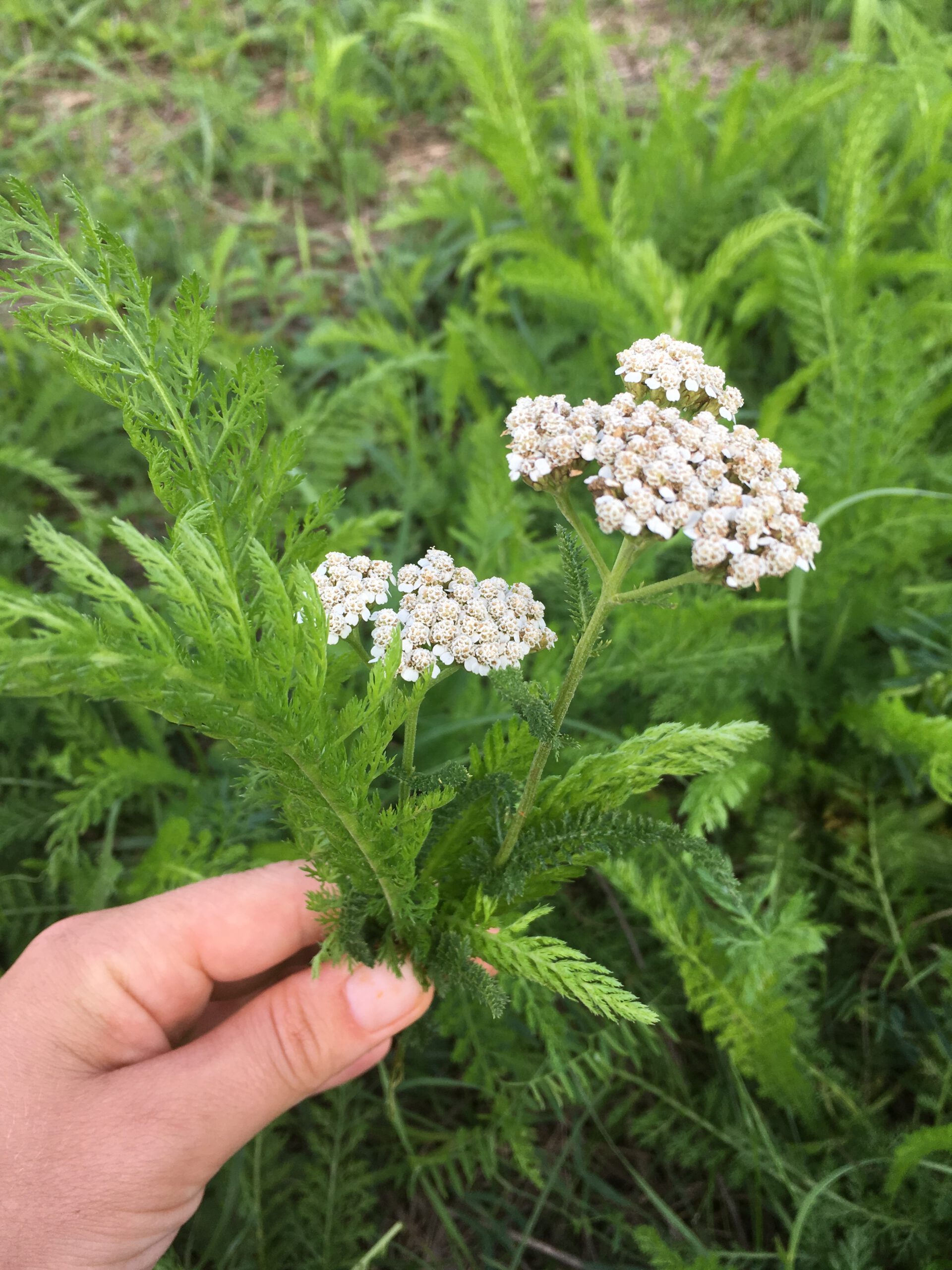 Only eat this one if you are absolutely certain with your identification. Some similar looking species are toxic. When identifying, pay close attention to the leaf structure. It is native to temperate regions of Europe, Asia and North America. Both leaves and flowers are edible. The taste is pleasant but not very strong. It has mucolytic and anti-inflammatory properties and can have a calming effect.
It is quite easy to find along the way side, I mostly find it in sunny dry areas, for instance along the wheat fields and in vacant plots etc.
Narrow-Leaf Plantain – Plantago lanceolata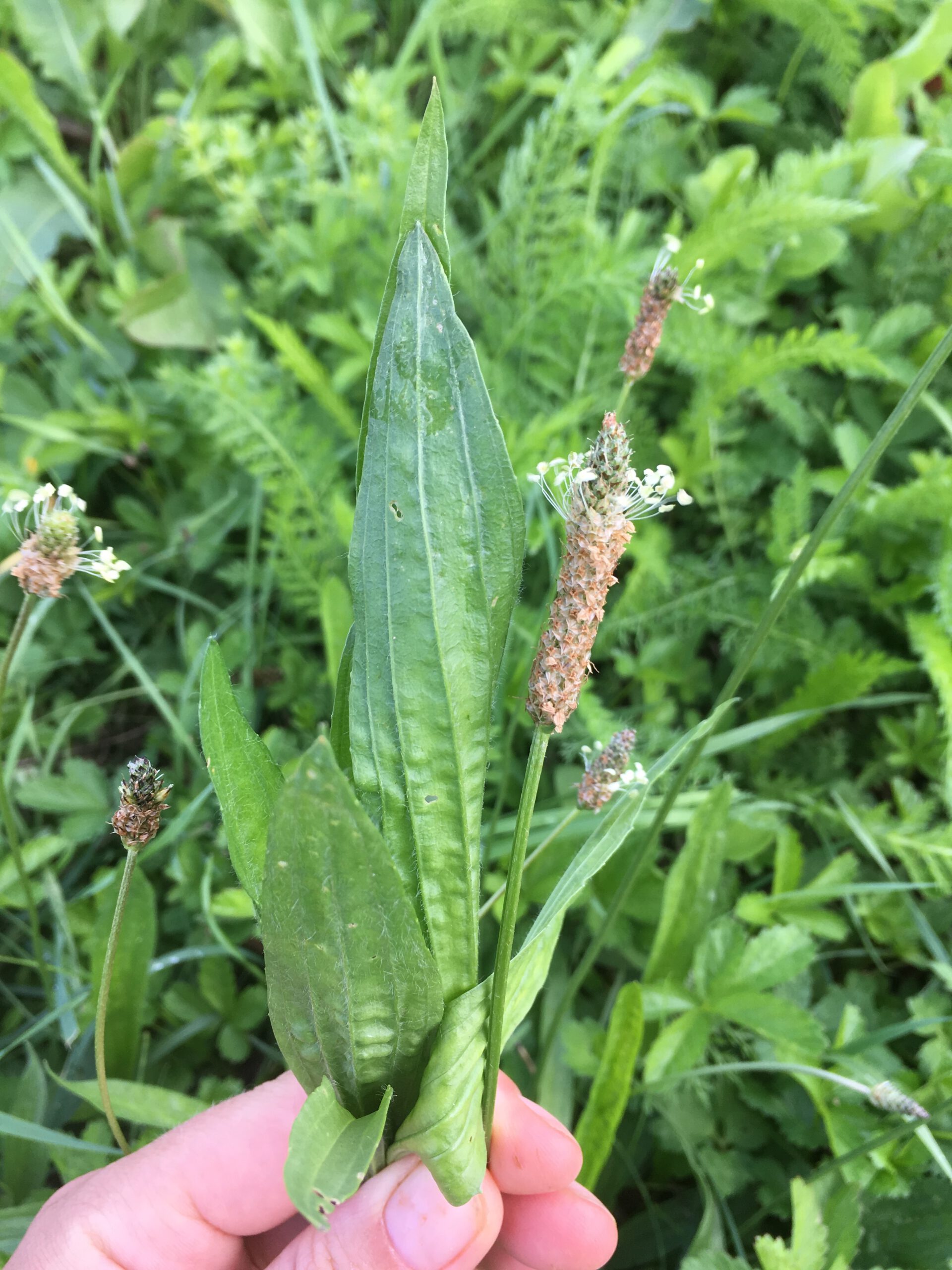 Another superhero plant that grows almost everywhere along the way side. Its cousin, the broad-leaf plantain, Plantago major, is great too, I just prefer the long thin leaves for cutting up.
Chop up the leaves and add to everything. It does not taste special in any way but it is very healthy. It is used to aid infections of the upper respiratory tract and the cough. The juice is soothing on insect bites.
Terragon – Artemisia dracunculus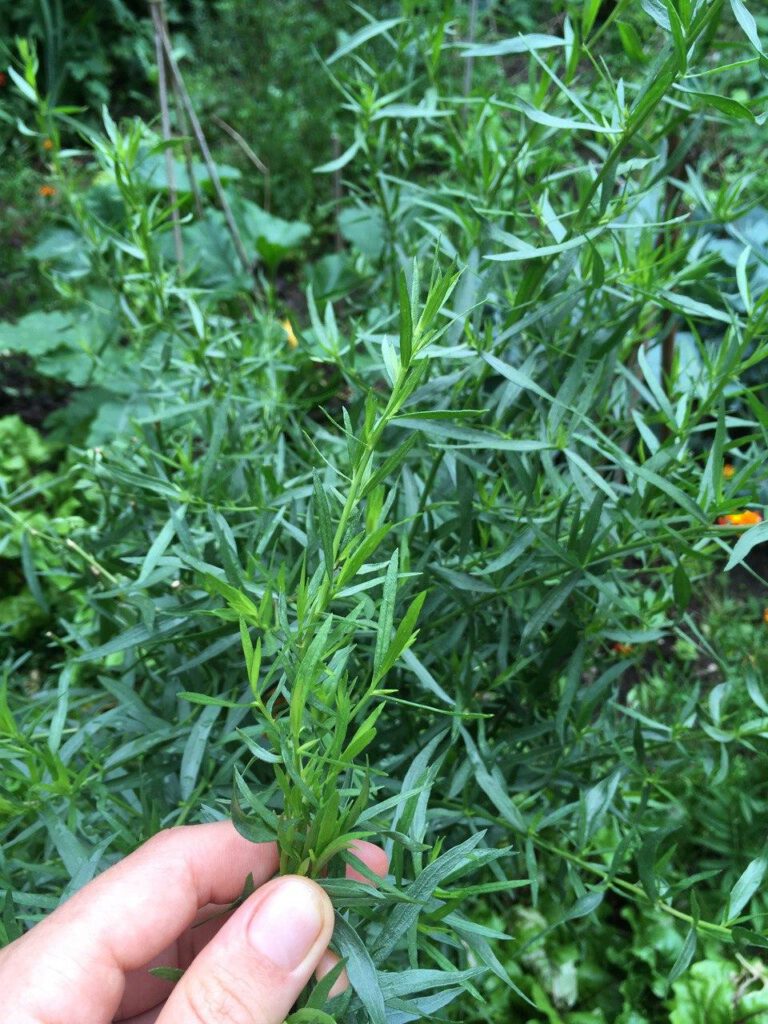 Terragon aka Estragon a very specific taste that not everyone enjoys. Traditionally, people like to add it to fish with lemon. I really like it in pea soup.
Originating from central Asia, you can buy it potted or cut. It tastes a little bit like licorice. Add just a few leaves for a hint of "what is that special taste I can't put my finger on? This is very gourmet!!"
Wild Thyme – Thymus pulegoides or
Garden Thyme – Thymus vulgaris
You can find wild thyme on dry, rocky or grassy areas. Or you can take the thyme from your kitchen windowsill. It's a must have in every herb garden.
The leaves and flowers are edible. The taste is quite strong. Use the leaves in the the butter but pull them of the woody stems first.
It can aid coughs and colds. Cough medicine with thyme derivatives are still sold today.
Oregano – Origanum vulgare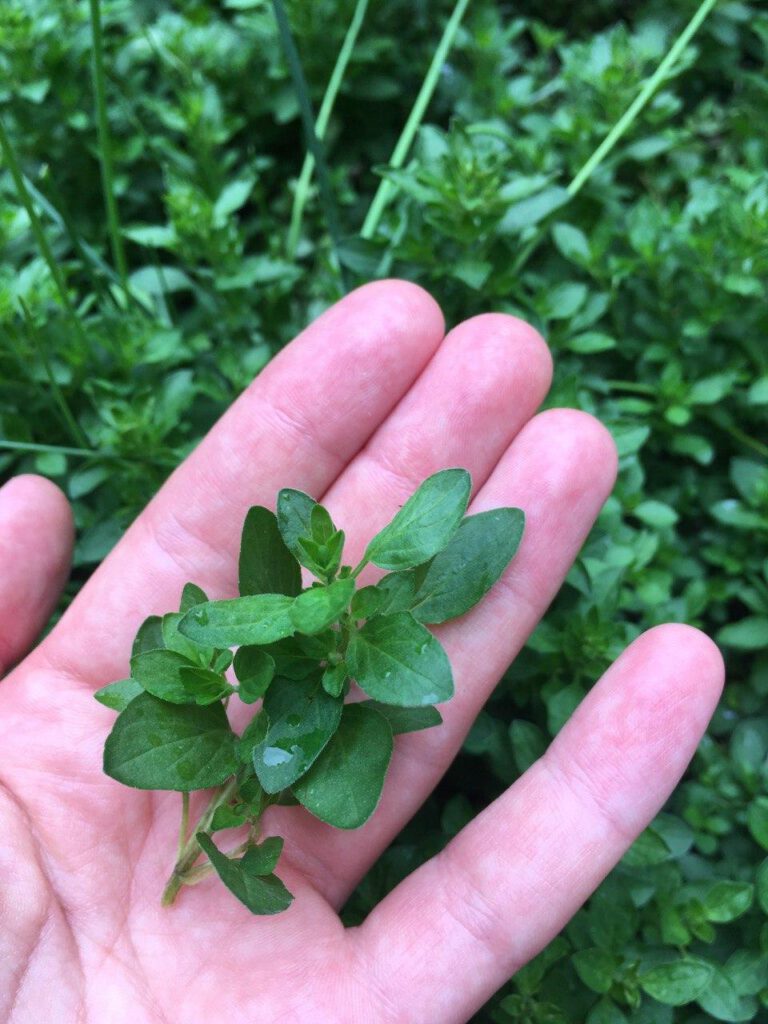 You hopefully know it from Italian pasta sauce. It has a very intense flavour and can be quite sharp, so use in small quantities and chop finely.
It also grows wild where it can easily be overlooked between the grass, unless it is blossoming. The easiest way to identify it, is by smell.
It is a natural "antibiotic" and a good boost to your immune system. There is no scientific evidence for its medicinal value, I have used it when I was sick and in my experience it works extremely well.
Chives – Allium schoenoprasum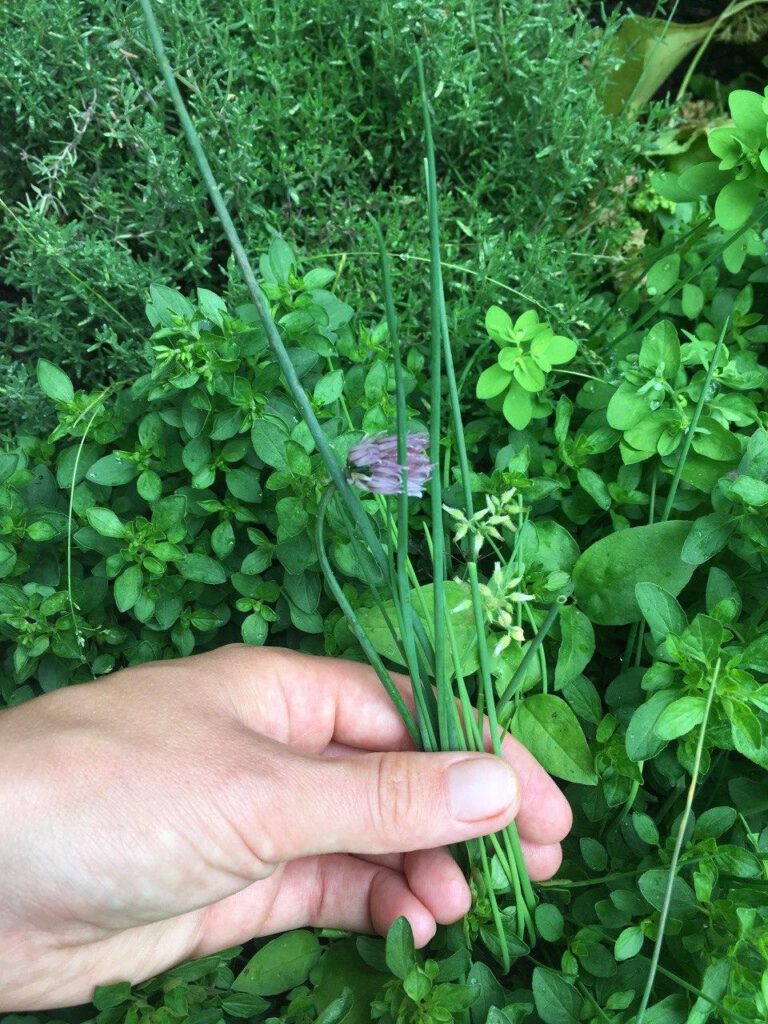 Gotta love chives! I love the nice, oniony flavour. Alternatively, you can cut off one or two leaves from a vegetable onion (the green part above the ground) and use it like spring onion.
If you put this in your butter, I feel like that might lower the life expectancy of it. So I would either only add it if you are planning to consume it all that day, or just sprinkle some on top fresh, as you spread your toast.
The flowers are edible too and you can pull it apart and add for some extra colour.
Blackberry leaf – Rubus fruticosus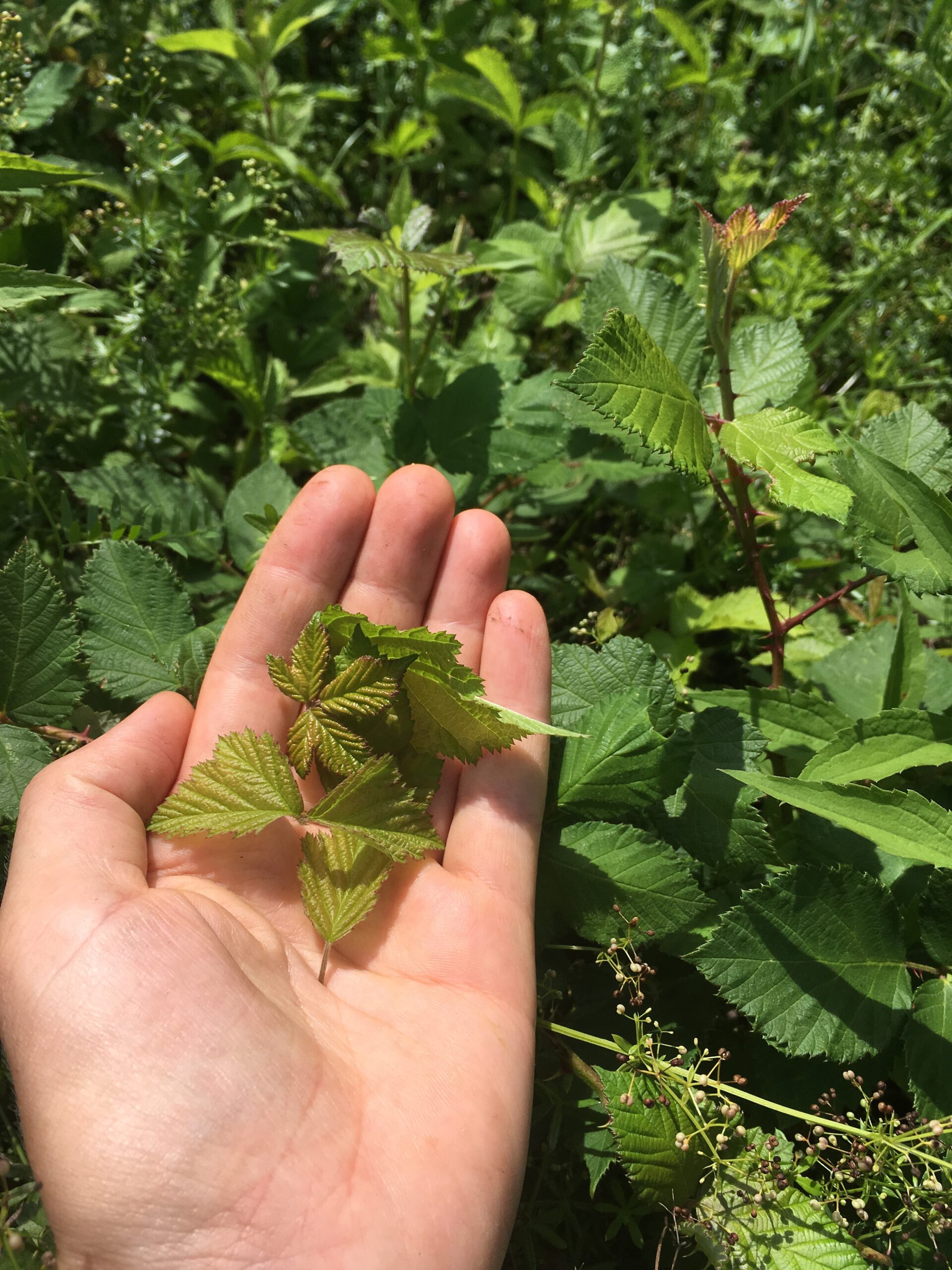 Stick with very young leaves which are still soft. Older ones become leathery and more bitter.
I find the leaves have no particularly special flavour, they taste a little sour and bitter. I mostly eat them because they are easy to find and very healthy.
They have stringent and anti-inflammatory qualities and are used to aid intestinal inflammation and diarrhea and small wounds, particularly in the mouth.
Sorrel – Rumex acetosa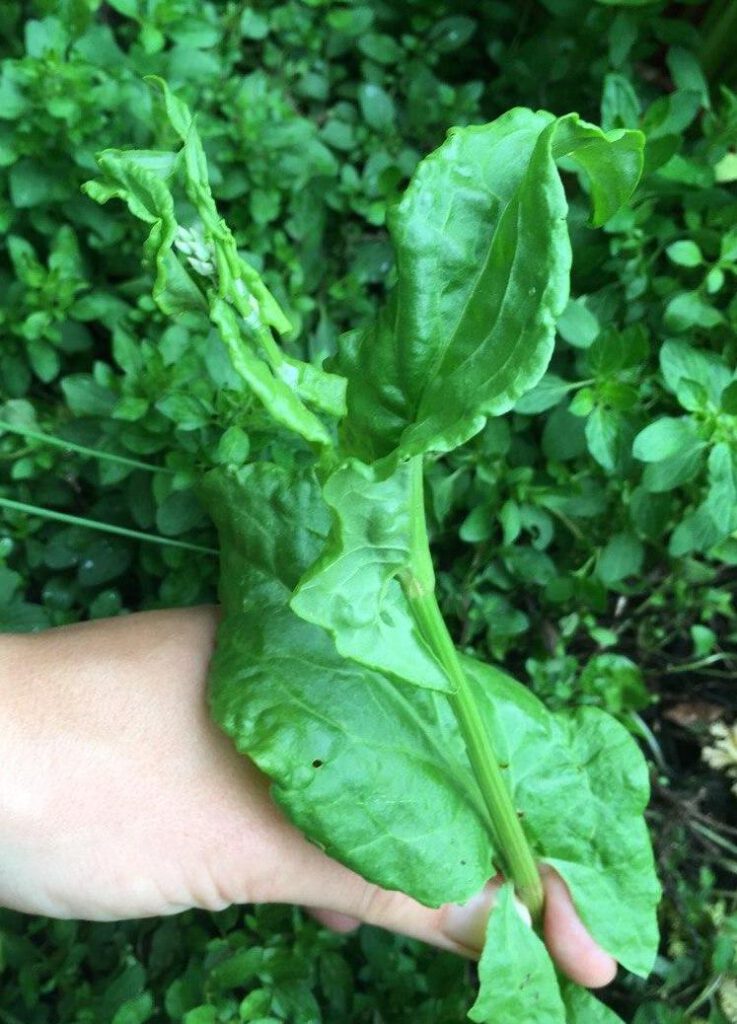 For a sour, fresh taste, help yourself to just a few leaves of this! You can find it in meadows and pastures. I wouldn't be surprised if you can buy them potted as well.
The consistency of the leaf is similar to fresh spinach. If you pop it in your mouth, you will know immediately if you have identified it correctly: it tastes very sour and …wet (yes, wet is a taste now, I don't know how else to describe it).
You can eat it fresh or cook as you would spinach. But it will always be sour. And refreshing.
Malva – Malva sylvestris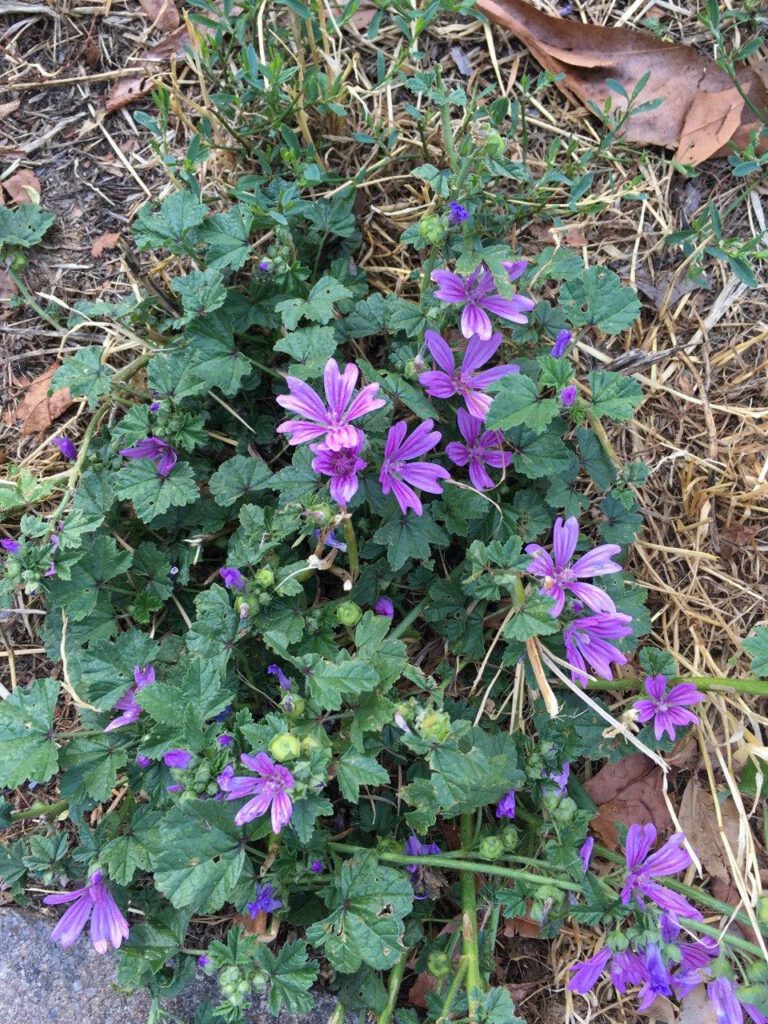 I recommend using only very young leaves and saving the tougher older leaves for cooking like spinach. The flowers are very pretty and add a speck of pink to your butter. They are also a great edible decoration on fancy cakes. They are also used as a colorant (blush pink) in tea and lemonade.
The leaves are used to aid all sorts of discomforts like the cold and the cough and also discomfort in the digestive tract.
Check the leaves undersides for any signs of fungus before harvesting.
Clover – Trifolium pratense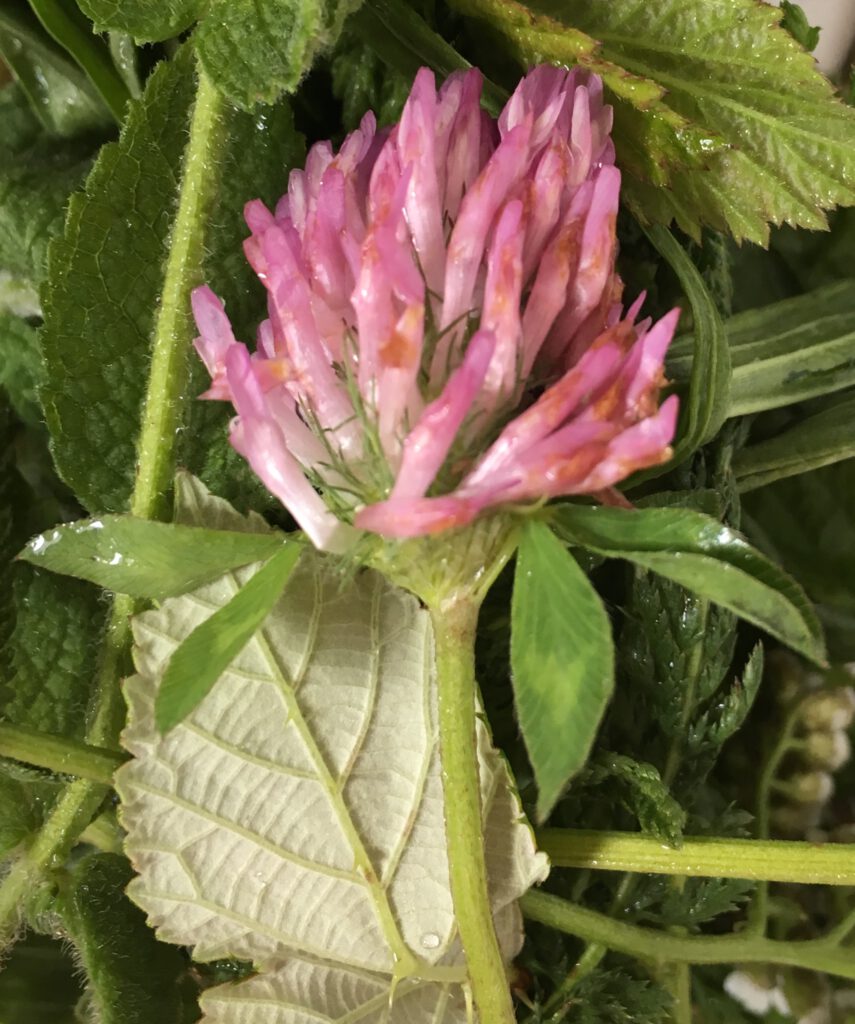 Generally, all species of clover are edible. However, some contain the chemical compound coumarin which can cause headaches if you eat a lot of it. I recommend adding one or two flowers to your butter, for decoration. The young leaves are also good.
Pro tip: harvest the flowers around noon. That is when they pump extra nectar and the flower tastes sweeter.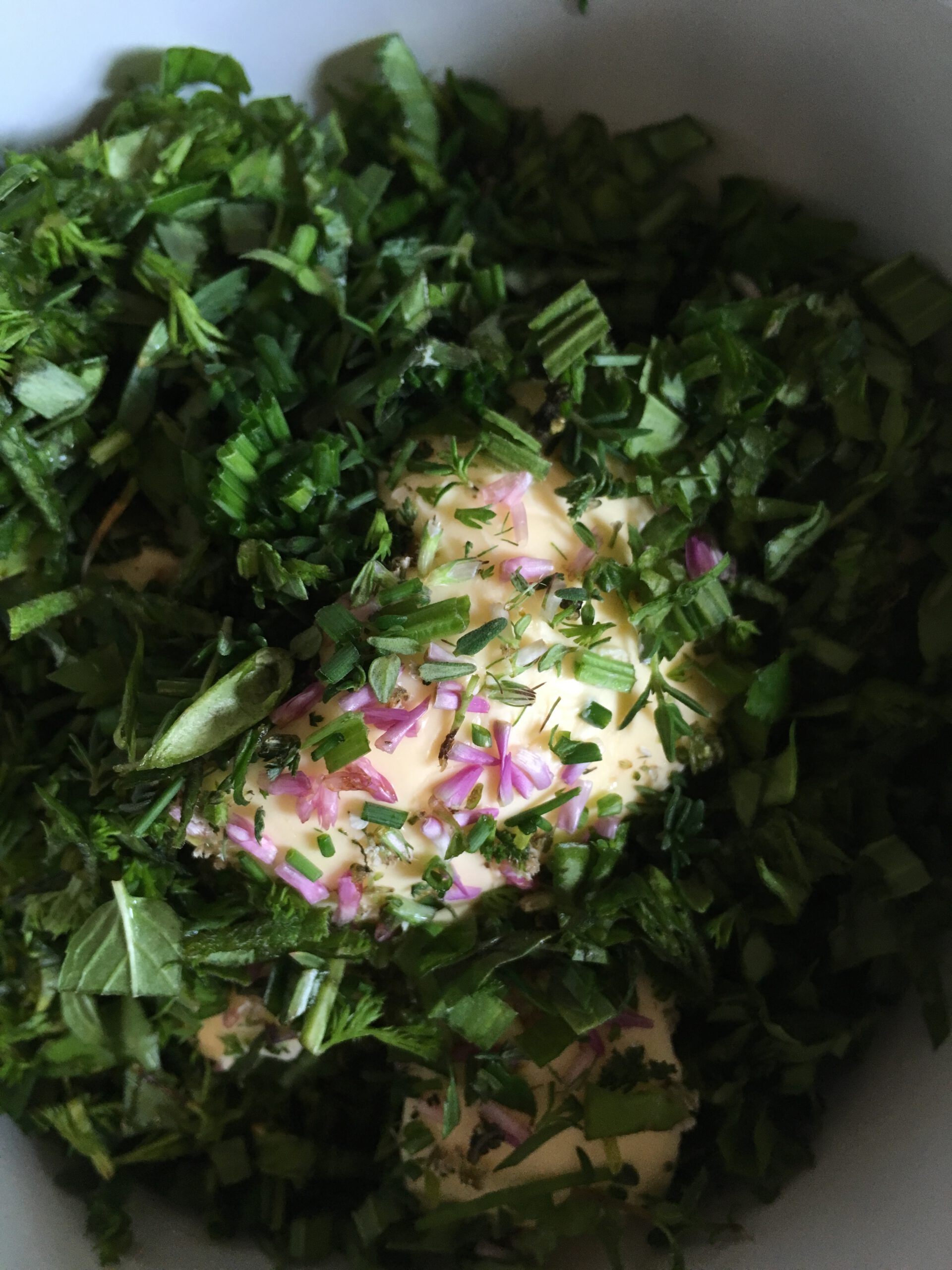 These are just a few herbs you can try. The world is full of edible plants! Just don't poison yourself please.
If you make it, I would love to know which herbs you went for.

*Stinging nettle image by by Paul Morley via Unsplash. Thank you!