Hip hip hooraay! Its World Pangolin Day!
Celebrated every 3rd Saturday in February, today is the 10th World Pangolin Day! What do you do on World Pangolin Day? You spread awareness about pangolins.
Whats so special about pangolins?
They look like a cross between an anteater and a pine cone!
They are four legged creatures with long tails and pointy faces, covered in scales.
In fact, they were once taxonomically grouped with anteaters, as pangolins too have long, sticky tongues with which they exclusively eat ants and termites. However, more recent studies found, it is more accurate to put them in their own group with the carnivora (carnivores). Even though these guys don't even have any teeth!
Their front feet have long strong claws, which they use to break open termite mounds and dead wood and anything that may conceal their prey. Because of the huge claws, their front feet are not great for walking and so, when they are not climbing in a tree, they are mostly bipedal (walking on two legs), using their heavy tails for balance and their front paws just touching the ground occasionally. This is one of my favourite things about them, because I think it makes them look like cartoons of little old ladies with big behinds clutching their purses as they walk.
Their consumption of ants and termites leads some scientists to believe they are important species within their ecosystems as they limit the populations of ants and termites, who may otherwise strip the grasslands of their grass and the forest of their leaves… Of course it is hard to tell what exactly would happen if pangolins disappear from their environment unless they actually did, so lets just not find out.
The problem is, pangolins are coveted on Asian wet markets (markets where live domestic and wild animals are sold and often slaughtered on the spot, bearing a high risk of zoonotic disease), because in traditional Chinese Medicine, their scales are believed to have the power to cure a whole array of ailments.
With all respect towards traditions that are not my own, pangolin scales are made of 100% keratin; therefor, you could get the exact same "treatment" for much cheaper by simply chewing your fingernails. Same goes for rhino horn by the way. However, the placebo effect is real.
This sad fact is the cause that the eight species of pangolin, are the most trafficked animals in the world. When we read news about interceptions at borders, the headline doesn't tell you how many animals were seized, but how many tonnes of scales they found. Considering how light keratin is, I don't want to imagine how many individual animals are killed to harvest a tonne of scales.
But there is some good news on this front: speculations that a pangolin may have been a host for the Corona virus before it infected humans at a wet market in Wuhan, drew global attention to China, wet markets and their zoonotic risks, and pangolins! This could have been the incentive for China to remove pangolins from their traditional medicine textbooks in 2020. However, the reality is, this only happened superficially and they continue to be poached and traded illegally.
Meet the pangolins
There are eight different pangolin species in three different genera alive today. Four of them are found in Africa and and four in South East Asia. As the Asian species have become increasingly rare, traffickers have turned to the African continent to meet the Asian demand.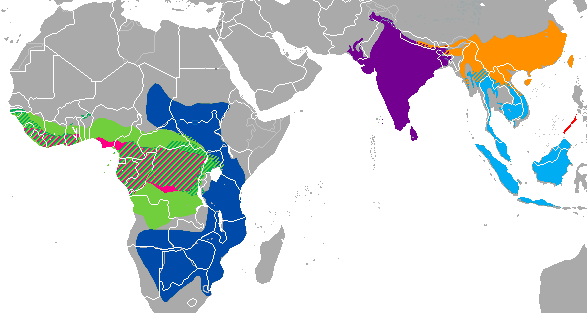 Distribution of the different pangolin species:
Temminck's ground pangolin in dark blue • giant ground pangolin in dark green • black-bellied pangolin in pink • white-bellied pangolin in light green • Indian pangolin in violet Sunda pangolin in light blue • Philippine pangolin in red (small islands to the right) • Chinese pangolin in orange         

I only had the pleasure of meeting one of the 8 species in my life, and the only license-free images I could find of any of the other species are from Wikipedia. So apologies for the quality, maybe one day I will be confident with my sketches and replace the photos.
---
4 African Species:
Temminck's Ground Pangolin
(Smutsia temminckii)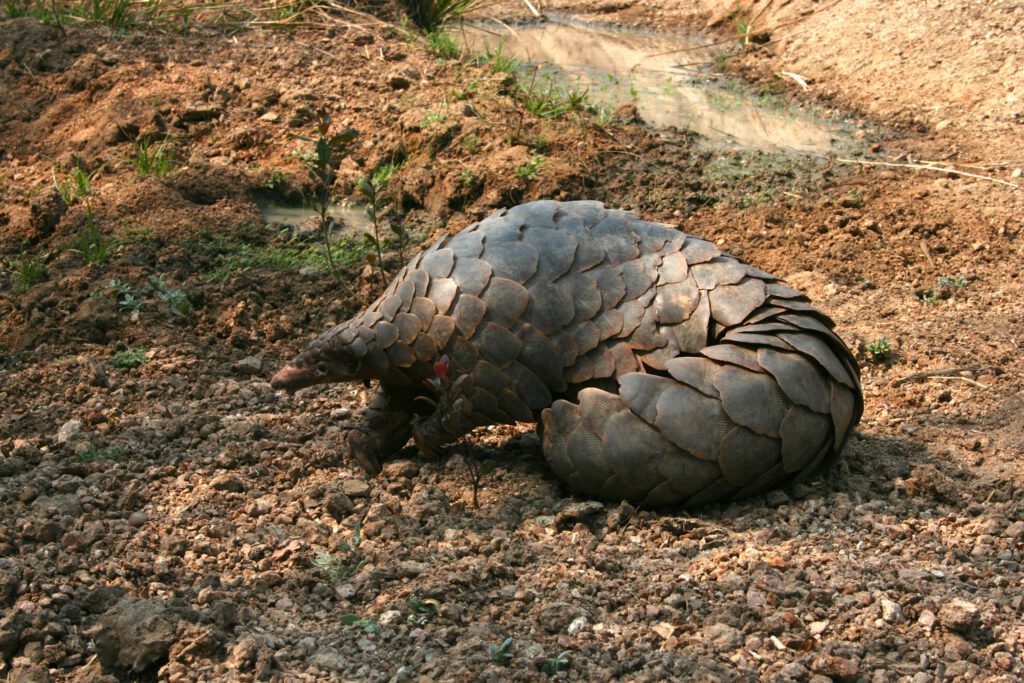 This species lives in grasslands, savannas and lightly wooded areas through eastern and southern Africa. They have small heads, relative to their body size, a wide, heavy tail and large, slightly pointed scales.
I had the pleasure of releasing two of them back into the wild, after they had been seized from traffickers and nursed back to health. They were all rolled up hiding inside their tails (very effective pangolin defense method). After we put them down next to a water hole, they slowly unraveled and had a drink at the water. You could see how happy they were to feel the mud under their feet. Finally, on their two little hind legs, balancing with their heavy tail, they made their way up the bank and into the bush.
Giant Ground Pangolin
(Smutsia gigantea)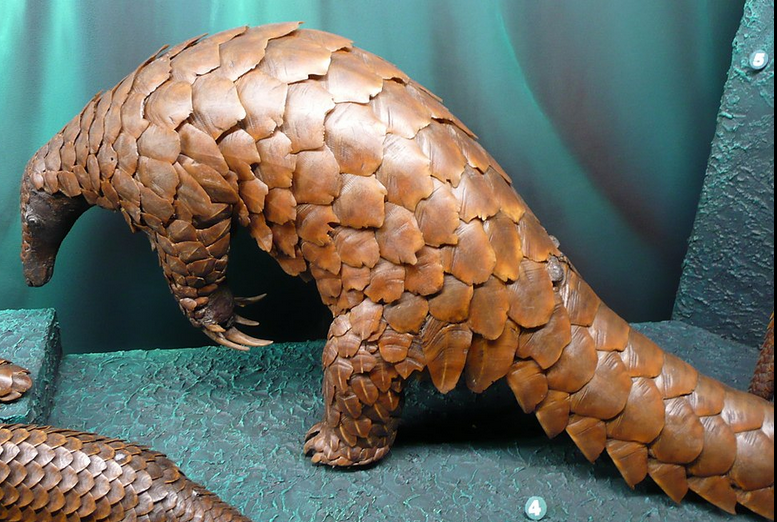 It looks very similar to the Temminck's ground pangolin, however, it is much larger. It is very hard to find, and little is known about this species. It lives in the forest and savanna areas of western and central Africa. They are very good at digging and build long underground tunnels to live in.
Black-Bellied Pangolin
(Phataginus tetradactyla)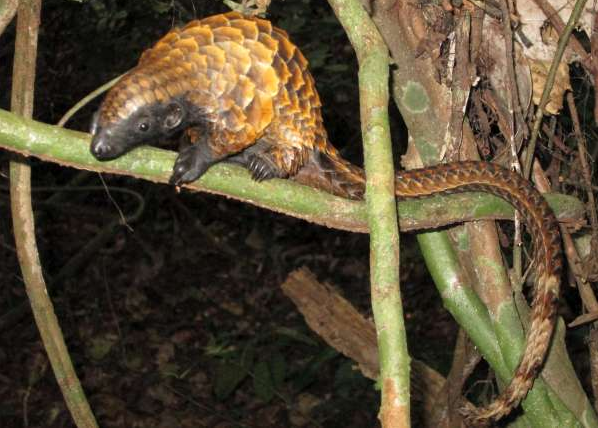 In my opinion the most beautiful pangolin, with black skin and dark scales with fiery orange edges. They are mostly arboreal in the jungles of central Africa and have the longest tail relative to their body-size, which helps them hold onto branches, where they search for their insect food.
White-Bellied Pangolin
(Phataginus tricuspis)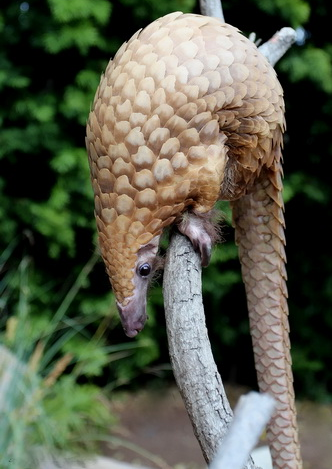 Arguably the cutest of them all, anytime I see a picture of one I think it is a picture of a baby pangolin, and then I realise, no, its just one of those species whose cuteness is indifferent to age. They also are an arboreal species with long tails. But as their name insinuates, their soft underparts are white-ish. It gets its scientific name from the three cusps it has on every scale.
---
4 Asian Species:
Indian Pangolin
(Manis crassicaudata)


The biggest of the Asian species, the Indian pangolin looks very similar to the Temminck's ground pangolin. But there is little risk of getting them mixed up, as this species only occurs on the Indian peninsula, where they can be found in forests, grasslands and even arid areas. They are mostly terrestrial, but are somewhat okay at climbing.
Sunda Pangolin
(Manis javanica)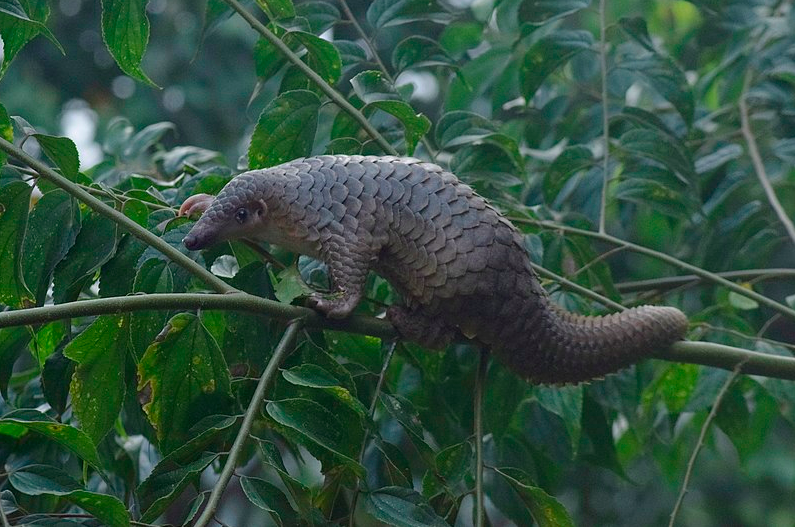 Also called the Java or Malayan pangolin, this species is found in forested areas and even plantations as it prefers to spend its time in trees. Its head is a little bigger relative to its body and the scales can look quite pointy.
Philippine Pangolin
(Manis culionensis)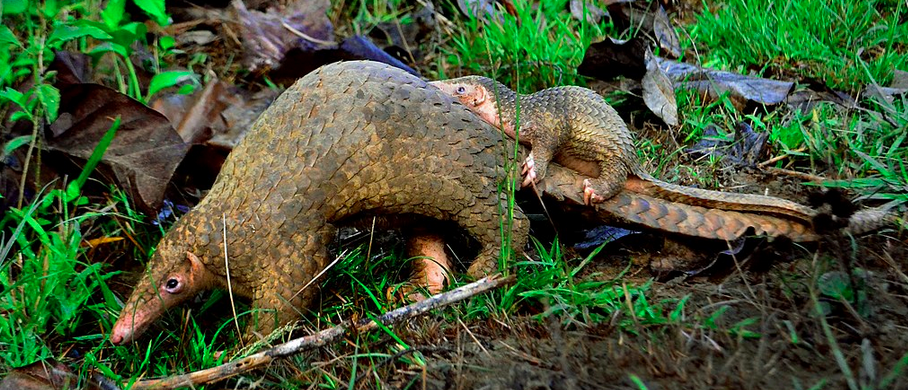 This species is endemic to the island of Palawan and some smaller islands north of it. It looks similar to the Sunda pangolin, however the Philippine pangolin is a little more yellowish in colour, with rather small scales. It also has visible ears. Only described in 1915, very little is actually known about this species.
Chinese Pangolin
(Manis pentadactyla)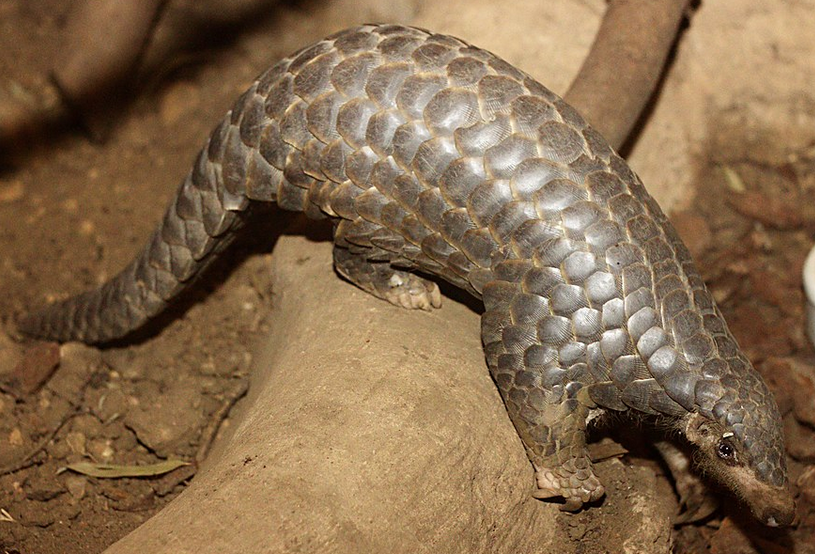 Somewhat easier to identify among the Asian species, the Chinese is quite cute with very light skin and gray, sometimes almost square-looking scales with hair sticking out between them. They also have visible ears. They live in forests, where they are mostly terrestrial and burrow, but they are also good climbers.
What can I do to protect Pangolins?
If you have any influence on people who visit wet markets, or are interested in trying Chinese medicine, respectfully speak to them about the conservation status of these wonderful animals and, if they are open to listening to you, explain that the scales are made of keratin, the same thing rhino horn and human fingernails are made of.
If you are traveling to areas where people are poor and pangolins occur, feel good about spending tourist money on things the local people are offering, which are not harmful to the natural world around them (places to sleep, food, guided tours, tourist knickknacks made without animal parts or plant-seeds). This way, you are supporting the livelihoods of these people, and diminishing the need for them to go into the bush and poach pangolins to sell to traffickers.
If you have no influence on any people who have contact with pangolins, you can still love them and make them more visible to other people so that more people know what they are, and care whether or not they go extinct. How to make them visible? Post on social media about them, watch and like online videos about them, visit an online shop where people sell hand made or designed things and type in "pangolin" and see if there is something that would make you happy (Yes sometimes it is ok to go shopping for pleasure 😉 ). Or get inspired and make your own pangolin-T-shirt or stuffed animal or…
*Image-Sources:
Distribution Map: Wikimedia Commons – License: CC BY-SA 3.0
Giant pangolin: Liné1, CC BY-SA 3.0, via Wikimedia Commons
Black-bellied pangolin: U.S. Fish and Wildlife Service Headquarters, CC BY 2.0 , via Wikimedia Commons
White-bellied pangolin: Николай Усик, CC BY-SA 3.0 , via Wikimedia Commons
Indian pangolin: Sandip kumar, CC BY-SA 3.0 , via Wikimedia Commons
Sunda pangolin: Frendi Apen Irawan, CC BY-SA 4.0 via Wikimedia Commons
Philippine pangolin: Shukran888, CC BY-SA 4.0, via Wikimedia Commons
Chinese pangolin: nachbarnebenan, Public domain, via Wikimedia Commons